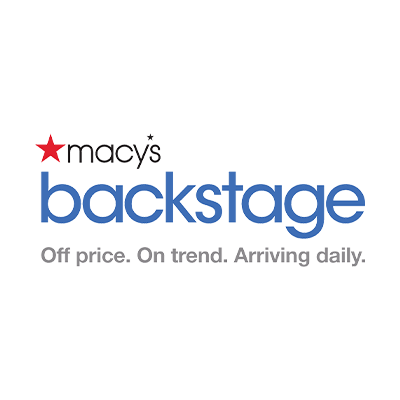 Macy's Backstage
CURBSIDE PICKUP AVAILABLE
Macy's Backstage presents a fresh face to the world helping savvy, fashion-forward bargain hunters fall in love with shopping all over again. We will do this with an open, airy, convenient shopping environment featuring the brands Macy's is famous for, all at incredible prices. We'll invite you to relax, refresh and recharge with unexpected amenities like an exclusive café partnership and a unique assortment of offerings unlike any other off price store out there. We will do this all in the spirit of Macy's master brand attributes, specifically reimagined for this new brand. We will offer you a new way to experience the thrill of the style hunt with fresh deals, and the promise of an ever-changing assortment of merchandise, including: ladies, men's, and kids apparel, home textiles, décor, and housewares, jewelry, cosmetics, handbags, shoes, and much, much more.
CURBSIDE PICKUP AVAILABLE
Please contact the store directly for Curbside Pickup location and additional details.
SPECIAL HOURS
11/27/2021: 9AM - 9PM (Holiday Shopping)
11/29/2021: 10AM - 9PM (Holiday Shopping)
11/30/2021: 10AM - 9PM (Holiday Shopping)
12/01/2021: 10AM - 9PM (Holiday Shopping)
12/02/2021: 10AM - 9PM (Holiday Shopping)
12/03/2021: 10AM - 9PM (Holiday Shopping)
12/04/2021: 10AM - 9PM (Holiday Shopping)
12/05/2021: 12PM - 6PM (Holiday Shopping)
12/06/2021: 10AM - 9PM (Holiday Shopping)
12/07/2021: 10AM - 9PM (Holiday Shopping)
12/08/2021: 10AM - 9PM (Holiday Shopping)
12/09/2021: 10AM - 9PM (Holiday Shopping)
12/10/2021: 10AM - 9PM (Holiday Shopping)
REGULAR STORE HOURS
Monday to Thursday 11AM - 8PM |
Friday to Saturday 10AM - 10PM |
Sunday 11AM - 7PM |

BEST ENTRANCE
Macy's, Pincone and Acorn parking lots
LOCATION IN MALL
Department store located between Pincone and Acorn parking lots