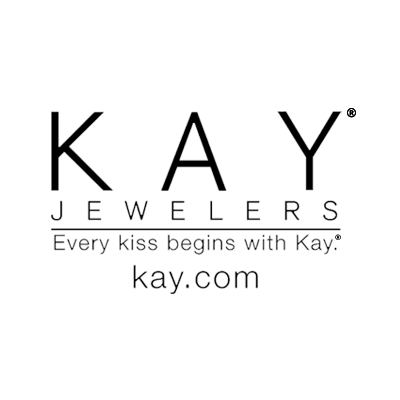 Kay Jewelers
CURBSIDE PICKUP AVAILABLE
As the #1 specialty jewelry brand in the United States, we know that offering fine jewelry at a great price is only part of the story. We are fully committed to providing a superior shopping experience. Our sales staff is empowered with the knowledge to assist each customer. Kay Jewelers is a division of Sterling Jewelers Inc. , headquartered in Akron, Ohio. Together with Signet Jewelers, our parent company, we are the largest specialty retail jeweler in the world.
KAY HISTORY
For 90 years, Kay Jewelers has offered exceptional jewelry with great customer service. But long before becoming a nationally recognized jewelry retailer, Kay was the simple idea of two enterprising brothers from Reading, Pennsylvania. In 1916, Sol and Edmund Kaufmann opened the first Kay Jewelers in the corner of their father's furniture store.
Initially, Kay offered far more than jewelry. Some of our original products included eyeglasses, musical jewelry boxes, and electric razors. We also offered to make a "home sweet home" with complete silverware sets and even kitchen appliances and radios. Although product offerings have changed through the years, shopping at Kay has remained a valued tradition.
SPECIAL HOURS
11/30/2021: 10AM - 9PM (Holiday Hours)
12/01/2021: 10AM - 9PM (Holiday Hours)
12/02/2021: 10AM - 9PM (Holiday Hours)
12/03/2021: 10AM - 9PM (Holiday Hours)
12/04/2021: 10AM - 9PM (Holiday Hours)
12/05/2021: 11AM - 6PM (Holiday Hours)
12/06/2021: 10AM - 9PM (Holiday Hours)
12/07/2021: 10AM - 9PM (Holiday Hours)
12/08/2021: 10AM - 9PM (Holiday Hours)
12/09/2021: 10AM - 9PM (Holiday Hours)
12/10/2021: 10AM - 9PM (Holiday Hours)
12/11/2021: 10AM - 9PM (Holiday Hours)
12/12/2021: 11AM - 6PM (Holiday Hours)
12/13/2021: 10AM - 9PM (Holiday Hours)
REGULAR STORE HOURS
Monday to Saturday 11AM - 7PM |
Sunday 12PM - 6PM |

BEST ENTRANCE
Lower Level Mall Entrance by Macy's
LOCATION IN MALL
Lower Level Center Court
PRODUCTS CARRIED AT KAY JEWELERS