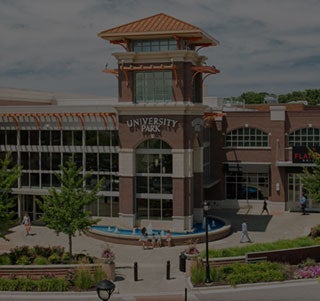 ABOUT UNIVERSITY PARK MALL
6501 N Grape Rd, Mishawaka, IN 46545
Center Information
Serving thousands of shoppers in the South Bend-Mishawaka metropolitan area and beyond, University Park Mall is a super-regional mall boasting more than 120 specialty shops offering the best in men's, women's, and children's fashion; accessories; home décor; gift items; and more. Anchor stores include Macy's, Barnes & Noble, and JCPenney, featuring the new Home Store at JCP, while national brands such as Apple, Bath & Body Works, Coach, Chick-Fil-A, Forever 21, J. Crew, Michael Kors, Pandora, Sephora, The Children's Place, Victoria's Secret, and many more can be found inside. Enjoy a relaxing, full service dining experience at Flat Top Grill, or choose from a variety of casual options in our Dining Pavilion. The shopping center experience is enhanced by a year-round events programming, featuring kid's events, the Annual Tree Lighting, Santa's Arrival, and more.
FEATURED STORES
Directions & Transportation
University Park Mall is located on Grape Road in Mishawaka, IN. We are located just minutes away from South Bend, Notre Dame, Granger, Elkhart, and Goshen in Indiana as well as Niles, Buchanan, and Dowagiac in Michigan.

From Downtown Mishawaka:
Head West on Lincolnway East (1.1 miles), turn right onto N. Church St. (Continue onto N. Main St. - 2.7 miles), turn left onto W. Day Rd. (0.3 miles), turn right onto Grape Road (1.5 miles) and University Park Mall is on the left.

From Downtown South Bend:
Head North on S. Michigan St. toward E. Jefferson Blvd. (180 ft.), turn right onto E. Jefferson Blvd. (433 feet), turn left onto S. St. Joseph St. (0.2 miles), turn right onto E. Colfax Ave. (0.7 miles), turn left onto N. Eddy St. (0.6 miles) and continue onto IN-23 N/S Bend Ave. (3.1 miles), turn right at University Commons (University Park Mall is on the right).

From Chicago:
Follow I-90 E to Interstate 90 Skyway E/Indiana Toll Road, take exit 77 toward IN-933/S Bend/Notre Dame

From Indianapolis:
Take US-31 N to IN-23 N/S Bend Ave.

From Detroit:
Follow I-75 S to I-80 W/I-90 W/Chicago, take exit 83 for IN-331 toward Mishawaka, merge onto IN-331 N/Capital Ave., turn left onto IN-23 S, turn left onto Grape Road (University Park Mall will be on your right)


Route #7 from Downtown South Bend via Notre Dame

Route #15a from Downtown Mishawaka via Main Street

Route #15b from Downtown Mishawaka via Grape Road

Rates:
Adult Base Fare: $1 (discount fare is $0.50)
31 Day Pass: $35
31 Day Student Pass: $30

Blue Ribbon Taxi: 574-703-0713
Yellow Cab of Berrien County: 269-684-9400
Express Cab: 574-233-6000
Yellow Cab: 574-233-9333
City Cab: 574-233-2020
Fritzport: 574-334-2675
Checker Cab of Northern Indiana: 574-288-7777


Ride Share pick up/drop off are in front of Entrance 1, between Macy's and JCPenney.
Amenities
University Park Mall has three (3) wheelchair accessible entrances for our guests with disabilities. These entrances are as follows:

*Entrance #1, near Pat's Pets

*Entrance #2, near the Food Court

*Entrance #3, near Barnes and Noble

Handicapped accessible parking is available.

Located in Center Court, near Macy's.

A baby changing station is located in every restroom at University Park Mall.

Macy's parking lot.