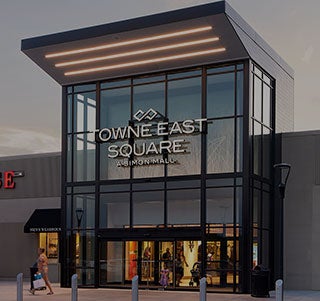 ABOUT TOWNE EAST SQUARE
7700 E Kellogg Dr, Wichita, KS 67207
Center Information
Towne East Square is the largest retail shopping destination in central Kansas anchored by Dillard's, Von Maur, and JCPenney. This fashionable center offers a variety of shopping options with more than 85 popular retail stores such as Coach, H&M, Forever 21, Victoria's Secret, and Tilly's. In addition, shoppers enjoy a variety of delicious dining options like Old Chicago Pizza &Taproom, BJ's Restaurant & Brewhouse, Charley's Philly Steaks, and more. Towne East Square is conveniently located at 7700 E. Kellogg Drive in Wichita, Kansas. Like us on Facebook at www.facebook.com/TowneEastSquare and follow us on Twitter @TowneEastSquare and on Instagram @TowneEastSquare
FEATURED STORES
Directions & Transportation
From Wichita Dwight D. Eisenhower National Airport (11.7 miles):
Take US-400 E/US-54 E
Take the exit toward Towne East Drive/Armour/Rock
Merge onto E Kellogg Dr
Turn left onto S Armour St
Turn right
​End at Towne East Square, 7700 East Kellogg Drive, Wichita, KS 67207

From Northwest Wichita:
Take KS-96 E
Merge onto I-235 N/KS-96 E
​Merge onto I-135 S/US-81 S
​Take exit 6A to merge onto US-400 E/US-54 E/E Kellogg Ave toward Kellogg Ave
​Take the exit toward Towne East Drive/Armour/Rock
Merge onto E Kellogg Dr
Turn left onto S Armour St
Turn right
End at Towne East Square, 7700 East Kellogg Drive, Wichita, KS 67207


From East Wichita/Andover:
N Webb Rd
​Turn right onto E Douglas Ave
Turn left
End at ​Towne East Square, 7700 East Kellogg Drive, Wichita, KS 67207

From Southeast/Wichita Derby:
​Take the ramp onto I-135 N/KS-15 N/US-81 N
​Take exit 5B to merge onto US-400 E/US-54 E/E Kellogg Ave toward Kellogg Ave
​Take the exit toward Towne East Drive/Armour/Rock
Merge onto E Kellogg Dr
​Turn left onto S Armour St
​Turn right
End at Towne East Square, 7700 East Kellogg Drive, Wichita, KS 67207

Amenities
All three mall entrances are handicap accessible for your convenience.

Handicapped accessible parking is available.

Towne East Square has three AED's, which can be found at the Security Office at the northwest lower level entrance, or on the upper level in the Mall Management Office.




SCHEELS coming Spring 2023!

Need an ATM? The ATM machine is located on the west side on the lower level.