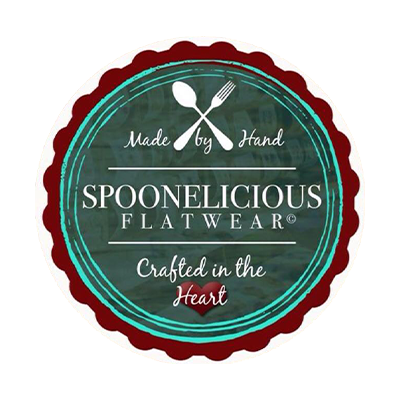 Spoonelicious Flatwear

Spoon Rings, Pendants, Key Chains and More!

Most of our Spoon Rings are Vintage Silver Plate but we typically have a small selection of Sterling Silver Spoon Rings on hand as well.

Other Handcrafted Items should be joining us as well soon! Our inventory of designs is constantly changing and/or being added to depending on what we find through various means. You just never know what we will have! Watch for new posted pictures when these become available. If you are interested in one of our rings, if at all possible, message us your ring size and we will see what we have on hand in that size for you. We rarely post pictures of our rings as our inventory is constantly changing but we can send you a picture of what we have at the time of your message.

We also do custom pieces as well. If you have or find an old piece of flatware we more than likely can turn it into a ring, pendant or key chain. As a side note, please be aware that not all pieces from a set of flatware can be used. Most knife handles cannot be turned into a ring but if they are solid as opposed to hollow we can make them into key chains. Some of the Serving Spoons and Ladles can be so large and thick that trying to make the tight curve required for rings can be almost impossible but these can be made into pendants and key chains.

We also do other forms of jewelry.

Chainmaille Bracelets, Necklaces and Earrings being one form we specialize in. This old art form, that was originally developed as Armor, was changed into making stunning pieces of jewelry! If you have never seen a Necklace or Bracelet made from individual Sterling Silver rings, painstakingly woven together one ring and a time, we are sure you will find the look as amazing as we do. If I remember (Bill), I try to have my Chainmaille Necklace on when we are setup at shows or home parties. Ask for a closer look and you will get a feel for the work and detail that goes into one of these pieces!

We accept various forms of payment - PayPal as well as Credit / Debit cards using Square.
We are happy to ship items as well. Shipping is done through USPS and cost will be calculated for First Class once your order is complete and we weigh it or you can choose Priority Flat Rate.
STORE HOURS
Monday to Saturday 10AM - 9PM |
Sunday 12PM - 6PM |