Find It. Love It.
EXPERIENCE
HOUSTON
Shop & Stay
For nearly 50 years, The Galleria has been Houston's premier shopping and tourist attraction, welcoming more than 30 million visitors annually. This ultimate shopping destination is home to hundreds of international and domestic fashion houses, boutiques and restaurants. With stores found nowhere else in Houston, this shopping center is a must-visit for first time and regular visitors. Leading department stores Neiman Marcus, Saks Fifth Avenue, Nordstrom and Macy's are found near exclusive brands like Chanel, Louis Vuitton, Salvatore Ferragamo, Céline, Christian Louboutin and Prada. Favorites like The Apple Store, lululemon athletica, Adidas, Tory Burch and Sephora have major outposts here.
With two connecting Westin Hotels, a full-size ice rink for recreational and figure skating, a state-of-the-art children's play area, two swimming pools, two tax-free reimbursement locations, full-service national and international banks, two tailor shops, beauty salons, and a post office, The Galleria is known to many as a city within a city. Located in the heart of Uptown Houston, the center is just a short drive from downtown and 25 miles from the George Bush Intercontinental Airport. Whether you plan to shop at this premium Simon mall during a weekend getaway or want to make a one-day trip to the area, there are plenty of attractions, dining options and accommodations that are sure to make your stay comfortable and fun.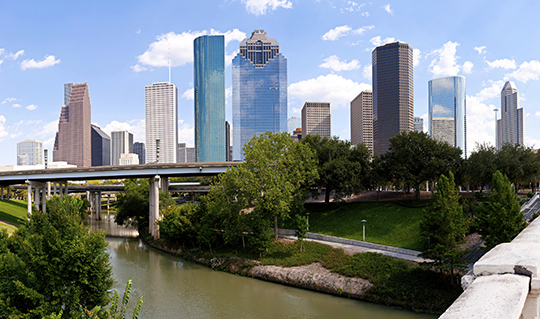 Attractions
Visitors can't miss the Ice at The Galleria – the first ice skating rink to ever be built in a shopping center. Houstonians and visitors alike have skated around the full size rink for decades, taking in views of the surrounding shopping center. Even if you're not a champion figure skater, watching the action from the upper levels is a treat. The Gerald D. Hines Waterwall Park, located steps from the shopping center, is the centerpiece of the Uptown Houston neighborhood. The shopping center is conveniently located near some of Houston's famed arts and cultural institutions. Visit the Museum of Fine Arts, Houston, The Hobby Center for the Performing Arts, the Alley Theatre or even the Houston Ballet to see what the buzz is about.
Dining
Dining options abound at The Galleria with more than 15 sit-down restaurants capable of pleasing any palate. Peli Peli, Texas' only South African fusion restaurant, has quickly become one of Houston's top restaurants. Guests are invited to dine under Peli Peli's 30-foot tall, one-of-a-kind Acacia Tree and illuminated sky which creates an atmosphere perfect for romantic dinners and special occasions. Popular favorites like The Cheesecake Factory, The Rainforest Cafe´ and Daily Grill welcome families and offer a taste of home. Fine dining options range from The Oceanaire Seafood Room and Del Frisco's Double Eagle Steak House to the all new sleek, chic and modern 51fifteen Cuisine and Cocktails tucked away inside of Saks Fifth Avenue.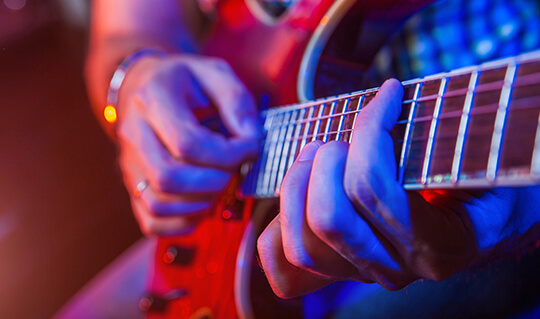 Nightlife
No vacation is complete without a night, or day, out on the town, so if you are looking for a nightcap, movie and more, the area surrounding the shopping center has you covered. From nightclubs to signature Honky Tonk bars, the area is teeming with nighttime options you're sure to love. There's never a dull moment when it comes to Houston's nightlife scene. Whether you're looking for high-energy dance clubs or Texas honky tonks, action-packed sports pubs or low-key wine bars, there's something for every taste. With numerous nightlife districts to explore like Montrose, Washington Avenue, Rice Village, Downtown and Midtown, you'll have no trouble finding something you like.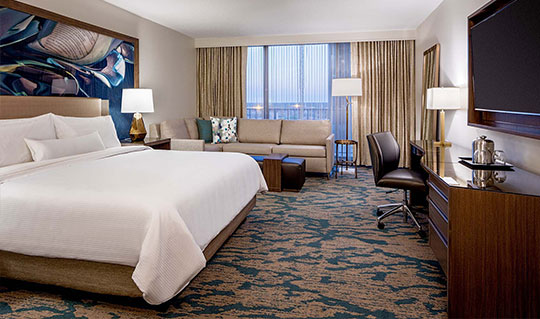 Accommodations
If you're interested in making The Galleria your next vacation destination, there are a wide variety of accommodation options to choose from for everyone, including the leisure traveling family, the girls for a weekend of fun and even business travelers. The Westin Galleria Hotel and The Westin Oaks Hotel are ideal locations for anyone looking for a spectacular Houston experience. The Westin Galleria is well suited for large groups looking to host a convention with ample meeting space. Both hotels are connected to the shopping center, allowing guests direct access to the shops and restaurants at the center. Ask your hotel concierge for a voucher to receive The Galleria's Savings Passport, filled with exclusive store offers. The voucher is redeemable at the Simon Guest Services, inside the mall, near Gap.
Group Tour Reservations
Planning for a group of ten or more? Book a group tour and receive special discounts.
BOOK A GROUP TOUR