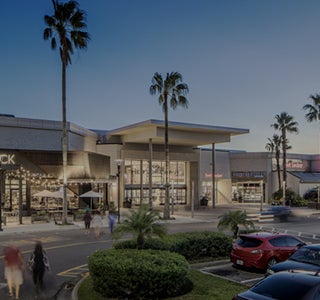 ABOUT THE FLORIDA MALL®
8001 S Orange Blossom Trail, Orlando, FL 32809
Center Information
Located minutes from the Orlando International Airport, Walt Disney World Resort and popular area attractions, The Florida Mall is Central Florida's largest shopping center. Spanning 1.7 million square feet and welcoming more than 20 million visitors annually, this dynamic shopping destination offers an experiential environment featuring more than 250 retail, dining and entertainment options enjoyed by domestic and international guests, local residents and families alike. Prominent department and anchor stores Macy's, Dillard's, JCPenney and Dick's Sporting Goods complement best of brand retailers like A|X Armani Exchange, Apple, Tesla, H&M, MAC Cosmetics, Michael Kors, Mayors Jewelers featuring Rolex, Victoria's Secret and ZARA.
Don't miss The Florida Mall's world-class Dining Pavilion, offering flavor-packed fare for every appetite and more than 1,400 indoor and outdoor seating options. The curated lineup of 23 restaurants and eateries features an international mix of exclusive-to-market selections offering visitors an expansive array of dining choices and health-conscious eateries. Families can also enjoy our Play Park located next to Crayola Experience. This interactive play area offers more than 3,000 square-feet of fun and room to play – all set in a beautiful, nature-inspired area.
The Florida Mall also offers outstanding guest amenities and services, including valet parking, free WiFi, currency exchange, Simon Giftcards, coupon books and two children's play areas. Additionally, the acclaimed 511-room, on-site hotel, The Florida Hotel & Conference Center, offers a convenient home away from home for visitors and business travelers to the center.
The Florida Mall is open Monday - Thursday, 11 AM to 8 PM, Friday & Saturday 10 AM - 9PM and Sunday, 11 AM to 7 PM. For additional information, contact the mall shopping line at (407) 851-6255.


FEATURED STORES
Directions & Transportation
Florida Mall is located at 8001 S Orange Blossom Trail, in Orlando.

From I4 West: Take I4 going eastbound to exit 74A (Sand Lake) and turn right on Sandlake Rd and continue to follow until crossing South orange blossom trail, then take first right.

From I4 East: Head westbound to exit 80 (U.S. 441/S.O.B.T.) and follow until you cross Sandlake road, then take the first left turn.

From SR 528 Eastbound: get off exit 8 and then turn left northbound on S.O.B.T.

From SR 528 Westbound: get off exit 4 and then turn right northbound on S.O.B.T.

Turnpike Southbound: get off exit 254 and go north on U.S. 441/S.O.B.T.

Turnpike Northbound: get off exit 254 and go north on U.S. 441/S.O.B.T.

From Downtown Orlando:
Option A - take S. orange ave south to Sandlake Rd and turn right and continue on until you reach Golden Sky, then turn left.

Option B - take Church street westbound to U.S. 441/S.O.B.T.; follow until you cross Sandlake road, then take the first left turn.

LYNX provides public transportation services for Orange, Seminole and Osceola counties. Daily fixed-route local bus services provide more than 85,000 passenger trips each weekday spanning an area of approximately 2,500 square miles with a resident population of more than 1.8 million. The Florida Mall has a stop, to know more information on which route to take please call (407)841-LYNX (5969) or visit golynx.com

Visiting tour groups have a designated motorcoach drop-off location between Macy's and The Florida Hotel & Conference Center.