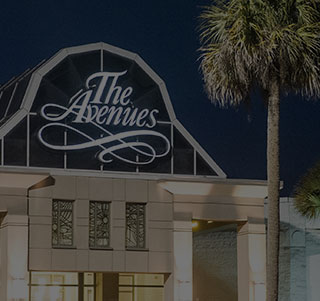 ABOUT THE AVENUES
10300 Southside Blvd, Jacksonville, FL 32256
Center Information
The Avenues is Jacksonville's fashion, family, and Military focused shopping destination. A multi-level shopping center offering more than 1.1 million square-feet of shopping, The Avenues is home to four major department stores including Belk, Dillard's, Forever 21, and JCPenney, plus more than 150 of the most exciting stores in Northeast Florida. Retailers include Aldo, Box Lunch, Build-A-Bear Workshop, The Copper Closet, Forever 21, Foot Locker, Finish Line, H&M, LOFT, LUSH Fresh Handmade Cosmetics, MAC Cosmetics, Victoria's Secret, and more.



FEATURED STORES
Amenities
Handicapped accessible parking is available at various mall and department store entrances, and parking garage.

Travelex ATMs are located at two convenient locations throughout The Avenues. There is one ATM on the lower level near the North Court escalator, Auntie Anne's, and Furniture Source. The second ATM is located on the lower level, near the South Court escalator, JCPenney, and the Simon Children's Play Area. Fees may apply.

Baby changing stations are available in the Family and Women's Restrooms located down the hallway behind Mandarin Express in the Food Court. There is also a Baby Changing Station in the Women's Restroom located on the lower level near Visionworks and SNS Nails.

For your convenience, bike racks are located in the parking lot outside of Buffalo Wild Wings.

The Bus Stop is located on the North side of the mall, adjacent to the parking garage. For more information, please call the Jacksonville Transportation Authority at (904) 630-3100 or visit their website at www.JTAFLA.com.