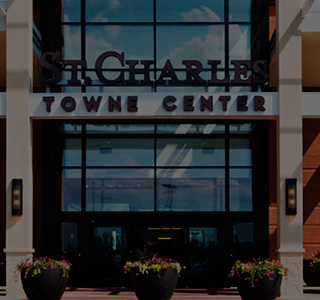 ABOUT ST. CHARLES TOWNE CENTER
11110 Mall Cir, Waldorf, MD 20603
Center Information
Welcome to St. Charles Towne Center Mall. With over 130 stores, specialty merchants, and dining options, St. Charles Towne Center is the favorite shopping destination for local shoppers and travelers alike. Adjacent to Route 301, St. Charles Towne Center serves as the retail shopping hub for Southern Maryland and the city of Waldorf. It is anchored by JC Penney, Kohl's, Dick's Sporting Goods, and Macy's; including Macy's Home and Macy's Backstage respectively.  St. Charles Towne Center also boasts a variety of popular and specialty stores such as Victoria's Secret, Pandora, Torrid, H&M, American Eagle Outfitters and The Shoe Dept.
St. Charles Towne Center has modern amenities and entertainment options including an indoor play zone for the enjoyment of our littlest shoppers, wireless charging stations, hospitality seating, and an AMC Theatre adjacent to the mall. EVgo Fast Charging stations and parking are available for your electric vehicle. St. Charles Towne Center is proud to offer Simon VISA, MasterCard, and American Express gift cards, which can be conveniently used at any of our Simon properties as well as anywhere Visa, MasterCard, and American express are accepted. If there is anything we can do to make your on-line or in person visit more enjoyable, please contact a member of our mall management staff, or any of our retail store managers directly.
FEATURED STORES
Directions & Transportation
Amenities
All Entrances Are Wheelchair Accessible.

Handicapped accessible parking is available.

An automated external defibrillator (AED) is a portable electronic device that automatically diagnoses the life-threatening cardiac arrhythmias of ventricular fibrillation and ventricular tachycardia in a patient, and is able to treat them through defibrillation, the application of electrical therapy which stops the arrhythmia, allowing the heart to reestablish an effective rhythm.
This device is now available in ALL Mall Security Vehicles and at the Mall Management Office on the Lower Level.
If you are in need of an AED please call our Mall Security Hotline at 301-932-5692.

ATM Machine(s) located on Upper Level In Food Court & On Lower Level near JC Penney.

There is a Baby Changing Station Conveniently Located on the Lower Level in the Restroom Facility Located Next To JC Penney and on the Upper Level in the Family Restroom in the Food Court.