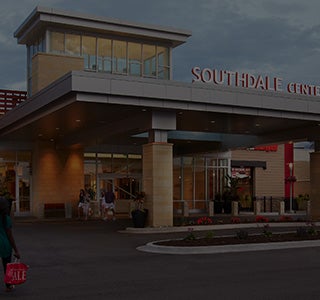 ABOUT SOUTHDALE CENTER
10 Southdale Center, Edina, MN 55435
Center Information
Southdale Center is the nation's first indoor regional shopping mall. The center, which opened in 1956, is anchored by Macy's and Life Time Edina Southdale. Southdale includes over 100 specialty stores ranging from women's apparel to gifts and jewelry. Among the over 100 specialty stores are PXG, Madewell, Brighton Collectibles, J. Crew, Sephora, and The Apple Store. The mall also features a wide variety of dining options from sit down restaurants such as Cheesecake Factory and P.F Changs, to grab and go choices such as Qdoba Mexican Grill and Panda Express. To top it all off, consider making plans for dinner and a movie at Southdale's 16 screen AMC Megaplex. Conveniently located off of 66th and France Avenue, Southdale serves the nearby communities of Edina, Richfield, Bloomington, Eden Prairie, Minneapolis and St. Louis Park. From the entire team at Southdale Center, we hope you will visit us soon.
FEATURED STORES
Directions & Transportation
Southdale Center is located between 66th Street and 69th Street heading East or West in Edina off South France Avenue or Xerxes Ave 4 blocks South of Highway 62.

Arriving from Minneapolis - if you are downtown use Highway 35W South to the Highway 62 West Exit. Travel approximately 2 mi and Exit on France Ave South. Take a left at the off-ramp light and Southdale Center is 3 block South on France Avenue. Enter on your left.

Arriving from South Direction - 35W North to 494 West. Approximately 2 miles, then exit on France Avenue South. Take a right. 1.5 Miles and Southdale Center will be on your right.

Arriving from West Direction - Highway 62 or Highway 494 East. Both exit on France Ave South. If you are coming from 494 East, exit right on France Avenue South. Left on France Avenue for 1.5 Miles and destination on the right.
If you are coming on 62 East, exit on France Avenue South. Right on France Avenue for 4 block, destination on the left.

Arriving form East - If using 494 West - Exit France Avenue South. Right on France Avenue for 1.5 Miles. Destination on the right. If using Highway 62 West, exit France Avenue South. Left on France Avenue for 4 blocks. Destination on the left.



Southdale Center has a major Metro Transit Hub. Each route listed below stops directly on the Southdale Center premise. Details for routes can be found at www.metrotransit.com

Routes: 6(B, D, E, K, U), 515(B, C, E), 538 (A, B), 539 (A, B, C), Express 578

Southwest Metro Transit Routes: 695 & 698


Any local taxi company will service incoming or outgoing fares from multiple points on Southdale Property. Southdale Center allows drop-offs and pickup service at any mall entrance on the property during business hours.

Southdale Center welcomes shuttle services for drop-off and pickup during mall business hours. Shuttles arrive on the east side of Southdale Center on the first floor parking lot located near the Dining Pavilion
Amenities
Located on the Main Level in near DeLeo Bros. Pizza, on the second level near the Dining Pavilion, and in each of our Security Vehicles.

Located in all public restrooms.

Located in Children's Play Area and Dining Pavilion.

Order your travel money online for convenient home delivery. Did you know that some Simon center locations also include retail Travelex stores for your convenience. Travelex is the world's largest retail foreign currency exchange specialist, with over 1000 stores around the world. We can provide you with over 75 foreign currencies as well as a Cash Passport that can be pre-loaded with either Pounds or Euros and includes chip & PIN technology, a must when traveling in Europe.

All restrooms are handicapped accessible. Located in the AMC Rotunda, Children's Play Area, Dining Pavilion, and Lower Level Management Office Hallway.