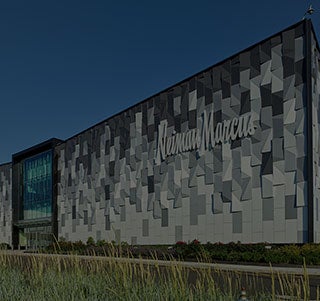 ABOUT ROOSEVELT FIELD®
630 Old Country Rd, Garden City, NY 11530
Center Information
Love shopping and dining? Visit Roosevelt Field® for the best indoor shopping and fine dining in the country. Roosevelt Field® offers Neiman Marcus, Bloomingdale's, Nordstrom, Macy's, jcpenney, Dick's Sporting Goods and more than 200 specialty stores, from Fashions, Jewelry, Electronics, Home Decor, Specialty Gifts & more!
Conveniently located right off the Meadowbrook Parkway and Old Country Road, Roosevelt Field®.

Spend an hour or spend a day or spend the night (at the Residence Inn by Marriott) at Roosevelt Field®. You deserve it! From the entire team at Roosevelt Field® we hope that you will visit us soon!
FEATURED STORES
Directions & Transportation
New York City:

Take Queens Midtown Tunnel to L.I.E. (495) Exit 38 to Northern State Parkway to Meadowbrook Pkwy/Jones Beach. Take Exit M2 West.

From John F. Kennedy International Airport:

Take Belt Parkway East towards Southern State/ Eastern LI. Belt Parkway becomes Southern State Parkway East. Take the North Peninsula Blvd. exit, Exit 19N. Merge onto Peninsula Blvd. Turn slight left onto Clinton Street. Turn right onto Stewart Avenue, Turn left onto Ring Road West.

From La Guardia Airport:

Take Grand Central Parkway East toward Eastern Long Island. Take the I-495/Long Island Expressway, Exit 10E, toward Eastern Long Island/Riverhead. Merge onto Northern Parkway East via Exit 38 toward Hauppauge. Take Exit31A toward Meadowbrook Parkway/Jones Beach. Merge onto Meadowbrook Parkway South. Take Exit M2 W toward Shopping Mall. Turn right onto Zeckendorf Blvd.

Brooklyn:

Take Belt Parkway East, which will turn into the Southern State Parkway. Take the Southern State Parkway to Exit 22N Meadowbrook Parkway North. Take Exit M2 West.

Queens:

Take Grand Central Parkway East (becomes Northern State Parkway) to Meadowbrook Parkway/Jones Beach. Take Exit M2 West.

Westchester/Bronx

Take Throgs Neck Bridge to Cross Island Parkway to Grand Central Parkway East (becomes Northern Parkway) to Meadowbrook Parkway/Jones Beach. Take Exit M2 West.

Suffolk County:

From the Northern State Parkway Westbound, Exit at 31A, Meadowbrook Parkway South. Exit Meadowbrook Parkway at Exit M2, at the "Shopping Mall" sign. Follow the off-ramp and you will see the mall.




From the Southern State Parkway Westbound, Exit at 22 North,Meadowbrook Parkway North, Exit Meadowbrook Parkway at Exit M2, at the "Shopping Mall" sign. Follow the off-ramp and you will see the mall.

Roosevelt Field is conveniently located at the intersection of Old Country Road and Meadowbrook Parkway in Garden City, New York.

Take a train on the Long Island Rail Road (LIRR) Port Jefferson or Ronkonkoma line that stops at Mineola Station and transfer to the N22 or N24 bus to Roosevelt Field or call a taxi/Uber.

Nine (9) Nassau County Inter-County Express bus lines run through Roosevelt Field bus depot. The bus depot is located just past the south parking deck; between the parking deck and Ring Road South.

N15 – Long Beach - Roosevelt Field

N16 – Hempstead - Rockville Centre LIRR

N22, N22A, N22X – Jamaica - Mineola - Roosevelt Field -Hicksville

N24 – Jamaica - Mineola - Roosevelt Field Field-EM

N27 – Hempstead - Glen Cove

N35 – Baldwin-Hempstead - Westbury

N43 – Freeport-Roosevelt Field - Hempstead

N45 – Roosevelt Field - Bellmore

N51 – Roosevelt Field - Merrick
Amenities
Handicapped accessible parking is available throughout the parking lots and in the parking decks.

In case of emergency, please contact Security at 516-741-9435.

ATM's are located on the main level near Stuart Weitzman and on the upper level near Kung Fu Kitchen in the Dining District

Baby changing stations are located in all public restrooms.

Nine (9) Nassau County Inter-County Express bus lines run through Roosevelt Field bus depot. The bus depot is located just past the south parking deck; between the parking deck and Ring Road South.

N15 – Long Beach - Roosevelt Field

N16 – Hempstead - Rockville Centre LIRR

N22, N22A, N22X – Jamaica - Mineola - Roosevelt Field -Hicksville

N24 – Jamaica - Mineola - Roosevelt Field Field-EM

N27 – Hempstead - Glen Cove

N35 – Baldwin-Hempstead - Westbury

N43 – Freeport-Roosevelt Field - Hempstead

N45 – Roosevelt Field - Bellmore

N51 – Roosevelt Field - Merrick