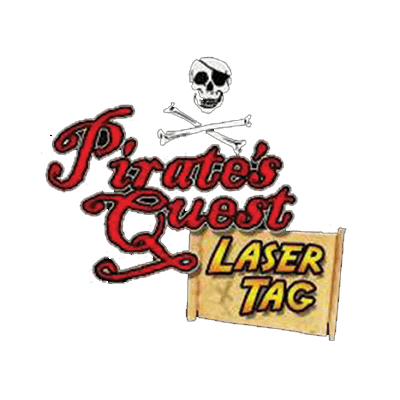 Pirate's Quest Laser Tag
Test your shooting skills!
Twelve people, from young to old, suit up in state-of-the-art vests, complete with LED lighting and vibrating shot response. Their guns are completely wireless, not tethered to their vests. These lucky twelve are sent through the curtain into our 1,800-square-foot arena, and find themselves locked in battle in the middle of a pirate ship. Each vest is equipped with eight colored, flashing LED targets, located on both front and back, which allow them to see their teammates and opponents. The vests also provide the contestants with a vibrating sensation when they are shot. Futuristic guns, with the addition of a little fog in the arena, allow everyone to see the lasers shoot all the way across the room, so no more aiming blind. Locked in a seven-minute match, the guns will never shut off or run out of ammo. At Pirate's Quest Laser Tag you can choose teams, or you can battle your own team in a free-for-all match against everyone. Have enough people? Come in and talk to an employee about setting up a tournament to prove to your friends that your team has what it takes to come out on top.
BEST ENTRANCE
Front of store
LOCATION IN MALL
Located on the Boardwalk next to Buffalo Wild Wings - 701 Pier Park Drive, Suite 110