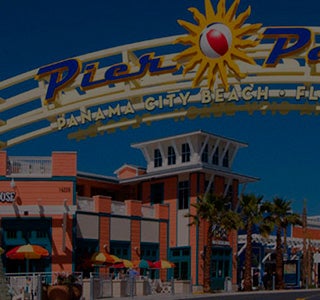 ABOUT PIER PARK
600 Pier Park Dr, Panama City Beach, FL 32413
Center Information
Located just moments away from the pristine beaches of the Emerald Coast and popular area attractions, Pier Park is Northwest Florida's leading shopping center. Spanning over 2 million square feet and welcoming more than 50 million visitors annually, this dynamic shopping destination offers an experiential environment featuring more than 250 retail, dining, and entertainment options enjoyed by domestic and international guests, as well as local residents and families alike.
Prominent department and anchor stores Dillard's, JC Penny, The Grand Theatre, Target, and Marshall's complement best of brand retailers like Victoria's Secret, Columbia, Crocs, and Buckle.
There are many exclusive experiences and retailers on the property that distinguishes Pier Park as a must-visit family shopping destination. Don't miss Pier Park's world-class dining opportunities, offering the freshest of locally caught seafood from the Gulf and flavor-packed fare for every appetite with multiple beach view, outdoor and indoor seating options. The curated lineup of over 25 restaurants and eateries features an international mix of exclusive-to-market selections offering visitors an expansive array of dining choices and health-conscious eateries.
Families can also enjoy our outdoor play area with a bungee jump, bumper boats, a passenger train, and much more.


 For additional information, contact the Mall Management Office at (850) 236-9962.
FEATURED STORES
Directions & Transportation
Pier Park is located along Highway 98/Panama City Beach Parkway in Panama City Beach.

Alt. Route - Pier Park can be accessed off of old Highway98/Front Beach Road.

Sunshine Coachlines
http://www.sunshinecoachlines.com/

Kincaid Coach
http://www.kincaidcoach.com/

Bay Town Trolley services Panama City Beach Monday - Saturday from 6am-8pm.
Drop off location by Jimmy Buffet's Margaritaville
http://www.baytowntrolley.org/

Amore First Class Limousine & Shuttle Service
http://www.bestpanamacitylimo.com/

Beach Boys Shuttle Taxi and Limo
https://www.beachboysshuttle.com/



Pier Park runs along Highway 98/Back Beach Road/Panama City Beach Parkway.

Alt Route
Pier Park can also be accessed via Front Beach Road.

Emerald Taxi
(850) 792-2546

Discount Panama City Beach Taxi & Airport Shuttle
(850) 296-2252

Lemon Taxi & Shuttle Service
(850) 276-8884

Beach Boys Shuttle Taxi and Limo
(850) 234-6234

H2O Shuttle Taxi & Limo
(850) 708-2870
Amenities
Handicapped accessible parking is available.

Order your travel money online for convenient home delivery. Did you know that some Simon center locations also include retail Travelex stores for your convenience. Travelex is the world's largest retail foreign currency exchange specialist, with over 1000 stores around the world. We can provide you with over 75 foreign currencies as well as a Cash Passport that can be pre-loaded with either Pounds or Euros and includes chip & PIN technology, a must when traveling in Europe.

Inquiries should be directed to the Management Office located at:
600 Pier Park Drive, Suite 125