Shop & Stay
Host to millions of shopper visits annually, Ontario Mills is California's largest outlet and value shopping destination. With more than one million square feet and hundreds of retail stores, restaurants and entertainment venues, this shopping center is home to some of the most prestigious designer and name brand outlets in the world! If you're a brand-savvy shopper, take advantage of great deals on an impressive mix of stores at Ontario Mills' Fashion District and newest edition: Fashion Alley, featuring a roster of coveted retailers such as COACH, Uniqlo, kate spade, Tory Burch, Tumi, True Religion Outlet, Perry Ellis, Michael Kors, Michael Kors Mens, Lucky Brand Jeans Outlet, Cole Haan, Polo Ralph Lauren Factory Store, Levis, Tommy Hilfiger, Lacoste, Calvin Klein, Movado Company Store, Sephora and Swarovski. Whether you plan to shop at this premium Simon mall during a weekend getaway or want to make a one-day trip to the area, there are plenty of attractions, dining options and accommodations that are sure to make your stay comfortable and fun. Check out an assortment of delectable dining options at one of the available restaurants or grab and go stations while shopping for an experience that is truly unlike any other. Take a trip with your family to visit the shopping center, or make this shopping center your next vacation destination. Either way, you'll love the shopping, dining and attractions readily available in the area.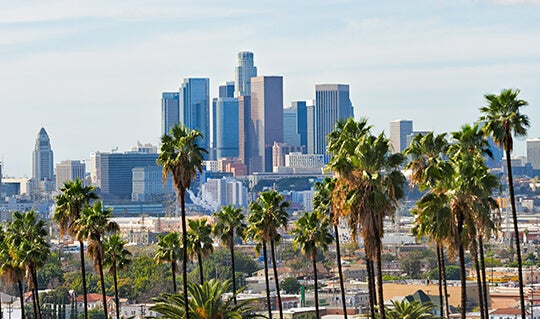 Attractions
Whether you're traveling to California and want to make a quick shopaholic pitstop, or you've carefully planned a vacation specifically to visit Ontario Mills and the surrounding area, you'll love what the area has in store for you. Check out a sporting event or concert at Toyota Arena, or head to a Rancho Cucamonga Quakes minor league baseball game with the family. The Ontario Convention Center has plenty of fun attractions like expos, showcases and conferences that may just be the perfect place to stop during your trip as well. From sporting events to theme parks, and much more, choosing this shopping center as your vacation destination means endless possibilities for all ages.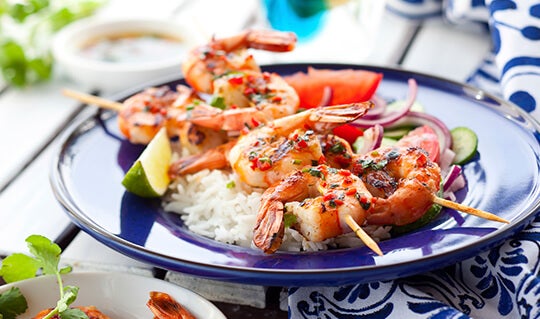 Dining
Savor the flavor of the area and choose from a wide variety of local dining options for all ages just down the road from the shopping center. No matter what your tastebuds are craving, you're sure to find exactly what you're looking for close by. If you're craving fresh fish and a Chef-inspired menu, Market Broiler is your go-to dining options. Maybe you're in the mood for a quick midday lunch option in between shopping. Head to Blaze Pizza for a casual option that is as delicious as it is fast. If you've got the little ones in tow, head over to Rainforest Cafe for a dinner the whole family will never forget. There is truly something for everyone nearby!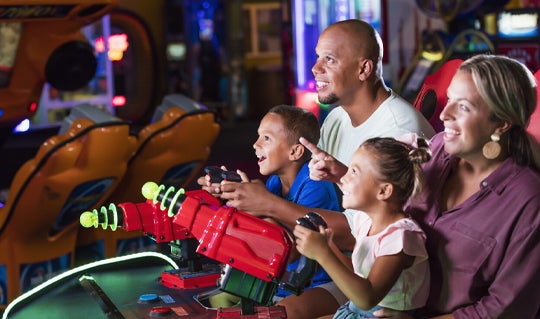 Nightlife
No vacation is complete without a night out on the town, so if you are looking for a nightcap, movie or live music, the area surrounding the shopping center has you covered. From sports bars to quiet and quaint lounge areas, the area is teeming with nighttime options for the whole family. Head to Improv Comedy Club to see big name comedians as well as up and comers, plus spend the night enjoying a full food and drink menu. Or, head to Dave & Buster's with the whole family for a night full of fun after a day full of shopping. This sports-bar-style setting is full of arcade games for all ages, and features a delicious American fare menu.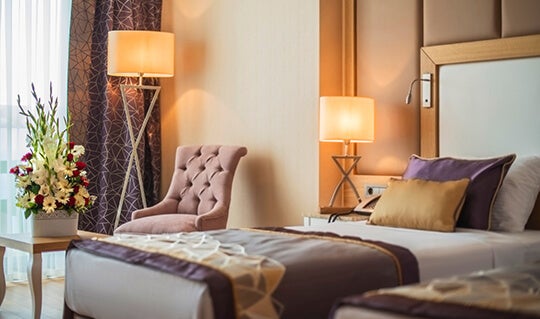 Accommodations
If you're interested in making Ontario Mills your next vacation destination, there are a wide variety of accommodation options to choose from for everyone, including the leisure traveling family, the girls for a weekend of fun and even business travelers. From hotels to charming inns, economical motels and more, you're sure to find the perfect place to stay that meets your individual needs, comfort and budget. There are plenty of options to choose from, and staying near the shopping center has never been easier. If you're planning on staying in the area, check out Ayres Inn and Suites, Hampton Inn & Suites, Hilton Garden Inn and Hyatt Place. Enjoy your time at the mall and stay as long as you need!
Noteworthy Attractions Near The Center
Group Tour Reservations
Planning for a group of ten or more? Book a group tour and receive special discounts.
BOOK A GROUP TOUR
Directions & Transportation
Traveling from:

Los Angeles
Take US-101 S from N Main St. Follow I-10 E to N Milliken Ave in Ontario. Take exit 57 from I-10 E. Continue on N Milliken Ave to Ontario Mills.

San Diego
Take CA-163 N. Take I-15 N to E 4th St/Fourth St in San Bernardino County. Take exit 110 from I-15 N. Follow E 4th St/Fourth St and Ontario Mills Dr. to Ontario Mills.

Palm Springs
Take CA-111 N to I-10 W. Follow I-10 W to N Milliken Ave in Ontario. Take exit 57 from I-10 W. Continue on N Milliken Ave to Ontario Mills.

Las Vegas
Take I-515 N/US-93 N/US-95 N from N 4th St. Follow I-15 S to Ontario Mills Dr. in San Bernardino County. Take exit 110 from I-15 S. Continue on Ontario Mills Dr. to Ontario Mills.

Traveling from:

Los Angeles
L. A. Union Station Metrolink Station to East Ontario Metrolink Station.