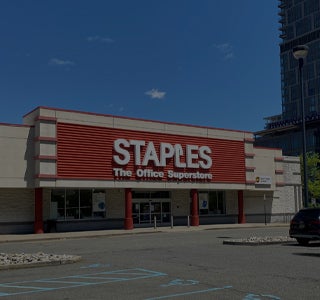 ABOUT NEWPORT CROSSING
613 Washington Blvd, Jersey City, NJ 07310
Center Information
Newport Crossing is a Simon Property conveniently located at 611 and 613 Washington Boulevard, Jersey City , NJ 07310. Newport Crossing is walking distance from Newport Centre and Newport Plaza. Shoppers are able to park in our parking lot. Stores include Modell's and Staples.
Directions & Transportation
From Manhattan, take the Holland Tunnel toward New Jersey, Immediately upon exit get into the right lane and make a right onto 18th. Follow 18th around the bend until into it turns into Washington Blvd, Newport Crossing will be on your right hand side.

From Route 139 or Route 78, Keep left to continue to 139 E. Make a left on Marin Blvd follow road around until it turns into Washington Blvd, Newport Crossing is on your right hand side.

Walking from Newport Centre
Exit Office Tower Mall entrance, go down the escalators, make a left on Washington Blvd. and Newport Plaza is a couple blocks down on your left hand side passed Staples and Modell's
Amenities
The Simon Mobile App can help you find your favorite stores, dining and entertainment options at the Simon shopping center nearest you. You'll also be able to check out the latest deals, news and events available at your favorite center right from your smartphone or tablet. And there are many more features designed to enhance your shopping experience including mall maps, gift card balance check and more. Download the free app from your favorite app store.

All Simon Malls, Mills and Premium Outlets in the U.S. have achieved the national 'StormReady' designation by the National Weather Service. This designation recognizes Simon centers' preparedness to handle all types of severe and potentially life-threatening weather situations.