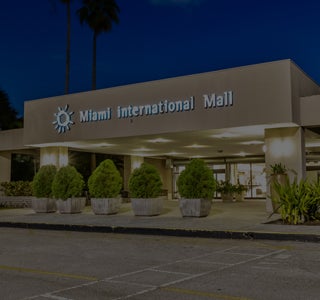 ABOUT MIAMI INTERNATIONAL MALL
1455 NW 107th Ave, Doral, FL 33172
Center Information
Miami International Mall is a premiere family-friendly international shopping experience located in Doral, providing a gathering place for consumers to shop, dine and be entertained in a safe, comfortable environment. The mall is home to select retailers like Macy's The Women's and Kid's Store, Macy's Men's and Home, jcpenney and Kohl's.  Additionally, Miami International Mall features twenty-two eateries including BJ's Restaurant & Brewhouse and The Knife, and offers more than 120 of the latest retail and fashion brands, including Alex and Ani, Forever 21, Guess, H&M, Mayors Jewelers, Pandora, Swarovski, The Disney Store, Tous, and Victoria's Secret.
Miami International Mall also offers visitors unparalleled ease of access, including plentiful parking options and a convenient, new valet service.  Miami International Mall spans more than 1 million square feet and is visited by more than 12 million guests each year.
FEATURED STORES
Directions & Transportation
Miami International Mall is located seven miles from the Miami International Airport, and is also near the Port of Miami. Located in Doral, one of the fastest-growing business communities in the nation, Miami International Mall is at the intersection of SR 836 and NW 107th Avenue.


Car

From the North

Florida Turnpike South - Homestead Extension to Exit 27 (NW 12 St) Head East to NW 107th Avenue.


From the South
Florida Turnpike North to 836 West (Dolphin Expwy). Merge onto NW 107 Avenue toward FL-985 N.


From Miami Beach
Take 836 West (Dolphin Expwy). Merge onto NW 107 Avenue toward FL-985 N.

Bus

Metrobus-Public Transit: Fares are $2 each way, exact change only. Bus-to-rail transfers cost $.50 each. If you are a senior citizen 65 years and over, or a Social Security beneficiary and are a permanent Miami-Dade resident, you are eligible to ride transit free with a Golden Passport EASY Card. Metrobuses operate Monday-Friday 4:30 AM-2:13 AM.
305-770-3131

Greyhound operates 4 stations in Greater Miami & the Beaches; N. Miami Beach, Downtown Miami, Miami Int'l Airport area & Homestead. 1-800-231-2222

Shuttle Bus

In an effort to better serve the travel market, The Orange Shuttle Bus offers tourists a shuttle bus service that transports them to the mall from the Miami International Airport as well as select hotels in the Doral and Airport area and Downtown Miami.

Train

Metrorail: 21 mile elevated rail system which serves Downtown Miami and extends W. to Hialeah & S. to Kendall, with stops approximately every mile. Fares are $2 each way. (Please note: does not arrive directly at the mall)
Amenities
Handicapped accessible parking is available.

Located inside of the Women's Restrooms in the Food Court.

Your health and safety is our priority, so per our Health Shopper Guidelines, this amenity or service is temporarily closed.


Kids Korner Located in JC Penney Court

Order your travel money online for convenient home delivery. Did you know that some Simon center locations also include retail Travelex stores for your convenience. Travelex is the world's largest retail foreign currency exchange specialist, with over 1000 stores around the world. We can provide you with over 75 foreign currencies as well as a Cash Passport that can be pre-loaded with either Pounds or Euros and includes chip & PIN technology, a must when traveling in Europe.