Shop & Stay
Embrace the coastal chic lifestyle at Southern California's trendiest destination, Fashion Valley. Accented by living walls of succulent plants, gorgeous palm trees and iconic fountains, this shopping center is a San Diego must-visit. Shop more than 200 stores, including international fashion houses like Gucci, Louis Vuitton, Saint Laurent, Prada and Salvatore Ferragamo and leading department stores like Bloomingdale's, Macy's, Neiman Marcus and Nordstrom, all while relishing in the sunshine of this open-air environment. This Simon mall property is the largest shopping mall in San Diego and one of the largest in California.
Whether you're from the area and need a day to shop your favorite stores, or you've traveled to the area for a girls' weekend or a trip with the family, Fashion Valley is the perfect vacation destination for all ages. Area attractions, dining options, and even local accommodations are sure to make your stay memorable and enjoyable. Enjoy an assortment of delectable dining options at one of the available restaurants or grab and go stations while shopping for an experience that is truly unlike any other. Either way, you'll love the shopping, dining and attractions readily available in the area.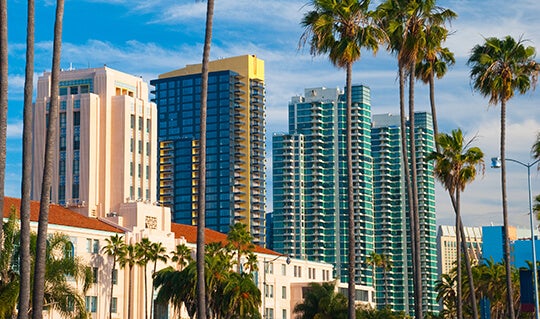 Attractions
Fashion Valley is centrally located in the Mission Valley area of San Diego, with easy access to the San Diego Zoo, SeaWorld San Diego and downtown's Gaslamp Quarter. Bustling with activity, Mission Valley is an epicenter of dining, shopping and entertainment, with plenty of restaurants, retail malls, movie theaters and the 27 hole Riverwalk Golf Club. If you're looking for more outdoor activities and entertainment, visit spectacular beaches in Coronado, Ocean Beach, Mission Beach, Pacific Beach, La Jolla and North County. The world famous San Diego Zoo is a must-see destination and LEGOLAND California will delight youngsters of all ages with over 50 family-friendly rides, attractions and shows.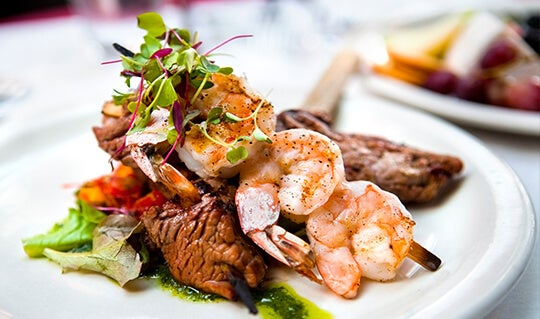 Dining
Discover a delicious selection of dining options at Fashion Valley. The premium shopping center presents an impressive food court with both order-at-the-counter eateries and dine-in restaurants. With a dozen bistros and numerous restaurants, there are plenty of meal options to keep you fueled and strong for a day full of shopping. The shopping center mall food court offers food to eat on the run, like ice cream from Haagen-Dazs or coffee from Nordstrom Cafe, but also sit-down restaurants such as True Food Kitchen, Cheesecake Factory and P.F. Chang's China Bistro, to name a few. No matter what you're craving, there are sure to be a number of quick, casual and even formal dining options close to, or on-site, at the shopping center.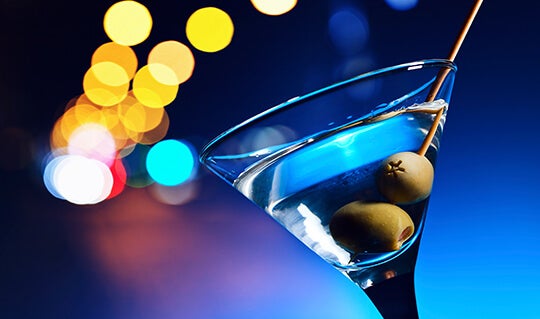 Nightlife
Once your shopping adventure is complete, cap the night off with high-energy entertainment in nearby Downtown San Diego's Gaslamp Quarter or Little Italy. Head uptown for eclectic nightlife in Hillcrest and North Park. Visit one of San Diego's more than 150 breweries. Enjoy live entertainment at one of San Diego's performing arts venues or sports arenas. Turn up the volume with the excitement of Pacific Beach.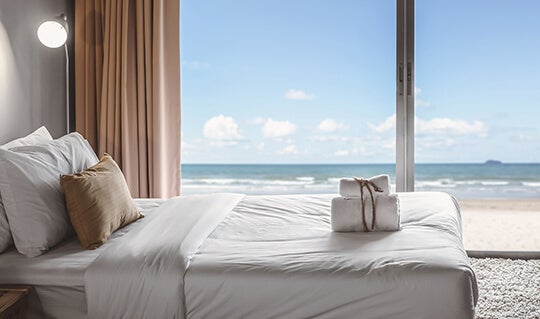 Accommodations
Fabulous accommodations can be found a short distance from Fashion Valley. There are plenty of options to choose from for family stays, anniversary getaways, or even a girls' weekend away, and staying close to the shopping center has never been easier. Mission Valley offers a host of affordable accommodations for families and business travelers alike. The Downtown area "Gaslamp Quarter" hotels are perfect for an authentic San Diego experience. Hotel Circle in Mission Valley has several options for hotel accommodations with a variety of choices close to the mall property, the bay and spectacular beaches. You'll be able to enjoy your time in southern California the way you want to, as well as stay and shop at the shopping center for as long as you need!
Noteworthy Attractions Near The Center
Group Tour Reservations
Planning for a group of ten or more? Book a group tour and receive special discounts.
BOOK A GROUP TOUR
Directions & Transportation
Pick-Up and Drop off curbs located:

1. South side of JCPenney near Vans

2. North side between Neiman Marcus and So Sushi

San Diego MTS offers direct bus service with a stop at the Fashion Valley Transit Center near JCPenney.

The following bus lines stop at Fashion Valley Transit Center - 1, 6, 20, 25, 41, 88, 120, 928

For information on bus routes and fares visit San Diego Metropolitan Transit System.

Fashion Valley is located off Highway 163 at the Friars Road exit.

San Diego MTS offers direct trolley service via the Green Line with a stop at the Fashion Valley Transit Center near JCPenney.

Traditional taxi service is available at the Fashion Valley Transit Center near JCPenney.

Drop off at valet, park in the outer JCPenney parking lot.

Drop off at JCPenney pull in, park in the outer JCPenney parking lot.

Drop off at JCPenney pull in, park in the outer JCPenney parking lot.