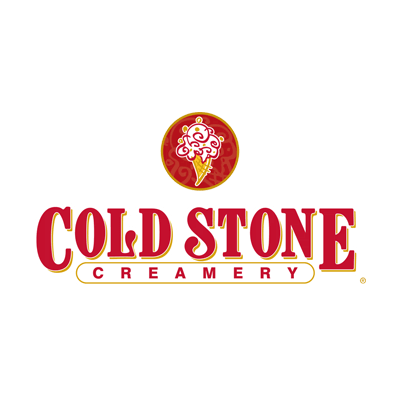 Cold Stone Creamery
DELIVERY
Ice-cream/Frozen Yogurt/Smoothies, Desserts
Cold Stone Creamery offers 16 flavors of super-premium ice cream, yogurt and Italian sorbet made fresh on-site everyday. With over 40 mix-ins and toppings, including fruits, nuts, candy and sauces the combinations are endless. Simply choose one of Cold Stone's 32 Creations, or "Create Your Own." The Cold Stone Creamery crew member mixes the customer's selections on a granite stone, chilled to 15 degrees Fahrenheit, creating the freshest possible individualized ice cream treat available. Plain and chocolate dipped waffle bowls and cones are made on-site daily for that "Ultimate Ice Cream Experience."

Cold Stone also offers the "Ultimate Ice Cream Cake." From "Midnight Delight" to "Cookie Dough Delirium," Cold Stone has ready-to-go cakes that can be personalized to make any event extra special. Custom cakes can be ordered - just call us with your choice of cake, ice cream, mix-ins, frosting and personalization and we'll do the rest!
BEST ENTRANCE
Entry 7
LOCATION IN MALL
Suite #743 in Neighborhood 7 next to Auntie Anne's Pretzels & F.Y.E.
PRODUCTS CARRIED AT COLD STONE CREAMERY