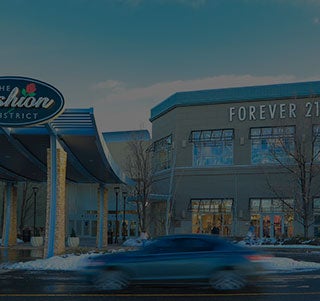 ABOUT COLORADO MILLS®
14500 W Colfax Ave, Lakewood, CO 80401
Center Information
Colorado Mills boasts a crisp, clean and modern renovation and is the Denver Metro Area's only indoor Outlet Mall. With over 160 fashion-forward, athletic, children's and casual clothing and shoe stores, a variety of entertainment and dining options as well as personal health, fitness and beauty shops it's a full day of food, fashion and fun for all.
Distinct outlet and full-line clothing shops include Coach Outlet, Carter's, Eddie Bauer Outlet, Forever 21, H&M, Polo Ralph Lauren Factory Store, Michael Kors Outlet, Nike Factory Store, Off Broadway Shoes, Under Armour Factory House and even a Super Target. Numerous entertainment options include United Artists Theaters & IMAX, The Bounce Place & Arcade, Spooky Glow Mini Golf & Laser Maze, and a "Mars Outpost" play area sponsored by the Denver Museum of Nature & Science and Rodz & Bodz Movie and Classic Car Museum. To satisfy the health and beauty lovers, Colorado Mills features Phenix Salon Suites, Yoga Pod, Oriental Back Rub and more. Colorado Mills offers well renowned dine-in restaurants like Los Chingones Mexican Kitchen and Yard House along with a dynamic mix of fast-casual options in the dining pavilion. At Colorado Mills you can truly enjoy a full day of shopping, entertainment, relaxation and dining.
Conveniently located off the I-70 West & 6th Ave. corridor, just 7 miles west of Downtown Denver, Colorado Mills serves the communities of Lakewood, Golden, Denver, Arvada and more.

Parking is free!

We can't wait to see you here!
FEATURED STORES
Directions & Transportation
DIRECTIONS FROM I-225 (EAST)

Take I-225 North to I-70 West

Take I-70 West to Exit 263 (Colorado Mills Blvd.)

Turn right, down to Colfax Ave. (Rt. 40)

Turn left (South) and cross over Colfax Ave. on to Colorado Mills Parkway

DIRECTIONS FROM I-70 (WEST)

Take I-70 West to Sixth Ave. (Rt. 6)

Take Sixth Ave. to Colorado Mills Blvd./Indiana St.

Turn left (North) on Colorado Mills Blvd./Indiana St.

Turn right at second light into Colorado Mills

DIRECTIONS FROM I-70 (EAST)

Take I-70 West to Exit 263 (Colorado Mills Blvd.)

Turn right down to Colfax Ave. (Rt. 40)

Turn left (South) and cross over Colfax Ave. onto Colorado Mills Parkway

DIRECTIONS FROM C-470 (SOUTH)

Take C-470 (North) to I-70

Take I-70 (East) to Sixth Ave. (Rt.6)

Turn right (East) onto Colorado Mills Blvd.

Turn left (North) on Colorado Mills Blvd./Indiana St.

Turn right at second light into Colorado Mills

DIRECTIONS FROM BOULDER

Take Hwy 93 (South)

Hwy 93 turns into Sixth Ave. (Rt. 6)

Continue on Sixth Ave. as it turns East

Turn left (North) on Colorado Mills Blvd./Indiana St.

Turn right at second light into Colorado Mills

DIRECTIONS FROM I-25 (SOUTH)

Turn left (West) onto Sixth Ave. (Rt. 6)

Go about 7 miles to Colorado Mills Blvd./Indiana St.

Turn right (North) on Colorado Mills Blvd./Indiana St.

Turn right at second light into Colorado Mills

DIRECTIONS FROM I-25 (NORTH)

Turn right (West) onto Sixth Ave. (Rt. 6)

Go about 7 miles to Colorado Mills Blvd./Indiana St.

Turn right (North) on Colorado Mills Blvd./Indiana St.

Turn right at second light into Colorado Mills

Freedom Cab
303.292.8900
www.freedomcabs.com

Metro Taxi
303.333.3333
www.metrotaxidenver.com

South Suburban Cab
303.888.8888
www.southsuburbantaxi.com

Yellow Cab
303.777.7777
www.yellowtrans.com

Visit the trip planner at www.rtd-denver.com

Amenities
Handicapped Accessible Entrances are available at all entrances.

Handicapped accessible parking is available at all entrances.

Colorado Mills has partnered with the 40 West Arts District to bring a multitude of art work and sculptures to the center. Please see the mall map at any entry for exact locations or discover these timeless works of art as you walk the center.

Located in the Dining Pavilion.

In Mall Attractions

Mars Outpost Play Area
Neighborhood 4 - Near Build-A-Bear

All On Target
Neighborhood 4 - Near Adidas Outlet
(720) 252-1055

American Carousel
Dining Pavilion
(303) 590-1549

Action Time Bungee
Neighborhood 3 - Near Burlington
(201) 724-4335

Mini Express Trackless Train
Neighborhood 4 - Near The Sweet Shop
(720) 495-4431

The Bounce Place & Arcade
Neighborhood 3 - Near Los Chingones Mexican Kitchen
(303) 960-9652

Mall Moto
Dining Pavilion - Near Cinnabon

(201) 724-4335

Spooky Glow Mini Golf Sand Play & Laser Maze
Neighborhood 3 - Between Los Chingones Mexican Kitchen and Burlington
(303) 590-1780

United Artist Theatres & IMAX
On "The Street" - East end of center
(303) 590-1630