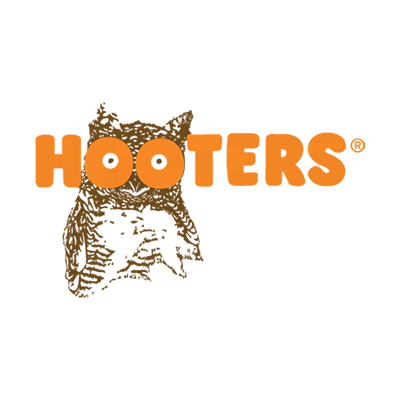 Hooters
CURBSIDE PICKUP AVAILABLE DELIVERY TAKEOUTDINE-IN SHOPPING CONCIERGE
$$ | American
Table Service
HOA Restaurant Group, LLC is the Atlanta-based operator and franchiser of over 430 Hooters locations in 27 countries. The privately held corporation owns 160 units.
The first Hooters opened October 4, 1983, in Clearwater, Florida. During its history, the Hooters concept has undergone very little change. The current logo, uniform, menu and ambiance are all very similar to what existed in the original store. This lack of change is understandable given the tremendous success the Hooters concept has enjoyed. Hooters has continued to rank high amongst the industry's growth leaders. Hooters has proven successful in small-town America, major metropolitan areas and internationally.
The casual beach-theme establishments feature "oldies" jukebox music, sports on television, and a menu that includes seafood, sandwiches, salads and spicy chicken wings. Hooters, system-wide, generates and averages 68% of its sales from food, 4% from merchandise, and 28% from beer, wine and spirits.
The element of female sex appeal is prevalent in the restaurants, and the company believes the Hooters Girl is as socially acceptable as a Dallas Cowboy cheerleader, Sports Illustrated swimsuit model, or a Radio City Rockette. The Hooters system employs over 25,000 people - over 17,000 of which are Hooters Girls. The "nearly world famous" Hooters Girls are the cornerstone of the Hooters concept, and as part of their job, these all-American cheerleaders make promotional and charitable appearances in their respective communities. Hooters hires women who best fit the image of a Hooters Girl to work in this capacity. The chain hires both males and females to work in management and host, staff, service bar, and kitchen positions. The Hooters Girl uniform consists of orange shorts and a white tank top. Pantyhose and bras are required.
Claims that Hooters exploits attractive women are as ridiculous as saying the NFL exploits men who are big and fast. Hooters Girls have the same right to use their natural female sex appeal to earn a living as do super models Cindy Crawford and Naomi Campbell. To Hooters, the women's rights movement is important because it guarantees women have the right to choose their own careers, be it a Supreme Court Justice or Hooters Girl.
The chain acknowledges that many consider "Hooters" a slang term for a portion of the female anatomy. Hooters does have an owl inside its logo and uses an owl theme sufficiently to allow debate to occur over the meaning's intent. The chain enjoys and benefits from this debate. In the end, we hope Hooters means a great place to eat.
Hooters characterizes itself as a neighborhood place, not a typical family restaurant. Sixty-eight percent of customers are male, most between the ages of 25-54. Hooters does not market itself to families, but they do patronize the restaurants. Ten percent of the parties we serve have children in them. Hooters is in the hospitality business and provides the best possible service to anyone coming through the door. For this reason, the chain offers a children's menu.
According to ever-increasing sales figures, the Hooters concept must be acceptable to a large majority of American consumers. Hooters believes critics of the concept are a vocal minority of politically correct minded individuals. This group sometimes states the concept "constitutes a hostile work environment," but just the opposite is true.
HOA Restaurant Group, LLC has taken a pro-active lead in the industry addressing issues raised by individual acts of sexual harassment. HOA Restaurant Group, LLC, like all responsible corporations, deplores such acts and prohibits this behavior in the workplace. The company has a long-standing non-harassment policy forbidding unwelcome physical or verbal behavior, and specifically mentions sexual harassment. This policy includes a confidential reporting system for complaints, including a toll-free phone number. Since 1983, Hooters has employed over 300,000 Hooters Girls, and while even one incident is too many, this large number of employees, compared to the limited number of sexual harassment lawsuits filed, indicates this policy works.
For a distinctly different reason, Hooters ran into problems with the Equal Employment Opportunities Commission (EEOC) in 1991. The agency brought forth a commissioner's charge against Hooters claiming its hiring practices discriminate against men. Following an intensive four-year investigation the EEOC determined what executives had told them all along, Hooters only hires women as Hooters Girls. On November 15, 1995, the chain took the EEOC's charge public with a 100 Hooters Girl march on Washington D.C. Hooters received support from the nation's media, calling the charge "another example of ridiculous government waste," and some 500,000 Hooters customers supported the chain by sending postcards to Congress.
Because of this action, 23 members of the 104th Congress, led by Rep. Charles Norwood (R- Ga.), wrote the EEOC requesting it drop this matter. On May 1, 1996, news reports announced that the federal agency would not pursue litigation. To date, Hooters has not received formal notification from the EEOC, however believes the matter is concluded.
But this was not the end of the legal issues surrounding the Hooters Girl. A group of men in Chicago and a group in Maryland brought forth class action lawsuits challenging the Hooters restaurant chain's right to hire only women in front-of-house positions. On November 25, 1997, federal magistrate Morton Denlow in Chicago approved a settlement of these class actions. Under the parties' agreement, Hooters will continue to be allowed to hire only women for the job of Hooters Girl.
Most importantly, the settlement agreement acknowledged that "being female is reasonably necessary" to the performance of the Hooters Girl's job duties, forever preserving the integrity of the Hooters Girl concept.
Sex appeal is legal and it sells. Newspapers, magazines, daytime talk shows, and local television affiliates consistently emphasize a variety of sexual topics to boost sales. Hooters marketing, emphasizing the Hooters Girl and her sex appeal, along with its commitment to quality operations continues to build and contributes to the chain's success. Hooters' business motto sums it up, "You can sell the sizzle, but you have to deliver the steak."
The Hooters system uses television ads, the Hooters Magazine and Hooters Girl billboards to advertise the concept. The chain even introduced its own Hooters MasterCard Credit Card in 2005.
It also generates awareness through successful sports partnerships with the National Golf Association Hooters Tour. The NGA enjoys extensive television coverage and fan support. Other sponsored sports properties include Formula One powerboat racing and an AMA Motorcycle Team.
In 2003 the Hooters Brand literally took to the skies when Hooters Air Airline was launched. At its peak the airline served 15 cities including Nassau and Las Vegas. While Industry problems grounded the carrier in 2006, the venture will forever be a part of airline lore. In 2006, the Hooters Casino Hotel in Las Vegas was opened at the site of the former San Remo Hotel. The 700 room property provides a Hooters experience with beautiful Hooters Girls and a comfortable, casual atmosphere.
Hooters not only reaches the sports fan, but reaches out to the communities in which it operates. The Hooters Community Endowment Fund (HOO.C.E.F.) raises money for local and national charities such as the Jimmy V Foundation for Cancer Research, Make-A-Wish Foundation, the U.S.O., Operation Homefront, Special Olympics, American Diabetes Association, Juvenile Diabetes Foundation and Muscular Dystrophy Association. Since 1992, HOO.C.E.F. has raised more than $8 million for these and other worthwhile organizations. A portion of this money comes from a VIP grand opening party each location holds to benefit a local charity. These openings generate thousands annually and prepare staff for the hungry customers to come.
In 2006 Hooters partnered with the V Foundation for Cancer Research and established a $2 Million Breast Cancer Research Grant in the name of Kelly Jo Dowd, 1998 Hooters Calendar Cover Girl, Manager, and Cancer Fighting Symbol, who spent the last years of her life battling breast cancer. Hooters met the $2 Million mark in 2009 and continues to raise money for the cause annually.
Hooters partnered with Operation Homefront in 2009 to establish The Valentine Fund in honor of fallen hero SOCS Thomas J. Valentine. The fund supports the families of Special Forces service members and other military families. Hooters has donated $200,000 to the fund.
The first years have been a "Hoot" and the chain looks forward to a bright future. The company has no plans to alter the concept and feels doing so would be a tremendous disservice to its franchisees, employees, and customers.
CURBSIDE PICKUP AVAILABLE
Restaurant is located at West Parking area, next to Cinemark.
STORE HOURS
Monday to Thursday 11AM - 9PM |
Friday to Saturday 11AM - 10PM |
Sunday 11AM - 9PM |

BEST ENTRANCE
West side Parking lot across Cinemark
LOCATION IN MALL
West Parking Lot