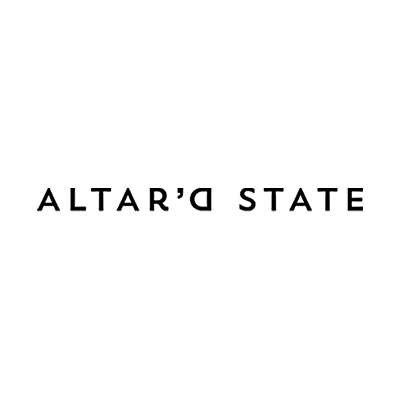 Altar'd State
Altar'd State is an energetic fashion boutique that offers a distinctive shopping experience for women interested in the latest fashion finds, the most anticipated accessories and that next great gift. Whether she is 16 or 60, the common thread is her desire to share her personality through stylish, comfortable, on-trend clothes, shoes and accessories. Altar'd State customers can enjoy supporting an organization that promotes confidence, civic involvement and positivity through its merchandise and involvement. Altar'd State more than a store, it's a movement. Learn more: www.altardstate.com.
CURBSIDE PICKUP AVAILABLE
Call store directly for additional details including pickup location.
SPECIAL HOURS
12/07/2021: 10AM - 9PM (Holiday Shopping)
12/08/2021: 10AM - 9PM (Holiday Shopping)
12/09/2021: 10AM - 9PM (Holiday Shopping)
12/10/2021: 10AM - 9PM (Holiday Shopping)
12/11/2021: 10AM - 9PM (Holiday Shopping)
12/12/2021: 11AM - 6PM (Holiday Shopping)
12/13/2021: 10AM - 9PM (Holiday Shopping)
12/14/2021: 10AM - 9PM (Holiday Shopping)
12/15/2021: 10AM - 9PM (Holiday Shopping)
12/16/2021: 10AM - 9PM (Holiday Shopping)
12/17/2021: 10AM - 9PM (Holiday Shopping)
12/18/2021: 10AM - 9PM (Holiday Shopping)
12/19/2021: 11AM - 6PM (Holiday Shopping)
12/20/2021: 10AM - 9PM (Holiday Shopping)
12/21/2021: 10AM - 9PM (Holiday Shopping)
REGULAR STORE HOURS
Monday to Saturday 10AM - 9PM |
Sunday 11AM - 6PM |

BEST ENTRANCE
Near Macy's
LOCATION IN MALL
Center Court next to LUSH
PRODUCTS CARRIED AT ALTAR'D STATE