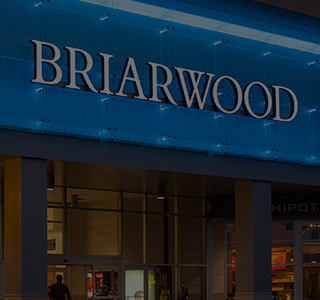 ABOUT BRIARWOOD MALL
100 Briarwood Cir, Ann Arbor, MI 48108
Center Information
Select local specialty shops, 14 eateries and 85 shops make Briarwood Mall the premier shopping destination in Washtenaw County.
Briarwood Mall is located two miles south of the University of Michigan. It is the major retail hub for the Ann Arbor market. Ann Arbor is a highly educated community, specializing in world-class health care and automotive research and development.
Briarwood Mall serves the most diverse community in Michigan, including students and employees from all over the world.
It is anchored by Macy's, Von Maur and JCPenney and complements best of brand retailers like Apple, Victoria's Secret, Sephora, PF Chang's, Tricho Salon, Pottery Barn, American Eagle Outfitters, Bath and Body Works, M Den and more.
Briarwood Mall offers outstanding guest amenities and services, including an interactive play area, family restrooms, free WiFi, charging stations, and mall walking. 
FEATURED STORES
Directions & Transportation
Amenities
Briarwood Mall is a one-level shopping center, and is wheelchair accessible at each mall entrance. Wheelchairs are available at the Management Office for check-out located by the restrooms near Vera Bradley. Closest entrance is the main mall entrance near Von Maur.

Handicapped accessible parking is available.

The ATM is located in Center Court.

Baby Changing Stations are available within the public restrooms. Restrooms are located in the Macy's corridor and near Vera Bradley. An additional family restroom is located near Von Maur by the Play Area. There are two nursing stations located near Von Maur and Macy's that also have changing stations.

Coca Cola and Dasani Machines are located at mall entrances of the shopping center near Panda Express, Chipotle, Eddie Bauer and Tricho. They are also located near the Management Office and next to Vans in the JCPenney wing for your convenience.