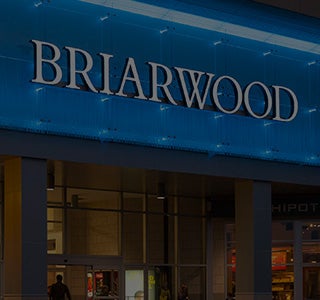 ABOUT BRIARWOOD MALL
100 Briarwood Cir, Ann Arbor, MI 48108
Center Information
Select local specialty shops, 14 eateries and 85 shops make Briarwood Mall the premier shopping destination in Washtenaw County.
Briarwood Mall is located two miles south of the University of Michigan. It is the major retail hub for the Ann Arbor market. Ann Arbor is a highly educated community, specializing in world-class health care and automotive research and development.
Briarwood Mall serves the most diverse community in Michigan, including students and employees from all over the world.
It is anchored by Macy's, Von Maur and JCPenney and complements best of brand retailers like Apple, Victoria's Secret, Sephora, PF Chang's, Tricho Salon, Pottery Barn, American Eagle Outfitters, Bath and Body Works, M Den and more.
Briarwood Mall offers outstanding guest amenities and services, including an interactive play area, family restrooms, free WiFi, charging stations, and mall walking. 
FEATURED STORES
Directions & Transportation
From I-94, take I-94 to exit 177 (State Street.) Head north on State Street to the first light on the left to Briarwood Drive. The destination is just ahead on Briarwood Circle.

From downtown Ann Arbor, take Main Street south. Main Street leads directly into Briarwood Mall parking lot. Or from State Street, head south. Just before the I-94 entrance, Briarwood Drive will be on the right. It will lead to Briarwood Circle.

From Plymouth, take M-14 to 23 South approximately 6.5 miles to I-94 West. From I-94, take exit 177 (State Street.) Head north on State Street to the first light on the left to Briarwood Drive. The destination is just ahead on Briarwood Circle.


Bus transportation to Briarwood Mall is provided by the AAATA (The Ride).

https://www.theride.org/maps-schedules/schedule-route




A -1 Airport Cars (877) 276-1335

Reliable Airport Service (734) 260-8615

Custom Transit (734) 971-5555

Metro Airport Taxi and Luxury Sedan (313) 729-6996

Blue Cab Company (734) 547-2222

Uber

Michigan Green Cabs (877) 476-8294

University Taxi (734) 368-4800

Golden Limousine (734) 668-8282

A2 Transportation (734) 695-0470

Arbor Taxi (734) 477-9970

Amtrak Ann Arbor Station, 325 Depot St, (800) 872-7245

The train station is located in downtown Ann Arbor 3.8 miles from Briarwood Mall. Transportation from the station to Briarwood Mall via AAATA or by Cab is recommended. It is a 14 minute drive by car.

FootballRide Shuttles: Home U-M Football Games

Avoid traffic congestion and parking chaos. Ride the comfortable, climate-controlled FootballRide shuttle bus to University of Michigan home football games!

It's easy, convenient, and fun. Park at the mall, and purchase your tickets and catch the shuttle at Kensington Court hotel, located on the ring road of Briarwood Mall. Then hop on the Football Ride. You'll be delivered, warm and dry, to Michigan Stadium. After the game, the Football Ride takes you back to your car. Just $1.50 each way ($3.00 round trip) for tickets to ride the Football Ride Shuttle.

FootballRide runs approximately every 20 minutes beginning two hours before game time with the last shuttles leaving 30 minutes before game time. Shuttles run approximately one hour after the game.

Riders are encouraged to purchase round-trip tickets in advance, as drivers do not carry change.
Amenities
Briarwood Mall is a one-level shopping center, and is wheelchair accessible at each mall entrance. Wheelchairs are available for check-out at Guest Services in the Von Maur wing.

Handicapped accessible parking is available.

The ATM is located in Center Court.

Baby Changing Stations are available within the public restrooms. Restrooms are located in the Macy's corridor and next to the Management Office. An additional family restroom is located near Von Maur by the Play Area. Nursing stations located near Von Maur and Macy's also have changing stations.

Coca Cola and Dasani Machines are located at mall entrances of the shopping center near Panda Express, Chipotle, Eddie Bauer and Tricho. They are also located near the Management Office and next to Vans in the JCPenney wing for your convenience.