Five Guys
American | $ | View Location of Five Guys
There are over 250,000 possible ways to order a burger at Five Guys. We use only fresh ground beef. There are no freezers in Five Guys locations, just coolers. Nothing is ever frozen. We use only Peanut oil. Exterior next to HuHot
Serves Lunch & Dinner
HuHot Mongolian Grill
Asian Cuisine | $$ | View Location of HuHot Mongolian Grill
Create your own Asian stir-fry! Choose from our fresh selection of meats, seafood, noodles, veggies and Asian-influenced sauces. Customize your Mongolian BBQ masterpiece, then watch as it's cooked on our grill of epic proportions. J - next to Macy's
Serves Lunch & Dinner
Moe's Southwest Grill
Mexican | $ | View Location of Moe's Southwest Grill
Fresh burritos, quesadillas, tacos and salads made to order!  Join us for Moe's Mondays $5 Regular burrito with Chips & Salsa and a Medium drink for $5 & Tuesday's 4pm-close kids 12 and under eat for $1 with the purchase of an adult meal. Located next to Five Guys in the Lifestyle section of the Center.
Serves Lunch & Dinner
Nakato Japanese Restaurant
Japanese | $$ | View Location of Nakato Japanese Restaurant
The Nakato family wishes to invite you to dine at our restaurants and enjoy meals prepared by our talented Teppan Yaki and Sushi chefs. Parking Lot
Serves Dinner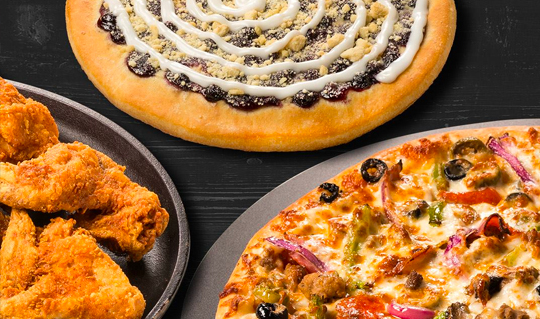 Coming Soon
Pizza Ranch
Pizzeria | $$ | View Location of Pizza Ranch
Pizza Ranch offers pizza, chicken, a salad bar, and a pizza and chicken buffet.
Serves Lunch, Dinner & Desserts
Ruby Tuesday
American | $ | View Location of Ruby Tuesday
Casual neighborhood bar and grille offering a variety of menu items. Located inside East JCPenney Court Entrance
Serves Lunch & Dinner
More Dining at Battlefield Mall