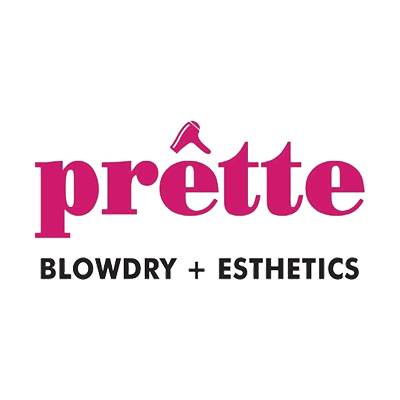 PRÊTTE BLOWDRY + ESTHETICS
---
Prepare to be blown away at Prette Blowdry & Esthetics by our expertly trained team of stylists will transform your tresses and leave you feeling like the next Instagram Sensation. Our mission at Prette is to make women feel beautiful inside and out.

The Prette Experience:
We're more than just blow-dries + estheticians, we are a community and would love for you to be a part of it! Come connect to the WiFi and work while getting a blowout. Visit with a girlfriend, catch up, get your makeup done. Sip on a glass of wine/mimosa OR simply sit silently, in peace enjoying a tea while getting your brows shaped or any other one of our fab services. It's your visit. Your time. Your own experience.

We have an amazing team of talented, positive, and kind professionals who are here to help you feel your best.
Peek through our Hair Menu for your perfect Blow Out or Style as you sip on a seasonal beverage deciding what blowout is your flavor for today. Whether your going out for the evening, getting ready for the work week, just for fun, have an event, or its your wedding, let us make you PRETTE. We're located right off Rt 128 & have a parking lot located conveniently right next to us. Our online booking system is super easy and convenient. With just a few clicks you'll be in our chair in no time. Book online or call the lounge directly.

Perfect Brow Shaping
Brow + Lash Tinting
Lash Extensions
Lash Lifting
Hair Up + Down Styles
Wedding Hair
Pro Makeup Artistry
Customized Airbrush Tanning
Full Body Speed Waxing

***Customers should feel welcome to walk in, Book on-line, or give us a call. We are here to make your Prette experience unforgettable.