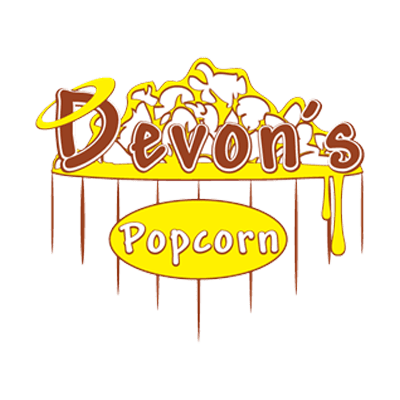 DEVON'S GOURMET POPCORN
---
Established in 2011, Devon's is a family owned establishment that makes flavored popcorn.
We've have always experimented with making flavored popcorn for treats
and gifts for family and friends. After receiving many requests to make popcorn for parties and family gatherings we decided to open a shop.

We're not trying to be over the top with how many Gourmet Popcorn flavors we offer. We are striving to make the best tasting and creative Gourmet Popcorn we can. We create flavors with made by scratch recipes such as rich and buttery caramel, double caramel, cheesy cheddar, and our light and flavorful white cheddar popcorn. We are known for our creation born here at Devon's, called "ATLANTA MIX" which is often imitated but never duplicated. We have tried to create flavors that dazzle many types of palettes. We have an assortment of 33 flavors.

At Devon's Gourmet Popcorn LLC, we proudly serve Decatur, GA and its surrounding area, as well as ship throughout the US. We have gained the necessary experience in Gourmet Popcorn and Flavored Popcorn to properly and most economically assess and address any Gourmet Popcorn need you may have.

The best way to show the difference in our skill and attention to detail can make in your Gourmet Popcorn needs is by stopping by or giving us call at 404-636-3447.