Wolf Ranch Town Center is designed to give customers a unique shopping experience with a variety of stores ranging from home goods, electronics, and men's and women's apparel. This open-air community center is home to over 80 retail stores and restaurants including Target, Ross, Best Buy, TJ Maxx, and Kohl's. You can choose from the many exciting dining options from sit down places such as Longhorn Steakhouse and Casa Ole to grab and go choices such as Carl's Jr and Panda Express. Wolf Ranch Town Center serves the nearby communities of Georgetown, Round Rock and Killeen and is conveniently located at the intersection of IH-35 South and University Ave. What makes Wolf Ranch truly special is that it has an interpretive nature trail, ponds, and scenic areas that reinforce the natural Central Texas elements of wind, water and shade.
// READ MORE
Mall Office:

(512) 930-8008

Mall Office

(512) 930-8008
Mall Security:

(512) 508-0720

Mall Security

(512) 508-0720
We offer free wireless internet to our shoppers at this Simon mall. Any shopper with a Wi-Fi enabled laptop, tablet or smartphone can easily log onto the Wi-Fi network. All shoppers have to do is open their web browser or select "Simon WiFi" (the SSID name) from their available list of wireless networks to get to the Simon Malls Wi-Fi landing page. All shoppers that choose to use the Wi-Fi network at this mall must agree to Simon Wi-Fi Terms & Conditions of Use  prior to using this free service. If there are any issues or questions, shoppers and tenants should contact the Wi-Fi network technical support hotline at (888) 726-5930 for assistance.

Order your travel money online for convenient home delivery. Did you know that some Simon mall locations also include retail Travelex stores for your convenience. Travelex is the world's largest retail foreign currency exchange specialist, with over 1000 stores around the world. We can provide you with over 75 foreign currencies as well as a Cash Passport that can be pre-loaded with either Pounds or Euros and includes chip & PIN technology, a must when traveling in Europe. To get started, visit <a href="http://onlinetravelcurrency.com/mtwid000136/Home?utm_source=Simon&utm_medium=link&utm_campaign=911">Travelex now</a>.

Our Wells Fargo ATM Machine is located next to Fire Plaza and Yankee Candle.

Coke machines are located throughout the mall for your convenience. Please see locations below:<br /> -In the Paseo next to Milano Tratorria and the Management Office<br /> -Next to Fire Plaza and Yankee Candle

The Simon Malls Mobile App can help you find your favorite stores, dining and entertainment options at the Simon Mall nearest you. You'll also be able to check out the latest deals and events available at your favorite mall right from your phone. And there are many more features designed to enhance your shopping experience including mall maps & gift card balance check. Download the free app from the App Store&#8480 for iOS powered devices or from Google Play™ for Android powered devices today. iPhone is a trademark of Apple Inc., registered in the U.S. and other countries. App Store is a service mark of Apple Inc. Android and Google Play are trademarks of Google Inc.
BACK TO TOP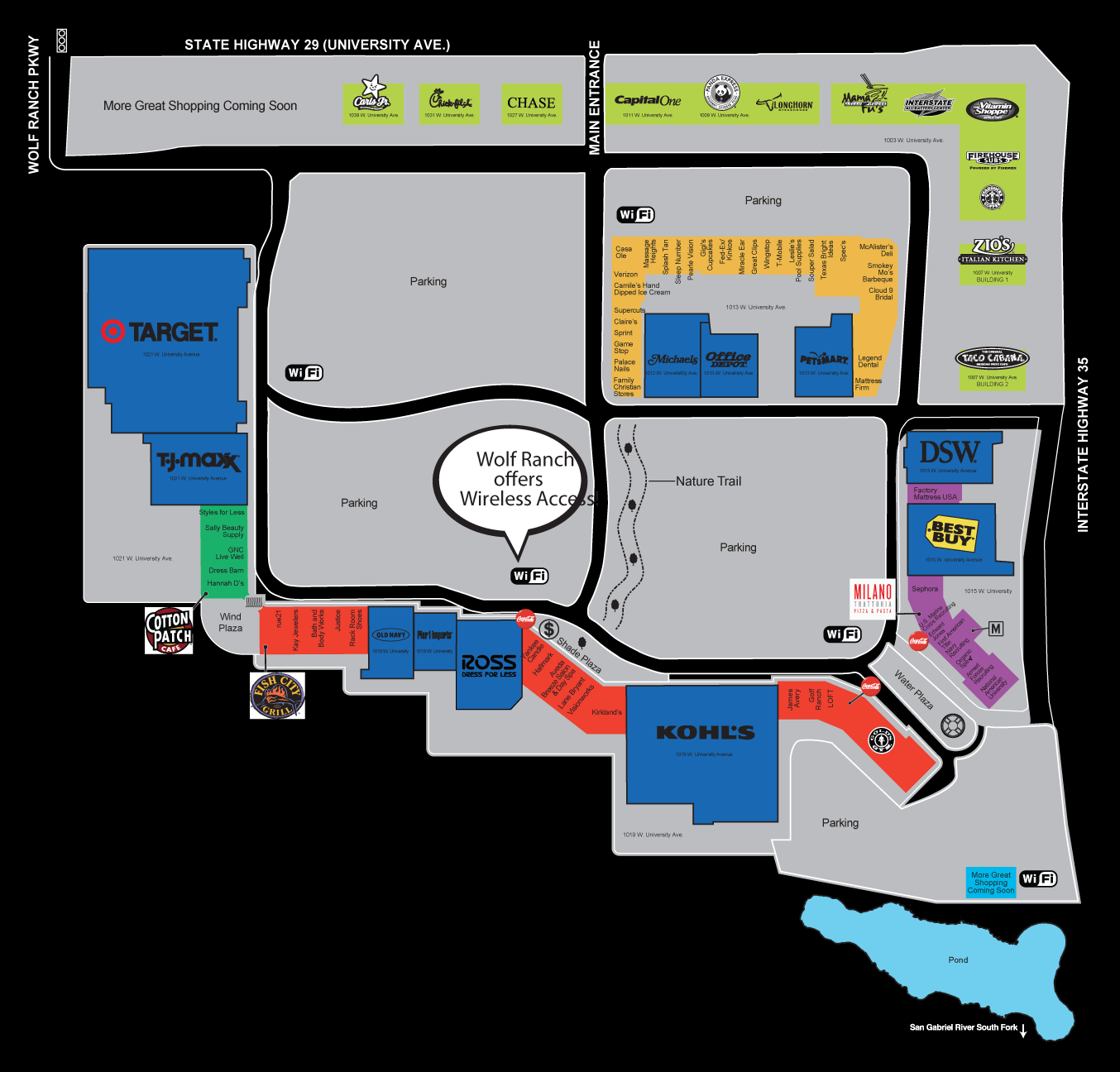 Bath & Body Works is the apothecary of the 21st century. It is the authority dedicated to helping people find their own individual paths to well-being by bringing them the very best personal care products the world has to...

See all things: Bath & Body Works • Specialty Shops • Health, Bath & Beauty
Our mission at Aveda is to care for the world we live in, from the products we make to the ways in which we give back to society. At Aveda, we strive to set an example for environmental leadership and responsibility, not...

See all things: Breeze Salon & Day Spa • Services • Health, Bath & Beauty
Gym features: -Exclusive Cardio Cinema- Equipped with a movie theater projection screen and surround sound audio, time will fly as you watch your favorite movies while you work out. -Free Group Training -Tons of...

See all things: Gold's Gym Express • Services • Health, Bath & Beauty
Great Clips understands that with today's fast-paced lifestyle, you need a salon that fits your schedule. That's why we're open evenings and weekends; no appointments necessary. At Great Clips, you can relax, because you...

See all things: Great Clips • Services • Health, Bath & Beauty
Our Mission is to promote a healthy lifestyle by providing professional, affordable, convenient therapeutic massage services.

See all things: Massage Heights • Health, Bath & Beauty
Miracle-Ear Hearing Aid Center's primary focus is paying careful attention to the patients - listening to them, interpreting their physiological needs, and finding the correct solution to their hearing deficit.

See all things: Miracle-Ear • Services • Health, Bath & Beauty
Sally Beauty meets the needs of professional cosmetologists with more than 5,000 products for hair, nail and skin care, as well as a full range of salon equipment. We offer cash-and-carry convenience in easy-access...

See all things: Sally Beauty Supply • Health, Bath & Beauty
Sephora is the largest prestige beauty retailer in the world. Featuring thousands of products from over 200 brands, you're encouraged to try everything in the store. And if you have a question, Sephora's team of beauty...

See all things: Sephora • Specialty Shops • Health, Bath & Beauty
Get in, get confident at Supercuts, the iconic men's and women's hair salon featuring hairstyles, haircuts, hair color and hair products.

See all things: Supercuts • Services • Health, Bath & Beauty
Dedicated to helping people fulfill their health and wellness needs, the Vitamin Shoppe is a specialty retailer and direct marketer of nutritional products ranging from vitamins and minerals to nutritional supplements...

See all things: The Vitamin Shoppe • Specialty Shops • Health, Bath & Beauty
Well, this is sad.
We didn't find anything. Try something different.
FILTER BY CATEGORY