The Shops At Montebello® is a modern indoor super regional shopping center that is conveniently located east of downtown Los Angeles and directly adjacent to the Pomona (60) Freeway. The property is also in close proximity to two other major Los Angeles freeways (Interstates 605 and 710), which makes The Shops at Montebello® both convenient and easily accessible. The Shops At Montebello® features a Macy's, Forever 21 Department Store, JC Penney, COACH, and G by Guess plus more than 160 specialty retailers. We also feature several restaurants such as BJ's Brewery, Hikari Sushi, and a new Olive Garden that will be opening in Spring of 2013. The Shops At Montebello® serves the all communities in the San Gabriel Valley and East Los Angeles including Montebello, Monterey Park, and Rosemead. With more than 160 retailers, the Shops at Montebello, with its modernized look and feel, strives to provide the best shopping experience with its retailer and dining selections for the entire family.
// READ MORE
Mall Office:

(323) 722-1776

Mall Office

(323) 722-1776
Shopping Line:

(323) 722-8454

Shopping Line

(323) 722-8454
Order your travel money online for convenient home delivery. Did you know that some Simon mall locations also include retail Travelex stores for your convenience. Travelex is the world's largest retail foreign currency exchange specialist, with over 1000 stores around the world. We can provide you with over 75 foreign currencies as well as a Cash Passport that can be pre-loaded with either Pounds or Euros and includes chip & PIN technology, a must when traveling in Europe. To get started, visit <a href="http://onlinetravelcurrency.com/mtwid000136/Home?utm_source=Simon&utm_medium=link&utm_campaign=1342">Travelex now</a>.

The kids soft play area is located on the upper level in front of Forever 21.

Visit Guest Services for Lost and Found information.

The Simon Kidgits Club hosts fun-filled activities for children several times a year. Events focus on health, wellness, safety, entertainment, education, and holiday celebrations. Families receive a quarterly newsletter, special offers to select stores and discounts on pictures with the Easter Bunny and Santa Claus. For only $5 per year, your child will receive a t-shirt, a present for their birthday, a prize every time they visit a Simon mall, an invitation to all of our Kidgits events, and the first 150 members at each event receive a present. Visit Guest Services for more information and to sign up your child today! 
BACK TO TOP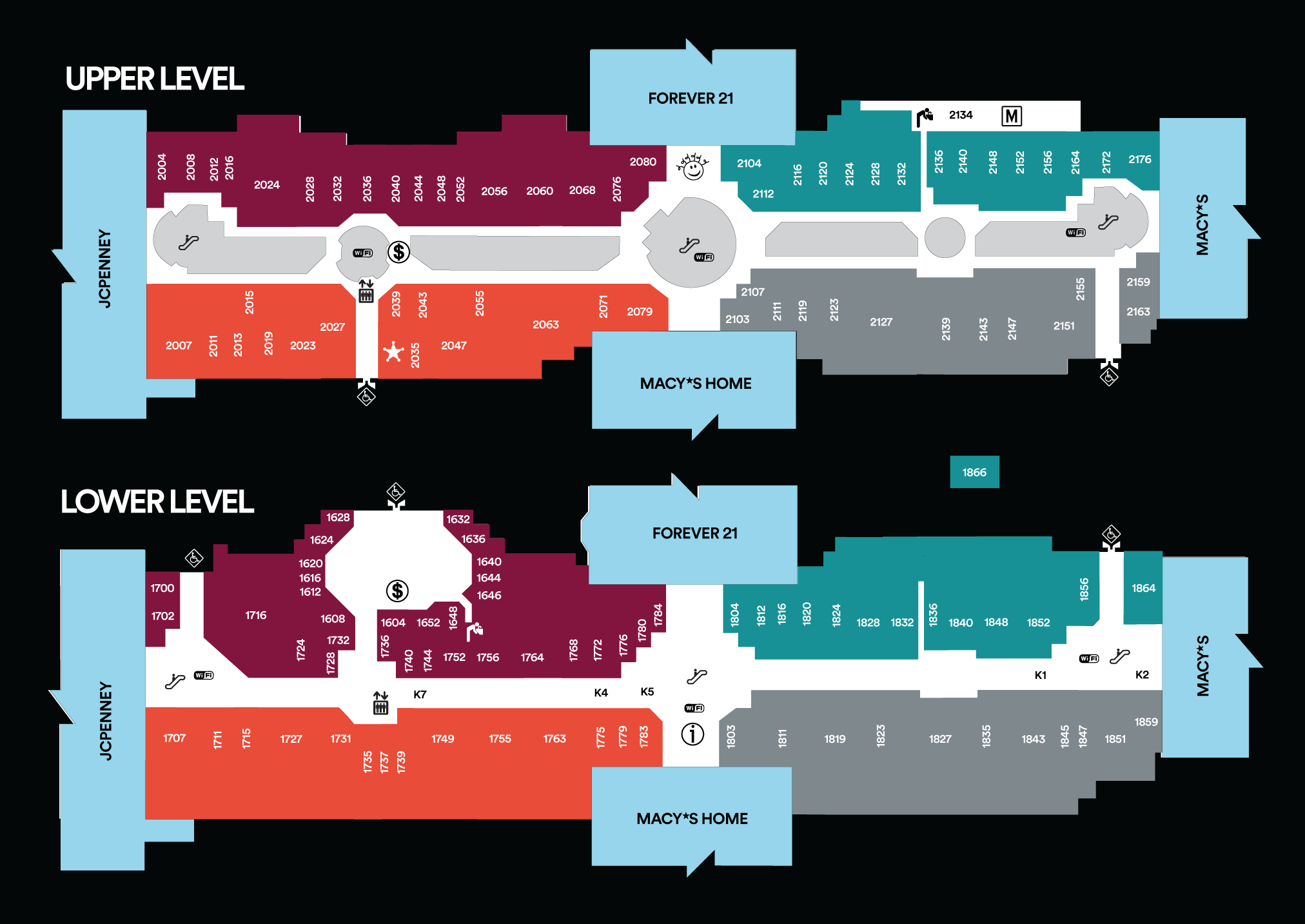 Bath & Body Works is the apothecary of the 21st century. It is the authority dedicated to helping people find their own individual paths to well-being by bringing them the very best personal care products the world has to...

See all things: Bath & Body Works • Specialty Shops • Health, Bath & Beauty
GNC sets the standard in the health and nutrition industry by demanding truth in labeling, ingredient safety and product potency, all while remaining on the cutting edge of nutritional science. General Nutrition Centers...

See all things: GNC • Specialty & Gourmet Foods • Health, Bath & Beauty
There's no "standard" cut or treatment at our salon, because the hair that frames your face should be as expressive as your own smile…and your own style!From tailored to tousled, let us give you the look you're looking...

See all things: Goddess by Salon Gardez • Services • Health, Bath & Beauty
Salon Gardez is a full-service salon and spa dedicated to bringing out the beauty within you. We offer stylish, artisitic haircuts and trendsetting haircolor in a modern and upbeat atmosphere. Other services include the...

See all things: Salon Gardez • Services • Health, Bath & Beauty
Well, this is sad.
We didn't find anything. Try something different.
FILTER BY CATEGORY