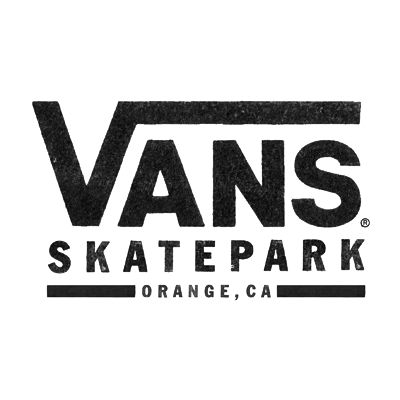 Vans Skate Park
46,000 sq. ft.

Wooden indoor street course

All ramps surfaced in Finnish birch

6,000 sq. ft. concrete outdoor street course with ledges, rails, banks and a pyramid

80' wide vert ramp

Combi Pool

Two 11.5-foot bowls, one round, the other square

Bowled mini ramp

Concrete fun bowl

Beginners' area

...And more!

Rules of Safety/Conduct
1. No one will be allowed to enter or remain in the Vans Skate Park (the"Park") unless they are wearing full protective gear, including, but not limited to, a helmet, elbow and kne pads, and have a signed liability waiver on file with the Park.
2. Participants under the age of 18 must have their parent(s) or legal guardian(s) sign the waiver, in the presence of a Vans employee or a notary public. (There are no exceptions to this rule.)
3. All participants must skate/ride safely at all times and avoid collisions with other participants. Fighting or other aggressive or disruptive behavior will result in ejection from the Park.
4. No food or drink may be brought into the Park and participants may only comsume food and drink in the designated areas. Non-skate/rider equipment or gear, and any other items, must be stored in locations outside the skate area.
5. There is no smoking allowed in the Park.
6. No one under teh age of six (6) years shall be allowed into the skating area of the park.
7. No contests of any sort are allowed in teh Park unless organized and run by the Park itself.
8. The Park reserves teh right to terminate any membership at any time, and to eject anyone at any time for any reason.
9. Shirts must be worn at all times while in the Skate Park.
Waiver Required: Yes

The safety of our patrons is first and foremost to Vans. Each person using the Skatepark is required to have or rent all of the above mentioned safety equipment. If you are under 18, you will not be allowed use of the Skatepark without wearing knee pads, elbow pads and a helmet. If you are 18 or older, you may opt not to wear knee pads or elbow pads but you must wear a helmet.

Participants under the age of 18 must have their parent(s) or legal guardian(s) sign a liability waiver, in the presence of a Vans employee or notary.

All prices and session times are subject to change at Vans' discretion.

Lessons Available: We offer private lessons and clinics. Please call the park for more information.
Refreshments/Food available: Yes
Video Arcade: Yes
Web Site: www.Vans.com

STORE HOURS
Monday to Thursday 10AM–9PM
|
Friday to Saturday 10AM–10PM
|
Sunday 10AM–8PM
|
BEST ENTRANCE
Entry 1 Near Sports Authority and Lucky Strike
LOCATION IN MALL
A2 - Next door to O'Neill
VIEW MORE STORES WITH