The Galleria at White Plains is an indoor shopping mall and main shopping destination that serves Westchester County and the Bronx. With about 130 retailers and anchored by Macy's and Sear's The Galleria includes prime retailers like H&M, Forever 21, Aldo, American Eagle and Victoria's Secret. The Galleria is conveniently located at the intersection of Main Street and Dr. Martin Luther King Boulevard in White Plains. From our entire team here at The Galleria, we look forward to seeing here soon!
// READ MORE
Mall Office:

(914) 682-0111

Mall Office

(914) 682-0111
Shopping Line:

(914) 682-0111

Shopping Line

(914) 682-0111
Mall Security:

(914) 461-2273

Mall Security

(914) 461-2273
We offer free wireless internet to our shoppers at this Simon mall. Any shopper with a Wi-Fi enabled laptop, tablet or smartphone can easily log onto the Wi-Fi network. All shoppers have to do is open their web browser or select "Simon WiFi" (the SSID name) from their available list of wireless networks to get to the Simon Malls Wi-Fi landing page. All shoppers that choose to use the Wi-Fi network at this mall must agree to Simon Wi-Fi Terms & Conditions of Use  prior to using this free service. If there are any issues or questions, shoppers and tenants should contact the Wi-Fi network technical support hotline at (888) 726-5930 for assistance.

<FONT face=Arial size=2> <P>Located at Customer Service&nbsp;and on&nbsp;Fashion Level 1 near the escalators.</P></FONT>

<FONT face=Arial size=2> <P>Available in the Women's Restroom&nbsp;and the Family Restroom.</P></FONT>

The Simon Malls Mobile App can help you find your favorite stores, dining and entertainment options at the Simon Mall nearest you. You'll also be able to check out the latest deals and events available at your favorite mall right from your phone. And there are many more features designed to enhance your shopping experience including mall maps & gift card balance check. Download the free app from the App Store&#8480 for iOS powered devices or from Google Play™ for Android powered devices today. iPhone is a trademark of Apple Inc., registered in the U.S. and other countries. App Store is a service mark of Apple Inc. Android and Google Play are trademarks of Google Inc.

Located at Customer Service or in the Security Office.

<FONT face=Arial size=2> <P>Mall Walker Program every Monday, Wednesday and&nbsp;Thursday mornings.</P></FONT>

<P>An attached parking garage is available.</P>

Located on Grove Street.

Available at the Security Office.

Available at Customer Service.

Available at Customer Service.
BACK TO TOP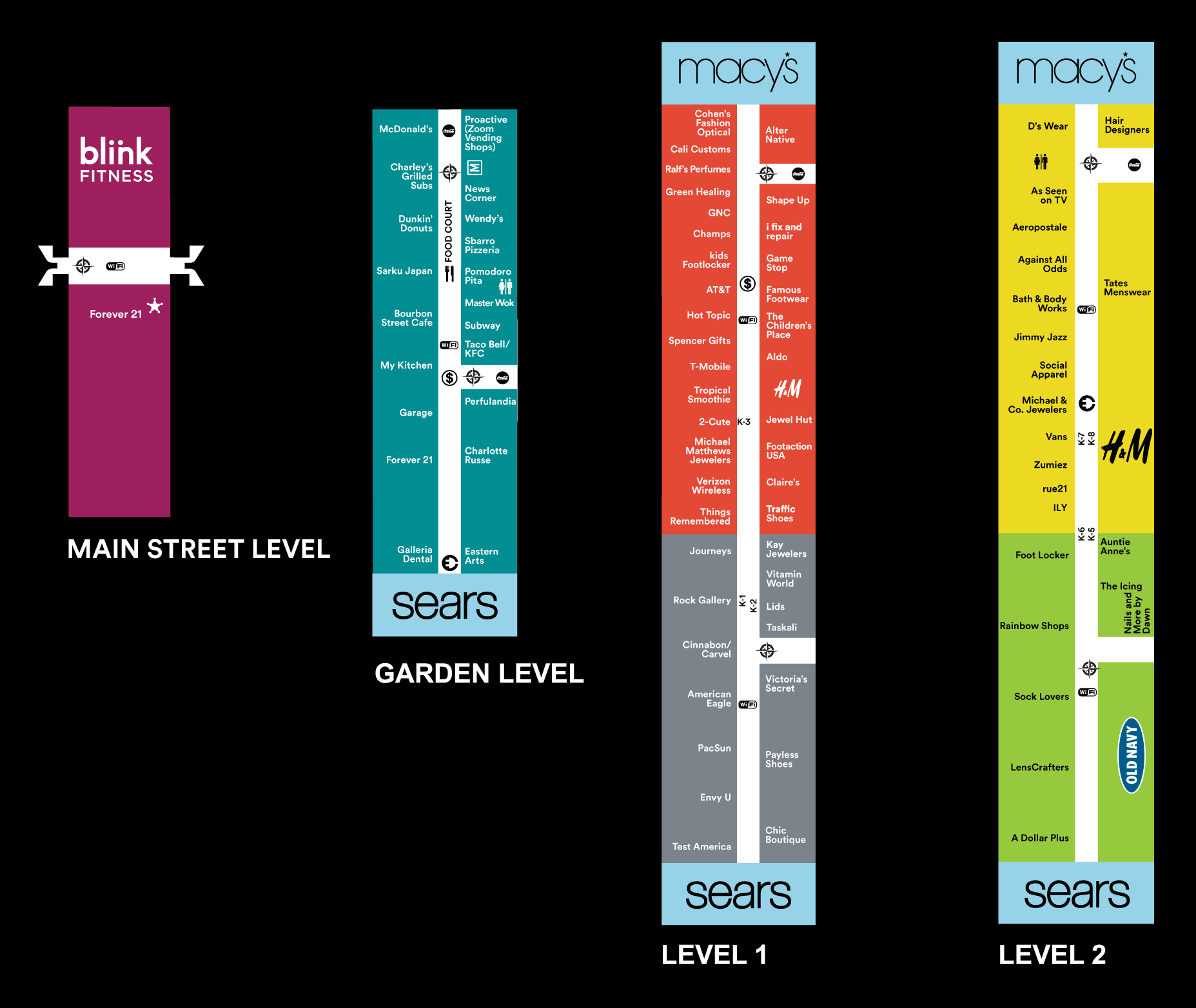 Bath & Body Works is the apothecary of the 21st century. It is the authority dedicated to helping people find their own individual paths to well-being by bringing them the very best personal care products the world has to...

See all things: Bath & Body Works • Specialty Shops • Health, Bath & Beauty
Blink Fitness takes a refreshingly new approach to gyms. Fast, convenient and affordable, Blink gyms are clean and modern with state-of-the-art cardio and strength equipment, easy-to-use workout menus and a friendly...

See all things: Blink Fitness • Health, Bath & Beauty
GNC sets the standard in the health and nutrition industry by demanding truth in labeling, ingredient safety and product potency, all while remaining on the cutting edge of nutritional science. General Nutrition Centers...

See all things: GNC • Health, Bath & Beauty
The acne cycle starts invisibly, below the skin'ssurface, weeks before a blemish breaks out. That's why Proactiv is designed to attack acne "proactively"—delivering the right combination of medicines and skin-care agents...

See all things: Proactiv ZoomShops • Health, Bath & Beauty
Well, this is sad.
We didn't find anything. Try something different.
FILTER BY CATEGORY