The Esplanade is Kenner's premier shopping destination with over 100 stores including Macy's, Target, Dillard's, Victoria's Secret, Old Navy, The Gap, The Limited, Express Men, American Eagle Outfitters, Love Culture, Earthbound Trading Company and much more! In addition to our amazing shopping choices, The Esplanade's Food Court has many delectable dining options from your favorites such as Chick-Fil-A, Sushi To GoGo, Sbarro, Subway and Smoothie King. Retailer Offers:  Promotional offers from a wide range of retailers will be promoted online at simon.com, throughout the mall and distributed directly to Simon shoppers via email blasts.   Rejuvenation Stations: These new soft-seating lounge areas have been established at all Simon malls, and include various amenities like free wifi, reading materials and much more for shoppers to enjoy while taking a break during their shopping. Visit the mall directory for all our upcoming retailers!
// READ MORE
Mall Office:

(504) 468-6116
Shopping Line:

(504) 465-2161
Mall Security:

(504) 464-5850
We offer free wireless internet to our shoppers at this Simon mall. Any shopper with a Wi-Fi enabled laptop, tablet or smartphone can easily log onto the Wi-Fi network. All shoppers have to do is open their web browser or select "Simon WiFi" (the SSID name) from their available list of wireless networks to get to the Simon Malls Wi-Fi landing page. All shoppers that choose to use the Wi-Fi network at this mall must agree to Simon Wi-Fi Terms & Conditions of Use  prior to using this free service. If there are any issues or questions, shoppers and tenants should contact the Wi-Fi network technical support hotline at (888) 726-5930 for assistance.

Order your travel money online for convenient home delivery. Did you know that some Simon mall locations also include retail Travelex stores for your convenience. Travelex is the world's largest retail foreign currency exchange specialist, with over 1000 stores around the world. We can provide you with over 75 foreign currencies as well as a Cash Passport that can be pre-loaded with either Pounds or Euros and includes chip & PIN technology, a must when traveling in Europe. To get started, visit <a href="http://onlinetravelcurrency.com/mtwid000136/Home?utm_source=Simon&utm_medium=link&utm_campaign=1235">Travelex now</a>.

Family and nursing rooms are located on the upper level next to the Food Court, and across from the Security office.

The Simon Malls Mobile App can help you find your favorite stores, dining and entertainment options at the Simon Mall nearest you. You'll also be able to check out the latest deals and events available at your favorite mall right from your phone. And there are many more features designed to enhance your shopping experience including mall maps & gift card balance check. Download the free app from the App Store&#8480 for iOS powered devices or from Google Play™ for Android powered devices today. iPhone is a trademark of Apple Inc., registered in the U.S. and other countries. App Store is a service mark of Apple Inc. Android and Google Play are trademarks of Google Inc.

Inquire at the Security Office located on the second floor near Game Stop.

The Esplanade offers a climate controlled environment, perfect for year-round walking.

Free parking.

Rental available at self-service SmarteCarte locations throughout the mall.

Complimentary rental available at the Mall Management Office. Customer must leave picture ID while the wheelchair is out.
BACK TO TOP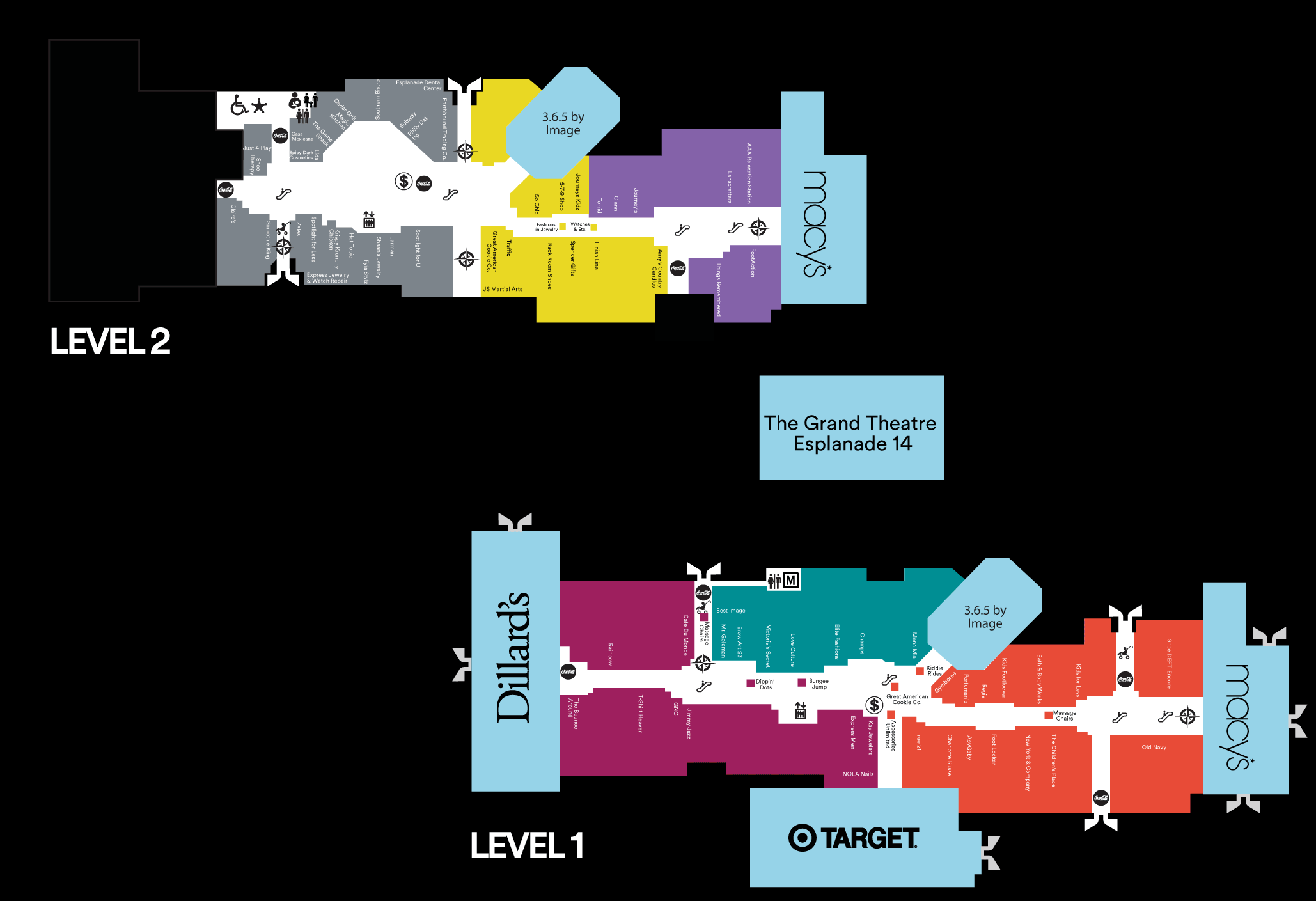 Bath & Body Works is the apothecary of the 21st century. It is the authority dedicated to helping people find their own individual paths to well-being by bringing them the very best personal care products the world has to...

See all things: Bath & Body Works • Specialty Shops • Health, Bath & Beauty
Brow Art 23 is a fully licensed eyebrow threading boutique. We pride ourselves on offering a wide range of beauty and skin care services, with an emphasis on threading. We have both the technical expertise as well as the...

See all things: Brow Art 23 • Health, Bath & Beauty
GNC sets the standard in the health and nutrition industry by demanding truth in labeling, ingredient safety and product potency, all while remaining on the cutting edge of nutritional science. General Nutrition Centers...

See all things: GNC • Specialty & Gourmet Foods • Health, Bath & Beauty
Perfumania has opened on the lower level of the mall and brings with it a large variety of fragrances for men, women, and children. Stop in and find your perfect fragrance.

See all things: Perfumania • Specialty Shops • Health, Bath & Beauty
With over 20 years of experience, Trendz and Blendz boasts an ability to cut all styles of hair cuts. The barbers at Trendz and Blendz keep up to date with new and current styles. Stop in today for your next haircut.

See all things: Trendz and Blendz Barber Shop • Services • Health, Bath & Beauty
Well, this is sad.
We didn't find anything. Try something different.
FILTER BY CATEGORY