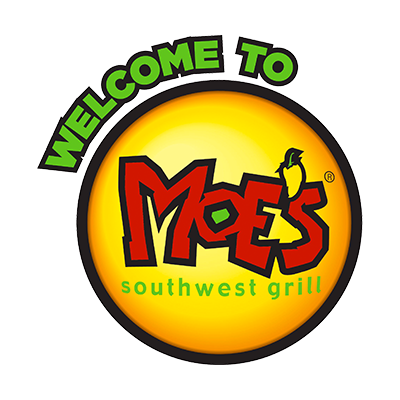 Moe's Southwest Grill
You know you're a true Moe's fan when:

• You yell "Welcome to Moe's" along with the crew.
• You refuse to pay for chips and salsa.
• You sell your microwave on ebay.
• Your ipod is filled with songs from the dearly departed.
• You start naming everything you eat after an inside joke.
• There is a four-way tie for the clean plate award
• You campaign for queso to become its own food group.

Today, enough people have caught on - making the man a legend.

Welcome to the best southwestern food you've ever put in your face. Welcome to an atmosphere that says "you be you, we're cool with that…"

Welcome to Moe's.

STORE HOURS
Monday to Saturday 10AM–9PM
|
Sunday 12PM–6PM
|
SPECIAL HOURS
12/17/2017: 10AM–8PM (Holiday Hours)
12/18/2017: 9AM–10PM (Holiday Hours)
12/19/2017: 9AM–10PM (Holiday Hours)
12/20/2017: 9AM–10PM (Holiday Hours)
12/21/2017: 9AM–10PM (Holiday Hours)
12/22/2017: 9AM–10PM (Holiday Hours)
12/23/2017: 9AM–10PM (Holiday Hours)
12/24/2017: 8AM–6PM (Christmas Eve)
12/25/2017: Closed (Christmas Day)
12/26/2017: 8AM–9PM (Holiday Hours)
12/27/2017: 10AM–9PM (Holiday Hours)
12/28/2017: 10AM–9PM (Holiday Hours)
12/29/2017: 10AM–9PM (Holiday Hours)
12/30/2017: 10AM–9PM (Holiday Hours)
12/31/2017: 10AM–6PM (New Year's Eve)
BEST ENTRANCE
Food Court
LOCATION IN MALL
Food Court
VIEW MORE STORES WITH