Southridge Mall is Wisconsin's largest shopping center and is located in Greendale, a southwest suburb of Milwaukee.  The enclosed, super regional shopping center services the nearby communities of Greendale, Greenfield, West Allis, Oak Creek and Franklin.  It also draws from throughout the Greater Milwaukee Area.  With over 125 stores and services, Southridge offers a variety of shopping choices for the entire family, ranging from apparel, to electronics, jewelry, home furishings and 'grab & go' Food Court options.  Southridge is also home to 5 Department Stores, including Boston Store, jcpenney, Kohl's, Sears and a brand new Macy's.  Old Navy, Francesca's, Pink, Shoe Dept Encore, Village Shoppe, Jake's Deli and Journeys Kidz also opened and watch for the future openings of Buca di Beppo and Chico's!  In addition, you'll find many of your favorites such as  H&M, Bath & Body, Express, Starbucks, LOFT, ALDO, the Disney Store and Aeropostale.  The entire team at Southridge hopes you will visit us soon.  We're conveniently located on South 76th Street, between Grange and Edgerton Avenues.
// READ MORE
Mall Office:

(414) 421-5600
Shopping Line:

(414) 421-1102
Mall Security:

(414) 421-1102
We offer free wireless internet to our shoppers at this Simon mall. Any shopper with a Wi-Fi enabled laptop, tablet or smartphone can easily log onto the Wi-Fi network. All shoppers have to do is open their web browser or select "Simon WiFi" (the SSID name) from their available list of wireless networks to get to the Simon Malls Wi-Fi landing page. All shoppers that choose to use the Wi-Fi network at this mall must agree to Simon Wi-Fi Terms & Conditions of Use  prior to using this free service. If there are any issues or questions, shoppers and tenants should contact the Wi-Fi network technical support hotline at (888) 726-5930 for assistance.

Order your travel money online for convenient home delivery. Did you know that some Simon mall locations also include retail Travelex stores for your convenience. Travelex is the world's largest retail foreign currency exchange specialist, with over 1000 stores around the world. We can provide you with over 75 foreign currencies as well as a Cash Passport that can be pre-loaded with either Pounds or Euros and includes chip & PIN technology, a must when traveling in Europe. To get started, visit <a href="http://onlinetravelcurrency.com/mtwid000136/Home?utm_source=Simon&utm_medium=link&utm_campaign=1247">Travelex now</a>.

Located in Center Court, close to the entrance of JCPenny.

The Simon Malls Mobile App can help you find your favorite stores, dining and entertainment options at the Simon Mall nearest you. You'll also be able to check out the latest deals and events available at your favorite mall right from your phone. And there are many more features designed to enhance your shopping experience including mall maps & gift card balance check. Download the free app from the App Store&#8480 for iOS powered devices or from Google Play™ for Android powered devices today. iPhone is a trademark of Apple Inc., registered in the U.S. and other countries. App Store is a service mark of Apple Inc. Android and Google Play are trademarks of Google Inc.

Available at Guest Services, conveniently located in Center Court.&nbsp;

The doors open for Mall Walking on Monday through Saturday, at 8:00 a.m.  The doors are open for Mall Walking at 9:00 a.m. on Sunday's.  The distance around each level of the mall is 1/2 mile, including the side aisles.  Stop at the Guest Services Center, for your complimentary Mall Walker's Daily Log Book. 

Available&nbsp;at the&nbsp;Guest Services Center, for $1 per bag.

Stroller rental is available at two convenient locations throughout the mall.&nbsp; They can be rented on the&nbsp;lower level, at the South East Mall Entrance,&nbsp;near Old Navy or on the upper level, at the North East Mall Entrance, next to Kohl's.&nbsp;

Wheel Chairs available at the Guest Services Center in Center Court.
BACK TO TOP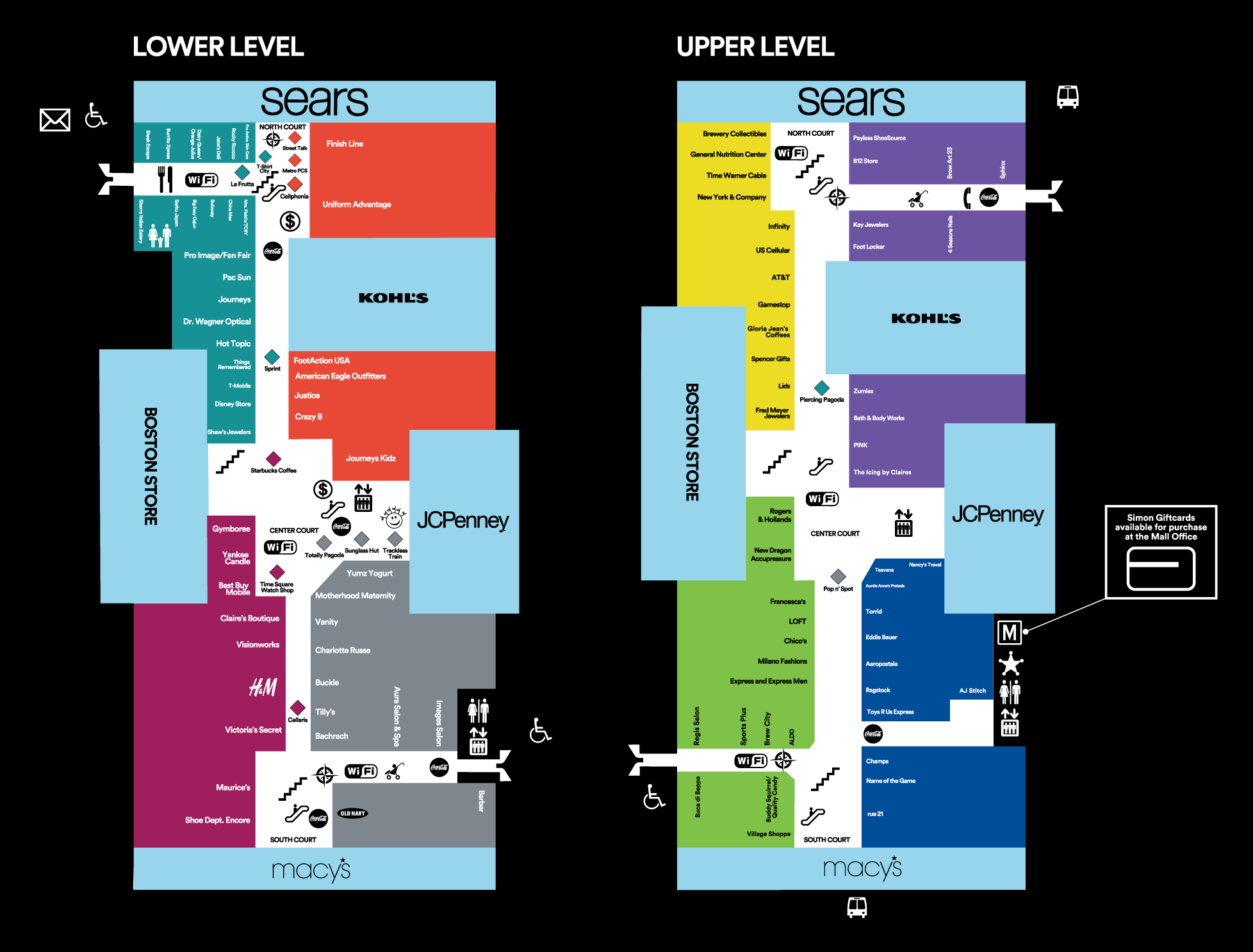 Founded in 1964, Arby's is a quick service restaurant that specializes in offering slow roasted and freshly sliced roast beef sandwiches, deli-style sandwiches, wraps and salads with the convenience of a drive-thru. ...

See all things: Arby's • Restaurants (order at the counter)
Home of the Big Mac! Get your taste buds satisfied with a Quarter-pounder, Big Mac, McChicken, Fish, Hamburger or Cheeseburger sandwich. Do you want fries with that? McDonald's serves their French Fries up hot and fast...

See all things: McDonald's • Restaurants (order at the counter)
Featuring pizzas, pastas, salads, and desserts. Our dough is made fresh daily, our sausage is hand pattied, our skim milk mozzarella cheese is only real Wisconsin Cheese, our vegetables are always the freshest available;...

See all things: Rocky Rococo • Restaurants (order at the counter)
Our famous pizza is only the very beginning of the Sbarro culinary adventure. Delicious seafood, vegetable pastas, salads, sandwiches, and homemade desserts are the nexus of the Sbarro concept. We're serving up fresh...

See all things: Sbarro • Restaurants (order at the counter)
The SUBWAY restaurant chain is the undisputed leader in the submarine sandwich category serving fresh, great tasting, made-for-you sandwiches and salads, many of which have 6 grams of fat or less. Offering a healthful...

See all things: Subway • Restaurants (order at the counter)
Well, this is sad.
We didn't find anything. Try something different.
FILTER BY CATEGORY