When you've had your fill of Florida sunshine, shake the sand out of your shoes and explore Pier Park, Panama City Beach's premier shopping, dining and entertainment destination. Located on Front Beach Road in the heart of Panama City Beach, the beachfront Pier Park offers visitors unique retailers, tourist attractions and dining options.
With more than 125 retail, dining and entertainment choices, this one-of-a-kind beachfront family-friendly attraction features island-inspired architecture and a variety of popular stores, including Dillard's, jcpenney, Ron Jon Surf Shop, Target, Forever 21, Victoria's Secret, Old Navy, LOFT and many more. Shoppers enjoy numerous eateries like Jimmy Buffett's Margaritaville, Rum Runners Tropical Grill, Dick's Last Resort, Shoney's and Five Guys Burgers and Fries, as well as a Grand IMAX Theater and activity packed Miracle Strip amusement park.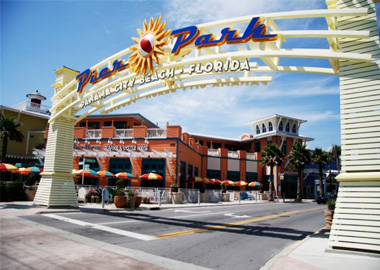 Where to Play –
The Gulf Coast city of Panama City Beach is a vacation playground for all visitors. With stretches of white sandy beaches and salt air, the casual vibe beckons time for relaxation.
In addition to fabulous shopping, water is abundant in Panama City Beach. Enjoy the Gulf any time of day from early morning fishing landing the "Big Catch" to sunken treasure scoping while diving off the coast to being one with nature while kitesurfing and paddleboarding.
Among the beauty of Panama City Beach, there's no doubt that eco-tours make for some great vacation memories. The greenway system of Gayle's Trails span the entire island linking Frank Brown Park to Panama City Conservation Park and are a prime spot for off-road mountain biking, hiking and leisurely strolls. View wildlife at picturesque St. Andrews State Park, home to deer, sea turtles, pelicans and dolphins!
When the sun goes down, Panama City Beach stays hot with a diversity of nightlife options. Try the variety of ambiences at the Nashville honky-tonk of Tootsie's Orchid Lounge, casual spots like Pineapple Willy's or dance club Club La Vela, claimed to be the biggest nightclub in the United States.
Where to Stay –
After a long day of retail therapy, find a place to unwind, rest your head and be refreshed for another day in Panama City Beach.
Just steps from Pier Park is Calypso Panama City Beach, a luxurious retreat right on the Gulf of Mexico. Other recommended "homes away from home" include Tide Tide Water Beach Resort and Sterling Breeze.
---
From Airport: Head west of Johnny Reaver Rd. toward W. Bay Parkway, take a right. Take a right on State Hwy 388. Drive south on FL Hwy 79/N. Arnold Rd. Take a left on Panama City Beach Parkway. Turn right on Pier Park Dr. Pier Park will be on the left.
From Downtown Panama City Beach: Head north on Richard Jackson Blvd, from Middle Beach Road/Hutchinson Blvd. Travel west on Panama City Beach Parkway to Pier Park Drive. Pier Park will be on the left.
Major Interstate Intersection > Best Interstate Exit > Major Road Intersection > Major Landmarks – Pier Park is conveniently located on the corner of Panama City Beach Parkway at Pier Park Drive.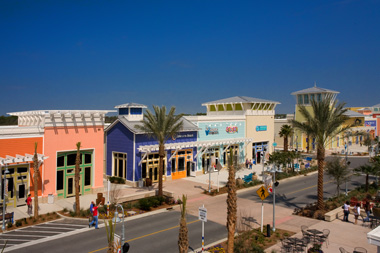 ---
There are more than 4,000 parking spaces at Pier Park.
Motorcoach and group tours are always welcome at Pier Park and are encouraged to register with the Mall Management Office to receive mall directories and style passes for their groups. Motorcoach parking is available.
Just two hours east of Pier Park and Panama City Beach lies Florida capital city, Tallahassee. As the seat of power for the state, tour the State Capitol, attend a Florida State University or Florida A&M University football game or attend a performance from Tallahassee Symphony Orchestra.
---