Penn Square Mall is Oklahoma City's premier fashion destination because of its excellent mix of over 140 specialty shops, newly renovated foodcourt, all new mall restrooms, and completely new mall entrances offering a comfortable and enjoyable climate controlled shopping atmosphere. Centrally located in the heart of Oklahoma City's popular Business and Tourism District, Penn Square, offers the latest from women's fashion and sporting goods to dining options that include JCPenney, Dillard's, Macy's, Apple, Michael Kors, LUSH Cosmetics, The Art of Shaving, Cheesecake Factory and Whiskey Cake Restaurant and Bar. Conveniently located with easy access off of Interstate-44 at the intersection of Pennsylvania and Northwest Expressway. From the entire team at Penn Square we look forward to seeing you soon.
// READ MORE
Mall Office:

(405) 841-2696
Shopping Line:

(405) 842-4424
Mall Security:

(405) 842-1694
We offer free wireless internet to our shoppers at this Simon mall. Any shopper with a Wi-Fi enabled laptop, tablet or smartphone can easily log onto the Wi-Fi network. All shoppers have to do is open their web browser or select "Simon WiFi" (the SSID name) from their available list of wireless networks to get to the Simon Malls Wi-Fi landing page. All shoppers that choose to use the Wi-Fi network at this mall must agree to Simon Wi-Fi Terms & Conditions of Use  prior to using this free service. If there are any issues or questions, shoppers and tenants should contact the Wi-Fi network technical support hotline at (888) 726-5930 for assistance.

Order your travel money online for convenient home delivery. Did you know that some Simon mall locations also include retail Travelex stores for your convenience. Travelex is the world's largest retail foreign currency exchange specialist, with over 1000 stores around the world. We can provide you with over 75 foreign currencies as well as a Cash Passport that can be pre-loaded with either Pounds or Euros and includes chip & PIN technology, a must when traveling in Europe. To get started, visit <a href="http://onlinetravelcurrency.com/mtwid000136/Home?utm_source=Simon&utm_medium=link&utm_campaign=811">Travelex now</a>.

<BR>Plan to stay overnight and get a great rate on a hotel room near the mall. <A href="http://travel.ian.com/index.jsp?cid=136146&amp;pageName=hotSearch&amp;advanced=true&amp;advancedSearchType=address&amp;streetAddress=1900+Nw+Expressway+St&amp;stateProvince=OK&amp;city=Oklahoma+City&amp;country=USA&amp;postalCode=73118&amp;temp1=7603" target=_blank>Click here</A> to book online or call 1-800-916-1681 to make your reservation today!<BR><A class=link-topbold href="http://travel.ian.com/index.jsp?cid=136146&amp;pageName=hotSearch&amp;advanced=true&amp;advancedSearchType=address&amp;streetAddress=1900+Nw+Expressway+St&amp;stateProvince=OK&amp;city=Oklahoma+City&amp;country=USA&amp;postalCode=73118&amp;temp1=7603" target=_blank><IMG src="/assets/mall/guestservices/affiliated_current.gif" border=0></A><BR><A href="http://travel.ian.com/index.jsp?pageName=promo&amp;cid=136146" target=_blank>Save up to $100 - click here for more details</A>

The Simon Malls Mobile App can help you find your favorite stores, dining and entertainment options at the Simon Mall nearest you. You'll also be able to check out the latest deals and events available at your favorite mall right from your phone. And there are many more features designed to enhance your shopping experience including mall maps & gift card balance check. Download the free app from the App Store&#8480 for iOS powered devices or from Google Play™ for Android powered devices today. iPhone is a trademark of Apple Inc., registered in the U.S. and other countries. App Store is a service mark of Apple Inc. Android and Google Play are trademarks of Google Inc.

Lost and Found items are turned in to Guest Services as well as Security. Please feel free to contact us at 842-4424 to inquire about a missing item.

Penn Square Mall has a covered parking garage & 3 covered parking decks on the East Side of the property by JCPenney. Handicapped parking locations can be found on all aisles at the front of the row.

Strollers are available to rent for a $4.00 fee for singles and a $6.00 fee for doubles at the West Entrance by Dillard's, the Northeast Entrance by JCPenney's, and the Northwest Entrance by Men's Wearhouse. A .25 cent reward is given upon their return.  Accepts cash and credit or debit cards. 

Wheelchair use is complimentary and available for check-out at Guest Services. Additionally, we have five (5) electric scooters available for use.  First come first serve basis.
BACK TO TOP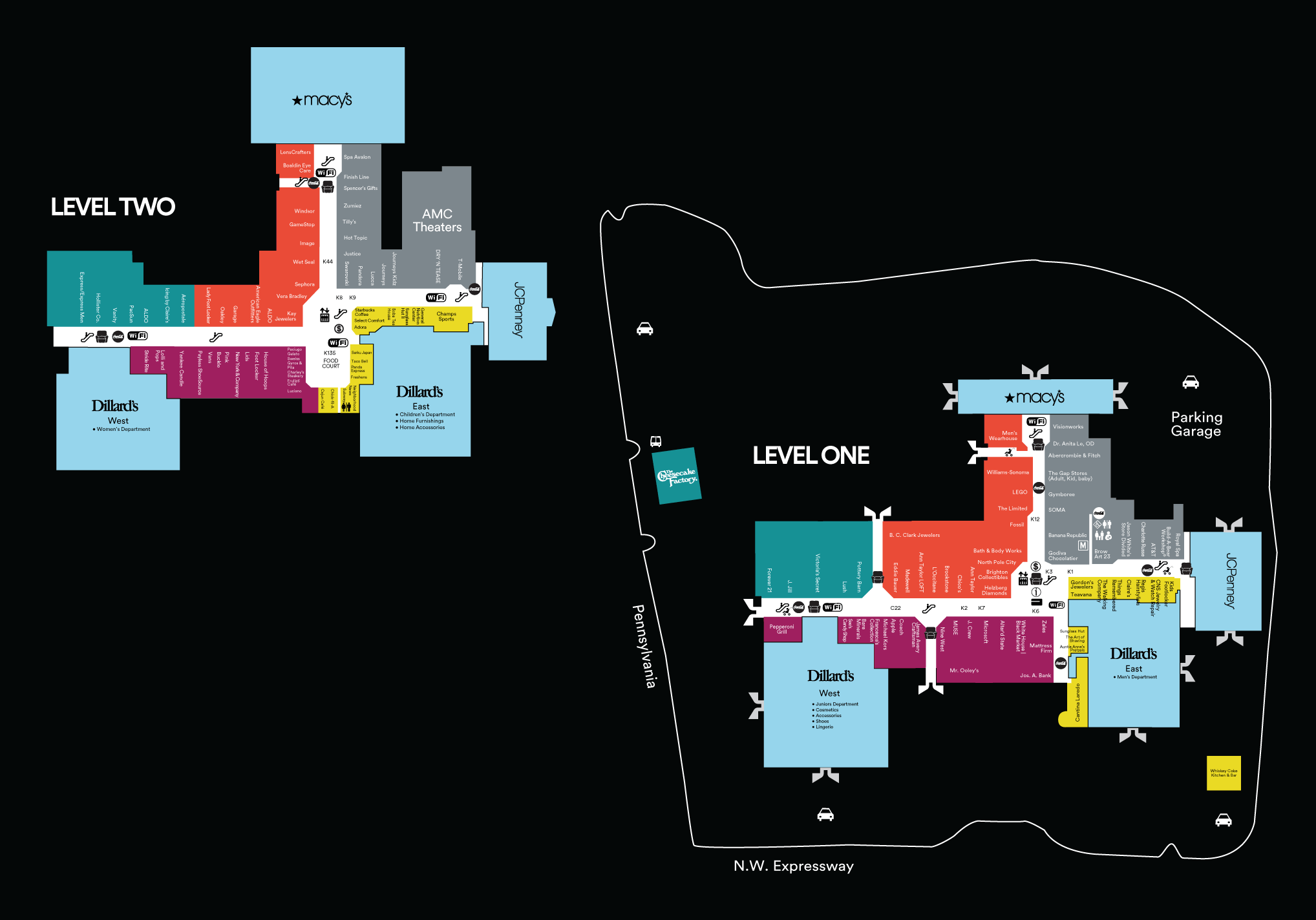 Claire's Stores, Inc. is a leading international specialty retailer offering value-priced costume jewelry, accessories and cosmetics to fashion-aware tweens, teens and young adults.

See all things: Claire's Accessories • Jewelry & Watches • Accessories
The Gordon's Jewelers Story In 1905 Gordon's opened as the first general mercantile store in Houston, Texas, and watches and jewelry were only a small portion of the store's inventory. Today, Gordon's has grown to...

See all things: Gordon's Jewelers • Jewelry & Watches
Since 1915, Helzberg Diamonds has helped people celebrate their most heartfelt and meaningful occasions. Founded on a commitment to superior customer service, we offer a dazzling selection of fine jewelry – so you're...

See all things: Helzberg Diamonds • Jewelry & Watches
James Avery Craftsman, Inc., is a jewelry company established in 1954. Our jewelry includes sterling silver, 14K gold and gemstone items. Our commitment to quality and integrity, in both design and materials, governs the...

See all things: James Avery Craftsman • Jewelry & Watches
Every diamond is hand-selected to match beautifully and must pass exacting quality standards. Kay is diligent about the quality of our craftsmanship. We take the time to ensure the diamonds in your jewelry are well...

See all things: Kay Jewelers • Jewelry & Watches
From its beginning PANDORA jewelry was created with the customer in mind. The company offers versatile, sophisticated pieces-charm bracelets, rings, necklaces and earrings – in 14K gold, sterling silver and some with...

See all things: Pandora • Jewelry & Watches • Accessories
Treasures is a locally owned business with fine jewlery and accessories. Stop by and see us today!

See all things: Treasures • Jewelry & Watches
The Zales Story In 1924 Zales opened its first jewelry store in Wichita Falls, Texas. Today, Zales is headquartered in Irving, Texas. We have over 785 stores nationwide and we're one of the largest buyers and processors...

See all things: Zales Jewelers • Jewelry & Watches
Well, this is sad.
We didn't find anything. Try something different.
FILTER BY CATEGORY