Welcome to Northlake Mall®  your neighborhood mall, serving the communities of Tucker, Decatur, Stone Mountain, and the Northlake Community for over 40 years.  We feature for your shopping enjoyment Macy's, Kohl's, The Limited, Bath & Body Works, and Finish Line, just to name a few of our 100+ stores.  We have you covered from head to toe with women's fashions, athletic shoes, and the latest in electronics, and cell phones all available in our climate controlled indoor mall. Tantalize your taste buds with Subway, Chick-fil-A, or Wendy's in our Food Garden and save room for dessert at Dairy Queen or Great American Cookie Company.  Northlake Mall® is conveniently located off of I-285 between LaVista Road and Northlake Parkway on Briarcliff Road. The entire team at Northlake Mall® looks forward to seeing you on your next shopping experience.
// READ MORE
Mall Office:

(770) 938-3565

Mall Office

(770) 938-3565
Shopping Line:

(770) 938-3564

Shopping Line

(770) 938-3564
Mall Security:

(770) 621-3814

Mall Security

(770) 621-3814
We offer free wireless internet to our shoppers at this Simon mall. Any shopper with a Wi-Fi enabled laptop, tablet or smartphone can easily log onto the Wi-Fi network. All shoppers have to do is open their web browser or select "Simon WiFi" (the SSID name) from their available list of wireless networks to get to the Simon Malls Wi-Fi landing page. All shoppers that choose to use the Wi-Fi network at this mall must agree to Simon Wi-Fi Terms & Conditions of Use  prior to using this free service. If there are any issues or questions, shoppers and tenants should contact the Wi-Fi network technical support hotline at (888) 726-5930 for assistance.

Order your travel money online for convenient home delivery. Did you know that some Simon mall locations also include retail Travelex stores for your convenience. Travelex is the world's largest retail foreign currency exchange specialist, with over 1000 stores around the world. We can provide you with over 75 foreign currencies as well as a Cash Passport that can be pre-loaded with either Pounds or Euros and includes chip & PIN technology, a must when traveling in Europe. To get started, visit <a href="http://onlinetravelcurrency.com/mtwid000136/Home?utm_source=Simon&utm_medium=link&utm_campaign=209">Travelex now</a>.

<BR>Plan to stay overnight and get a great rate on a hotel room near the mall. <A href="http://travel.ian.com/index.jsp?cid=136146&amp;pageName=hotSearch&amp;advanced=true&amp;advancedSearchType=address&amp;streetAddress=4800+Briarcliff+Rd+Ne&amp;stateProvince=GA&amp;city=Atlanta&amp;country=USA&amp;postalCode=30345&amp;temp1=4831" target=_blank>Click here</A> to book online or call 1-800-916-1681 to make your reservation today!<BR><A class=link-topbold href="http://travel.ian.com/index.jsp?cid=136146&amp;pageName=hotSearch&amp;advanced=true&amp;advancedSearchType=address&amp;streetAddress=4800+Briarcliff+Rd+Ne&amp;stateProvince=GA&amp;city=Atlanta&amp;country=USA&amp;postalCode=30345&amp;temp1=4831" target=_blank><IMG src="/assets/mall/guestservices/affiliated_current.gif" border=0></A><BR><A href="http://travel.ian.com/index.jsp?pageName=promo&amp;cid=136146" target=_blank>Save up to $100 - click here for more details</A>

The Simon Malls Mobile App can help you find your favorite stores, dining and entertainment options at the Simon Mall nearest you. You'll also be able to check out the latest deals and events available at your favorite mall right from your phone. And there are many more features designed to enhance your shopping experience including mall maps & gift card balance check. Download the free app from the App Store&#8480 for iOS powered devices or from Google Play™ for Android powered devices today. iPhone is a trademark of Apple Inc., registered in the U.S. and other countries. App Store is a service mark of Apple Inc. Android and Google Play are trademarks of Google Inc.

Lose an item? Find an item? Contact Security at 770-621-3814.

Join your friends and neighbors for mall walking at Northlake Mall! The doors open Monday - Saturday at 8:00am, and on Sunday at 10:00am. We provide a safe, climate-controlled area to walk your way to a healthier you!

Parking spaces for the handicapped are available.

Need transportation? Visit Simon Guest Services. Our friendly staff will assist you in calling a taxi, give you bus route information or give you easy-to-read maps to get you where you need to go.

Stroller rental is conveniently located at both escalators. The cost is for $5 per day. Customers receive a $1 refund when returning the stroller.

Courtesy wheelchairs are available by contacting Security when you visit the mall please call 770-621-3814, on a first-come, first-serve basis. You must leave a picture identification until the chair is returned.
BACK TO TOP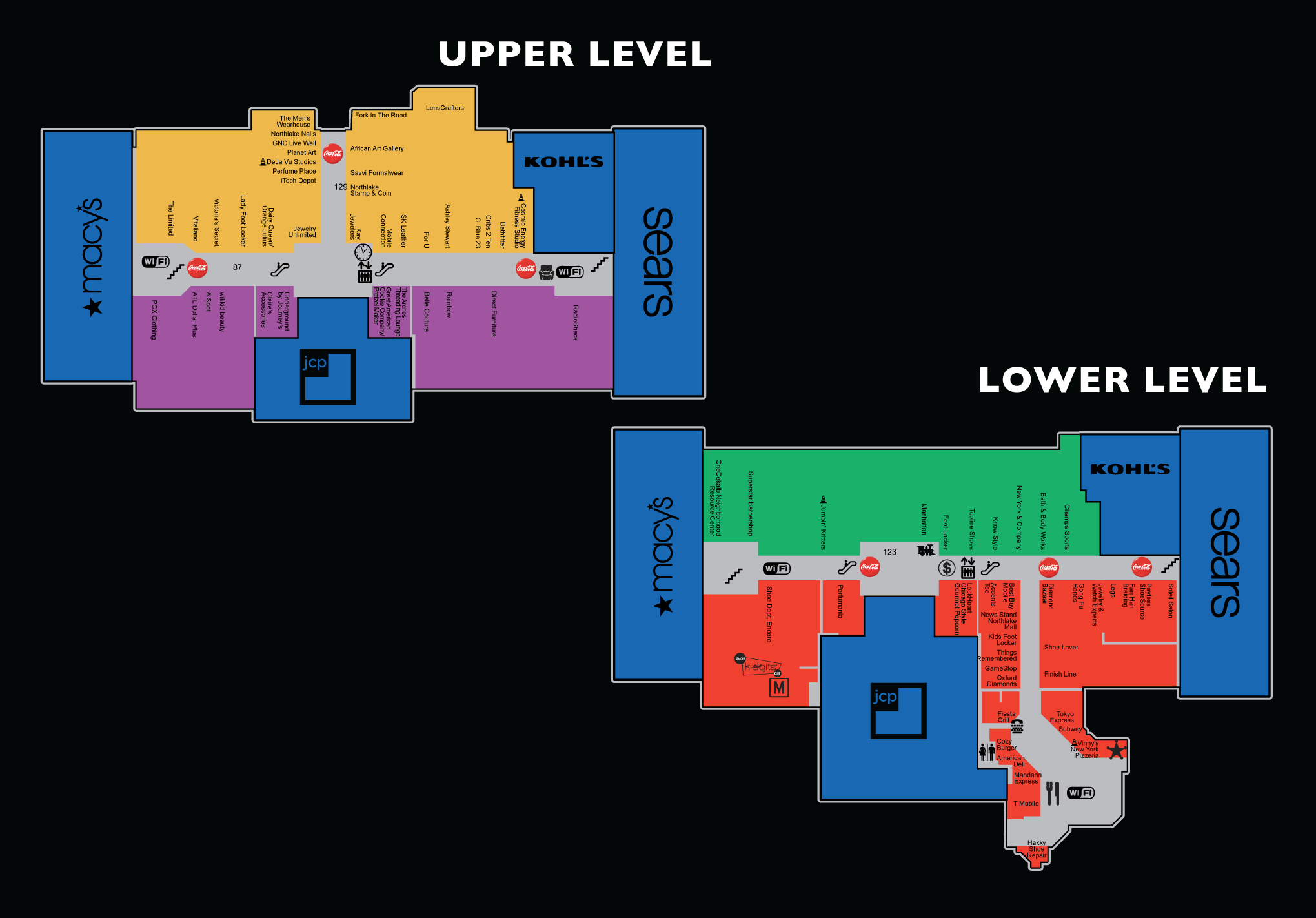 Hair braiding services along with the retail sale of related hair care products.

See all things: Fan Hair Braiding • Services
LensCrafters was the first company of its kind to offer the convenience of getting an eye exam and choosing stylish frames fitted with the latest high tech lenses in one location. Same day services available.

See all things: LensCrafters • Services • Sunglasses, Optical & Eyewear
Your everyday needs for the person on the go with fresh coffee, candy, and beverages. Featuring Western Union Money orders, money transfers, lottery tickets, faxes, copies, Atlanta souvenirs and more!

See all things: News Stand Northlake Mall • Services • Newsstand
Full service hair salon located on the Lower Level near Sears.

See all things: Soleil Salon • Services
T-Mobile USA has you covered whether you stay in one region or need service nationally or even internationally. We have coverage areas in over 80 countries with more than 180 roaming partners.

See all things: T-Mobile • Specialty Shops • Services
Well, this is sad.
We didn't find anything. Try something different.
FILTER BY CATEGORY