Great Shopping and So Much More! Want it? We've got it. Your favorite specialty shops and department stores, plus cravable food and so much more in a classic, indoor shopping experience.  When you're in the mood to shop the sales, meet for lunch, get inspired or escape from it all, we're the place.  New denim, a fresh, fun lip color or the shoes you can't live without – we understand great shopping.  And it's all here.
// READ MORE
Mall Office:

(970) 242-0009
Shopping Line:

(970) 242-0008
Order your travel money online for convenient home delivery. Did you know that some Simon mall locations also include retail Travelex stores for your convenience. Travelex is the world's largest retail foreign currency exchange specialist, with over 1000 stores around the world. We can provide you with over 75 foreign currencies as well as a Cash Passport that can be pre-loaded with either Pounds or Euros and includes chip & PIN technology, a must when traveling in Europe. To get started, visit <a href="http://onlinetravelcurrency.com/mtwid000136/Home?utm_source=Simon&utm_medium=link&utm_campaign=921">Travelex now</a>.

Get the wiggles out at our children's play area, conveniently located near Sports Authority.

Fax and Photo Copy Services are available.<br />

Welcome to beautiful Grand Junction, Colorado - a great place to visit. Quietly nestled in the western Rocky Mountains, Grand Junction represents the essence Colorado - the art and culture of the big city and the heart and hospitality of a small community. Between the shopping, restaurants, and the endless outdoor activities the area has to offer, Grand Junction is truly a magnificent place to live or visit. <br /> <br /> Things to Do and Area Attractions include:<br /> - Colorado National Monument<br /> - Grand Mesa<br /> - Grand Mesa Scenic Byway<br /> - Junior College Baseball World Series<br /> <br /> Tourism <br /> - Grand Junction Visitor and Convention Bureau<br /> - Grand Junction Regional Airport<br /> - AAA Colorado <br /> - Golf Courses<br /> - Tiara Rado <br /> - Redlands Mesa Lincoln Park Golf Course<br /> - Adobe Creek<br /> - Chipeta Golf Course<br /> <br /> Hotels<br /> - Holiday Inn Express Located less than a mile away from Mesa Mall. <br /> - Courtyard by Marriott<br /> - Residence Inn by Marriott<br /> - Double Tree Grand Vista<br /> - Hampton Inn Hawthorn Suites<br /> - LaQuinta Inn <br /> - Ramada Inn <br /> <br /> Museums<br /> - Museum of Western Colorado<br /> - Western Colorado Botanical Gardens<br /> - Butterfly House<br /> <br /> Skiing<br /> - Powderhorn Ski Resort<br /> <br /> Wine Country<br /> - Colorado's Wine Country

The Simon Malls Mobile App can help you find your favorite stores, dining and entertainment options at the Simon Mall nearest you. You'll also be able to check out the latest deals and events available at your favorite mall right from your phone. And there are many more features designed to enhance your shopping experience including mall maps & gift card balance check. Download the free app from the App Store&#8480 for iOS powered devices or from Google Play™ for Android powered devices today. iPhone is a trademark of Apple Inc., registered in the U.S. and other countries. App Store is a service mark of Apple Inc. Android and Google Play are trademarks of Google Inc.

Lost and Found is located at Simon Guest Services.&nbsp; See a representative for assistance.<br />

For Package Assistance and Escorts to Vehicles visit Guest Services.<br />

Join Simon Kidgits today! Membership is only $5 a year, and gets you and your kids access to the hottest events of the year, including Easter Bunny and Santa Arrival.

Free wheelchair use while at the mall.&nbsp; Visit Guest Services for more information.<br />
BACK TO TOP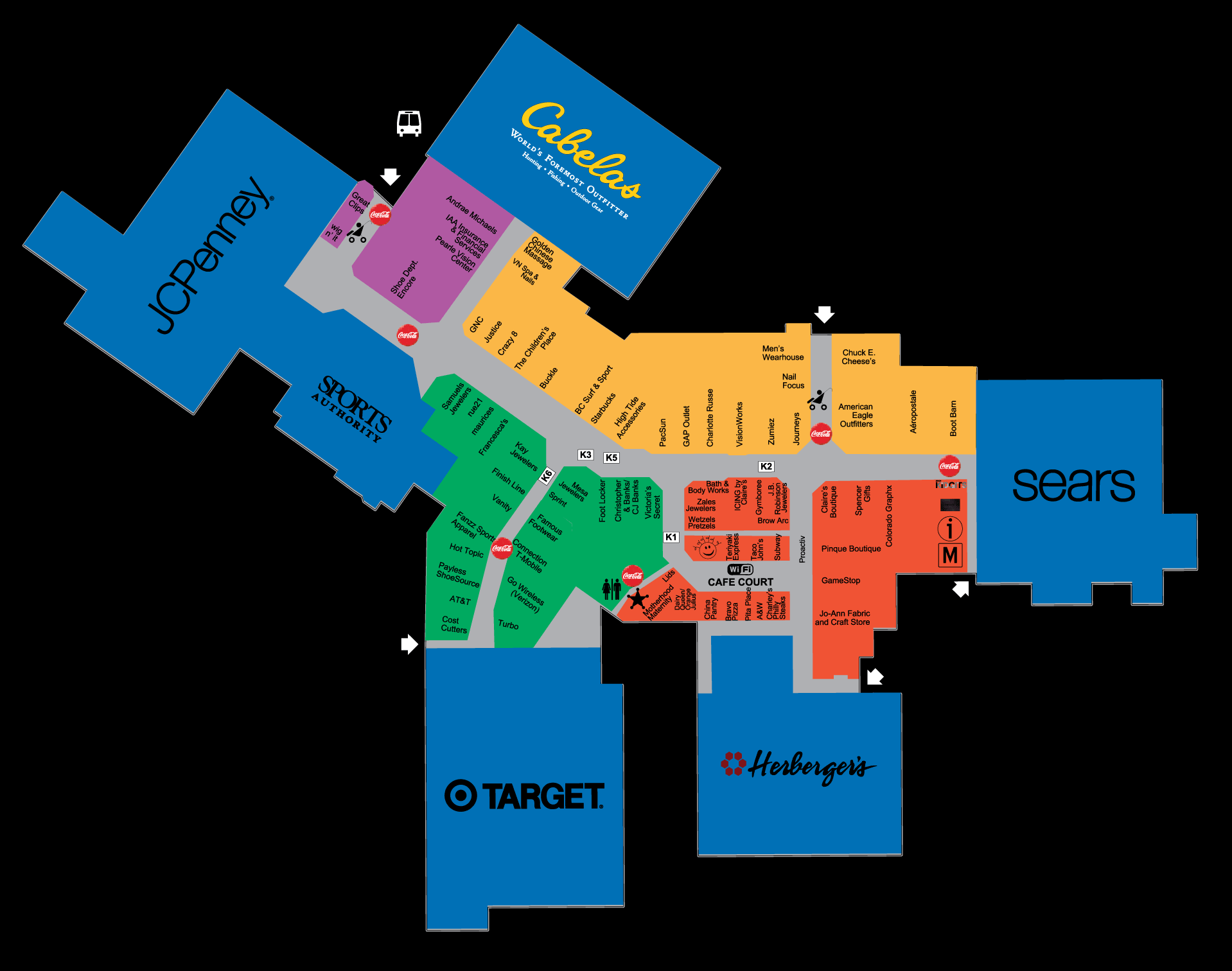 Since 1982, Buffalo Wild Wings® (or B-Dubs® as our friends call us) has been the ultimate place to watch the game, have a cold beer and eat some great food. You can always feel comfortable pulling some tables together...

See all things: Buffalo Wild Wings • Restaurants (order via wait staff)
When you order our Spaghetti delle Rocca, you experience the flavor of an authentic Italian recipe. From our food and service to our decor - we are inspired by what we learn in Italy. At Olive Garden, we take pride in...

See all things: Olive Garden • Restaurants (order via wait staff)
Outback Steakhouse is an Australian themed steakhouse restaurant. Although beef and steak items make up a good portion of the menu, the concept offers a variety of chicken, ribs, seafood, and pasta dishes. The Company's...

See all things: Outback Steakhouse • Restaurants (order via wait staff)
Here at Red Lobster we're passionate about serving our guests great seafood. It's why we go the extra mile to bring you the best dining experience possible. Our fishermen take pride in catching only the highest quality...

See all things: Red Lobster • Restaurants (order via wait staff)
Well, this is sad.
We didn't find anything. Try something different.
FILTER BY CATEGORY