Menlo Park Mall is a 2-level super regional mall featuring Macy's, Nordstrom, Barnes & Noble Booksellers, Benihana, The Cheesecake Factory, Champps Bar & Restaurant, Seasons 52 Fresh Grill, Romano's Macaroni Grill, IchiUmi Seafood & Sushi Buffet, Rainforest Cafe, Chipotle, Panera Bread, AMC Dine-In Theatre and a variety of Specialty Foods in our Food Court.  Some of our stores include Abercrombie & Fitch, Aeropostale, American Eagle, Apple, Arden B, Armani Exchange, Banana Republic, BCBG MAXAZRIA, Coach, Cups Frozen Yogurt, Forever 21, Godiva, Hollister, H&M, J. Crew, Lucky Brand Jeans, Michael Kors, Old Navy, Pandora, Sephora, Sony, Swarovski, Urban Outfitters, Uniqlo, Vans, Vera Bradley, Wilsons Leather, Work Out World and Zara. Menlo Park Mall offers ample free parking, so come and enjoy a day of fabulous shopping at the mall.
// READ MORE
Mall Office:

(732) 549-1900
Shopping Line:

(732) 494-6255
Mall Security:

(732) 494-6255
We offer free wireless internet to our shoppers at this Simon mall. Any shopper with a Wi-Fi enabled laptop, tablet or smartphone can easily log onto the Wi-Fi network. All shoppers have to do is open their web browser or select "Simon WiFi" (the SSID name) from their available list of wireless networks to get to the Simon Malls Wi-Fi landing page. All shoppers that choose to use the Wi-Fi network at this mall must agree to Simon Wi-Fi Terms & Conditions of Use  prior to using this free service. If there are any issues or questions, shoppers and tenants should contact the Wi-Fi network technical support hotline at (888) 726-5930 for assistance.

Order your travel money online for convenient home delivery. Did you know that some Simon mall locations also include retail Travelex stores for your convenience. Travelex is the world's largest retail foreign currency exchange specialist, with over 1000 stores around the world. We can provide you with over 75 foreign currencies as well as a Cash Passport that can be pre-loaded with either Pounds or Euros and includes chip & PIN technology, a must when traveling in Europe. To get started, visit <a href="http://onlinetravelcurrency.com/mtwid000136/Home?utm_source=Simon&utm_medium=link&utm_campaign=113">Travelex now</a>.

You can charge your phone while you are shopping. Conveniently located Device Charging Stations allow visitors to charge their phones, tablets, and other communication devices while enjoying the mall. The Charging Station features comfortable seating - and is the perfect spot to rest and recharge!

<P>Baby Changing Stations are avialable&nbsp;in the mall.&nbsp; <BR>*&nbsp; Lower level near Macy's<BR>*&nbsp; Upper level near Food Court<BR>If you should need further assistance, visit&nbsp;Simon Guest Services located on the upper level in&nbsp;the Food Court.</P>

Gift Wrapping is available during designated holidays, such as Valentine's Day, Mother's Day, Father's Day and Graduation at Simon Guest Services.&nbsp; Holiday gift&nbsp;wrapping is also available during the Holiday season (location to be announced).&nbsp;

<BR>Plan to stay overnight and get a great rate on a hotel room near the mall. <A href="http://travel.ian.com/index.jsp?cid=136146&amp;pageName=hotSearch&amp;advanced=true&amp;advancedSearchType=address&amp;streetAddress=Route+1+South+and+Parsonage+Road&amp;stateProvince=NJ&amp;city=Edison&amp;country=USA&amp;postalCode=08837&amp;temp1=4666" target=_blank>Click here</A> to book online or call (800) 916-1681 to make your reservation today!<BR><A class=link-topbold href="http://travel.ian.com/index.jsp?cid=136146&amp;pageName=hotSearch&amp;advanced=true&amp;advancedSearchType=address&amp;streetAddress=Route+1+South+and+Parsonage+Road&amp;stateProvince=NJ&amp;city=Edison&amp;country=USA&amp;postalCode=08837&amp;temp1=4666" target=_blank><IMG src="/assets/mall/guestservices/affiliated_current.gif" border=0></A><BR><A href="http://travel.ian.com/index.jsp?pageName=promo&amp;cid=136146" target=_blank>Save up to $100 - click here for more details</A>

The Simon Malls Mobile App can help you find your favorite stores, dining and entertainment options at the Simon Mall nearest you. You'll also be able to check out the latest deals and events available at your favorite mall right from your phone. And there are many more features designed to enhance your shopping experience including mall maps & gift card balance check. Download the free app from the App Store&#8480 for iOS powered devices or from Google Play™ for Android powered devices today. iPhone is a trademark of Apple Inc., registered in the U.S. and other countries. App Store is a service mark of Apple Inc. Android and Google Play are trademarks of Google Inc.

Lost and Found is available and located at&nbsp;Simon Guest Services on the upper Level in&nbsp;the Food Court or by calling (732) 549-1900 extension 22.

WALK THE MALL<BR><BR>Menlo Park Mall wants to welcome you to walk the mall. Enjoy walking at your own pace in an enclosed climate-controlled environment.&nbsp;&nbsp;Be apart of our Mall Walker Program Monday through Friday on the lower level between the hours of 7:30 am and 10:00 am. <BR><BR>A few fit tips to share: <UL> <LI>Use Entrance A located on the lower level near Rainforest and/or Entrance B located on the lower level near Work Out World. <LI>No hassel, no charge. <LI>The distance from Rainforest Caf&#233; to Nordstrom is equalvalent to 1/2 mile. <LI>Walking is an ideal way to slim down without straining your joints or muscles. <LI>Walking is a great form of exercise. It's low impact, provides a cardiovascular workout if you walk with a pace that increases your heart rate and burns calories about 100 calories for every 10 minutes of brisk walking. <LI>Walking can improve your mental health by reducing stress. All forms of exercise increase levels of brain chemicals that boost mood, but walking's repetitive movements also calm the body, reducing stress. </LI></UL>

Parking is convenient and free at Menlo Park Mall.&nbsp; Two&nbsp;covered parking decks&nbsp;and ample handicapped parking are also available.

The following Taxi Services can be contacted for transportation to and from Menlo Park Mall and the surrounding areas.<BR>*Scooters Taxi (732) 738-1700<BR>*Metuchen Cab (732) 548-0064<BR>*Independent Taxi (732) 548-1176<BR>*Fords Taxi (732) 738-8388<br><br>The NJ Transit #810 bus stops at Menlo Park Mall at the&nbsp;Rainforest Cafe Entrance.&nbsp;&nbsp;The Metropark Loops (NJ Transit buses #801, #802, #803, #804, #805) stop on Parsonage Road across from the mall near Benihana.&nbsp; Other NJ Transit bus schedules for the area are available at Simon Guest Services.&nbsp;

Shopping Bags are available at&nbsp;Simon&nbsp;Guest Services.&nbsp; Donate $1.00 to the Simon Youth Foundation and receive a Simon&nbsp;Shopping Bag.

The U.S. Post Office is conveniently located in the office building, 100 Menlo Park, near the Rainforest Cafe Entrance.

Strollers are available for rental&nbsp;on the lower level at&nbsp;Entrance B&nbsp;(near Work Out World) and on the upper level at&nbsp;Entrance F&nbsp;(near the Cinema).&nbsp; The cost is $5.00 with a $1.00 refund when the stroller is returned.

TDD Phones are available during Mall Hours at&nbsp;Simon Guest Services.

Ticketmaster, the world's leading live entertainment ticketing company, now has a retail location at select Simon® Malls Guest Services Booths. You can access event information and purchase tickets at Guest Services to a wide range of venues and entertainment options including sporting events, museums, theaters, performing arts and family shows. Did you purchase tickets from Ticketmaster online? You can conveniently pick them up at our mall. Stop by Simon Guest Services for all of your Ticketmaster ticketing needs.

Wheelchairs are available free of charge and are conveniently located at Simon Guest Services&nbsp;on the upper level of the mall in the&nbsp;Food Court.&nbsp; A valid photo I.D. is required as a deposit.

This property features enhanced cellular connectivity that improves the signal strength and brings the cell phone tower inside of the mall.
BACK TO TOP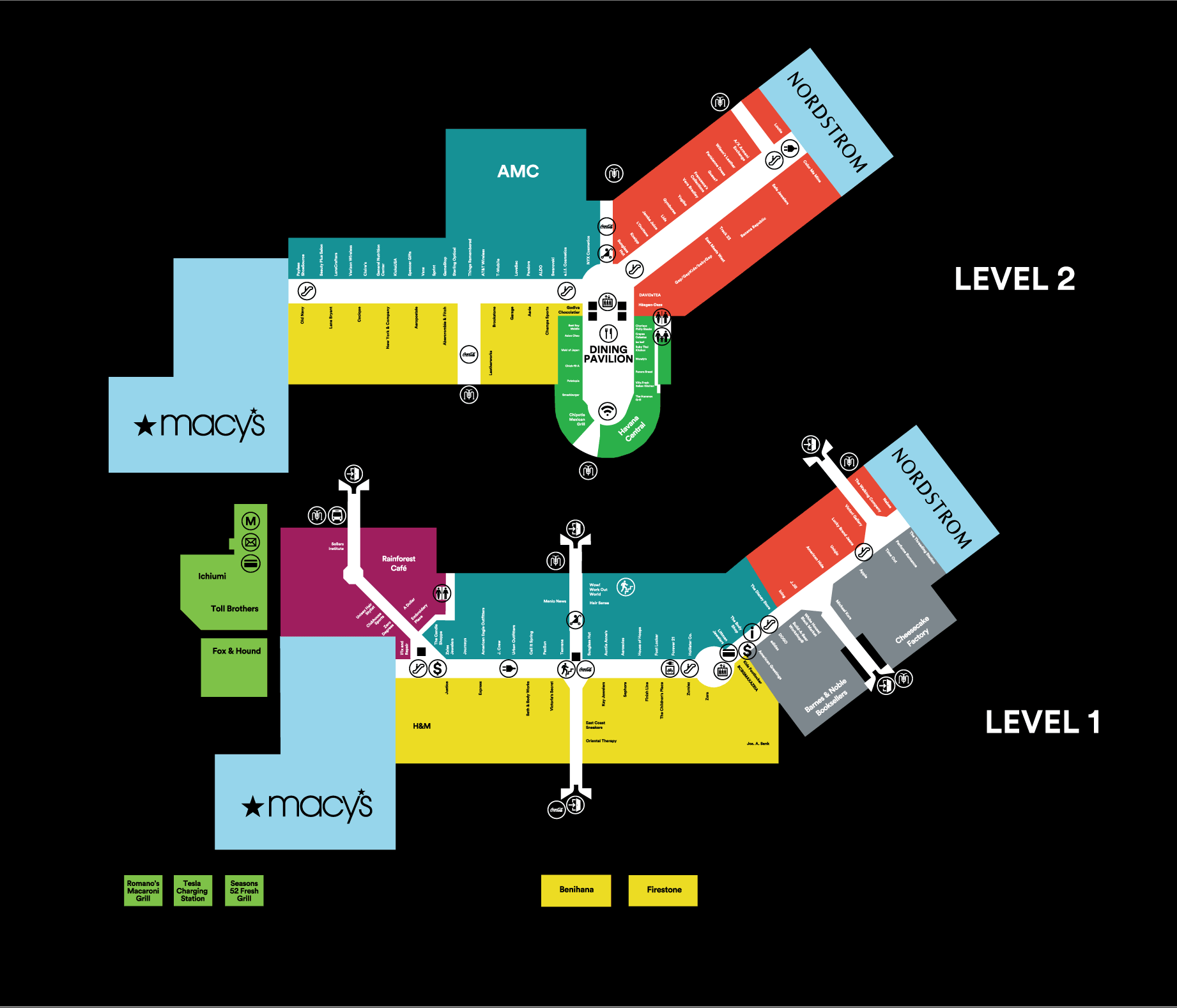 Well, this is sad.
We didn't find anything. Try something different.
FILTER BY CATEGORY