Melbourne Square Mall is located in the heart of the heavily-populated Palm Bay-Melbourne-Titusville metro area and enjoys a large trade area that serves most of Brevard County. There's a whole new look at Melbourne Square and that means lots of new choices. With the completion of our multi-million dollar renovation, you'll find new amenities throughout the mall. New porcelain tile floors, carpeted seating areas, redesigned center court and food court, decorative lighting, lush landscaping and so much more. Melbourne Square now boasts a custom-designed children's play area, the first of its kind in Brevard County. The Play Area encompasses nearly 1,500 square feet of mall concourse near Dillard's South and incorporates artistic play elements, adult seating and even a baby changing station. The new Melbourne Square is your one stop shopping destination. Melbourne Square is anchored by department store favorites - Macy's, Dillard's North and South, JCPenney and Dick's Sporting Goods. Recent additions include Coach, Finish Line and TooJay's Gourment Deli which features a New York-style deli dining experience.  With more than 125 additional specialty stores, Melbourne Square offers something for everyone. When it comes to new, there's nothing newer than what you'll find at Melbourne Square, a SimonTM mall. To find out more about stores, the Simon Giftcard and other helpful information, call the Shopping Line:  321.727.2000. Shop Smarter. At Simon Malls.
// READ MORE
Mall Office:

(321) 727-8062
Shopping Line:

(321) 727-2000
Mall Security:

(321) 952-0583
We offer free wireless internet to our shoppers at this Simon mall. Any shopper with a Wi-Fi enabled laptop, tablet or smartphone can easily log onto the Wi-Fi network. All shoppers have to do is open their web browser or select "Simon WiFi" (the SSID name) from their available list of wireless networks to get to the Simon Malls Wi-Fi landing page. All shoppers that choose to use the Wi-Fi network at this mall must agree to Simon Wi-Fi Terms & Conditions of Use  prior to using this free service. If there are any issues or questions, shoppers and tenants should contact the Wi-Fi network technical support hotline at (888) 726-5930 for assistance.

Order your travel money online for convenient home delivery. Did you know that some Simon mall locations also include retail Travelex stores for your convenience. Travelex is the world's largest retail foreign currency exchange specialist, with over 1000 stores around the world. We can provide you with over 75 foreign currencies as well as a Cash Passport that can be pre-loaded with either Pounds or Euros and includes chip & PIN technology, a must when traveling in Europe. To get started, visit <a href="http://onlinetravelcurrency.com/mtwid000136/Home?utm_source=Simon&utm_medium=link&utm_campaign=120">Travelex now</a>.

There are two ATM's located at Melbourne Square.  One is located in the Food Court near Moe's Southwest Grill; the other is located by the Children's Play Area.

The Mall offers two stations:  one is located in the Family Restroom near the Food Court and one is located at the Children's Play Area.

<BR>Plan to stay overnight and get a great rate on a hotel room near the mall. <A href="http://travel.ian.com/index.jsp?cid=136146&amp;pageName=hotSearch&amp;advanced=true&amp;advancedSearchType=address&amp;streetAddress=1700+West+New+Haven+Avenue&amp;stateProvince=FL&amp;city=Melbourne&amp;country=USA&amp;postalCode=32904&amp;temp1=9133" target=_blank>Click here</A> to book online or call 1-800-916-1681 to make your reservation today!<BR><A class=link-topbold href="http://travel.ian.com/index.jsp?cid=136146&amp;pageName=hotSearch&amp;advanced=true&amp;advancedSearchType=address&amp;streetAddress=1700+West+New+Haven+Avenue&amp;stateProvince=FL&amp;city=Melbourne&amp;country=USA&amp;postalCode=32904&amp;temp1=9133" target=_blank><IMG src="/assets/mall/guestservices/affiliated_current.gif" border=0></A><BR><A href="http://travel.ian.com/index.jsp?pageName=promo&amp;cid=136146" target=_blank>Save up to $100 - click here for more details</A>

The Simon Malls Mobile App can help you find your favorite stores, dining and entertainment options at the Simon Mall nearest you. You'll also be able to check out the latest deals and events available at your favorite mall right from your phone. And there are many more features designed to enhance your shopping experience including mall maps & gift card balance check. Download the free app from the App Store&#8480 for iOS powered devices or from Google Play™ for Android powered devices today. iPhone is a trademark of Apple Inc., registered in the U.S. and other countries. App Store is a service mark of Apple Inc. Android and Google Play are trademarks of Google Inc.

Lost and Found services are located at Simon Guest Services&nbsp;which is located&nbsp;near the fountain in the center of the mall outside Dillard's Men's.

Melbourne Square opens early for mall walking - Monday through Saturday at 9:00am and Sunday at 11:00am.

Convenient parking is free and plentiful at Melbourne Square. Handicapped parking is also readily available.

Pay Phones are located in the Food Court behind Starbucks.

There are a number of soft seating areas available for rest &amp; relaxation.  The areas area all carpeted and feature comfortable seating to enhance your shopping experience.<br />

Single strollers provided by Smarte Carte are available for rental at the South Entrance near the Food Court and at the West Entrance near JCPenney. The charge is $5 per stroller with a $1 refund upon return of the stroller. For additional information, inquire at Simon Guest Services located near the fountain in the center of the Mall or call 321-727-8062.

Ticketmaster, the world's leading live entertainment ticketing company, now has a retail location at select Simon® Malls Guest Services Booths. You can access event information and purchase tickets at Guest Services to a wide range of venues and entertainment options including sporting events, museums, theaters, performing arts and family shows. Did you purchase tickets from Ticketmaster online? You can conveniently pick them up at our mall. Stop by Simon Guest Services for all of your Ticketmaster ticketing needs.

Complimentary wheelchairs are provided by Parker Healthcare Products.&nbsp; Wheelchairs are conveniently located at Simon Guest Services in the center of the mall near the fountain. There is no charge for wheelchairs; however, a photo I.D. is required as a deposit.
BACK TO TOP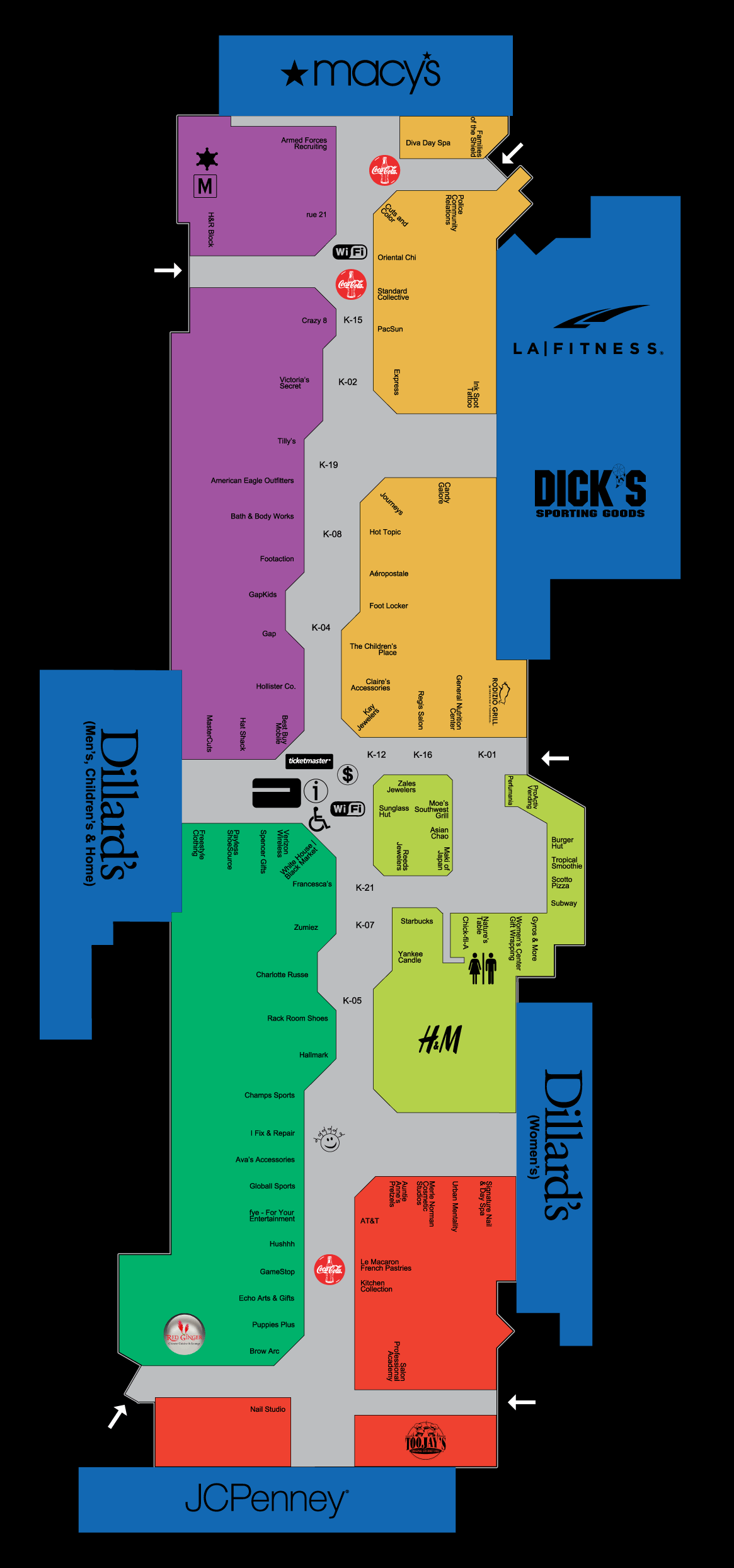 Guest Services is a full-service, one-stop location where you can purchase Simon American Express Giftcards choosing from a variety of designs, pick up Ticketmaster tickets, borrow a wheelchair, obtain assistance in...

See all things: Guest Services • Services • Variety
Well, this is sad.
We didn't find anything. Try something different.
FILTER BY CATEGORY