Welcome to Lindale Mall where we strive to make your shopping experience comfortable and enjoyable.  Our enclosed climate controlled mall is warm and cozy during Iowa winters and cool and calm in the summer's heat.   We have proudly served the communities of Cedar Rapids, Marion, Robins, Hiawatha and many other area communities since 1960.  Located at the intersection of First Avenue / Highway 151 and Collins Road / Highway 100 Lindale is easy to find and with over 100 stores and restaurants it is easy to stay and shop. From jewelry to shoes or women's apparel to specialty gifts we can deliver what you're looking for with stores such as Von Maur, Younkers, Sears, Victoria's Secret, The Buckle, American Eagle and Bath and Body Works.  After a long day of shopping sit down for a relaxing meal at HuHot Mongolian Grill, grab a sandwich to-go at Subway or have some fun playing laser tag at Planet X.  Stop in today and pick up whatever you need and stay and enjoy the hunt for that item you just can't live without.  Your mall since 1960 a trip to Lindale is like coming home. From the entire Lindale team…Welcome home to Lindale Mall.
// READ MORE
Mall Office:

(319) 393-9393

Mall Office

(319) 393-9393
Order your travel money online for convenient home delivery. Did you know that some Simon mall locations also include retail Travelex stores for your convenience. Travelex is the world's largest retail foreign currency exchange specialist, with over 1000 stores around the world. We can provide you with over 75 foreign currencies as well as a Cash Passport that can be pre-loaded with either Pounds or Euros and includes chip & PIN technology, a must when traveling in Europe. To get started, visit <a href="http://onlinetravelcurrency.com/mtwid000136/Home?utm_source=Simon&utm_medium=link&utm_campaign=922">Travelex now</a>.

Lost and Found is located at Simon Guest Services.

The Steps2Health Mall Walking Program information can be found at Guest Services in the Mall Management Office.  

Free wheelchair use while visiting the mall. Visit us at Guest Services for more information.
BACK TO TOP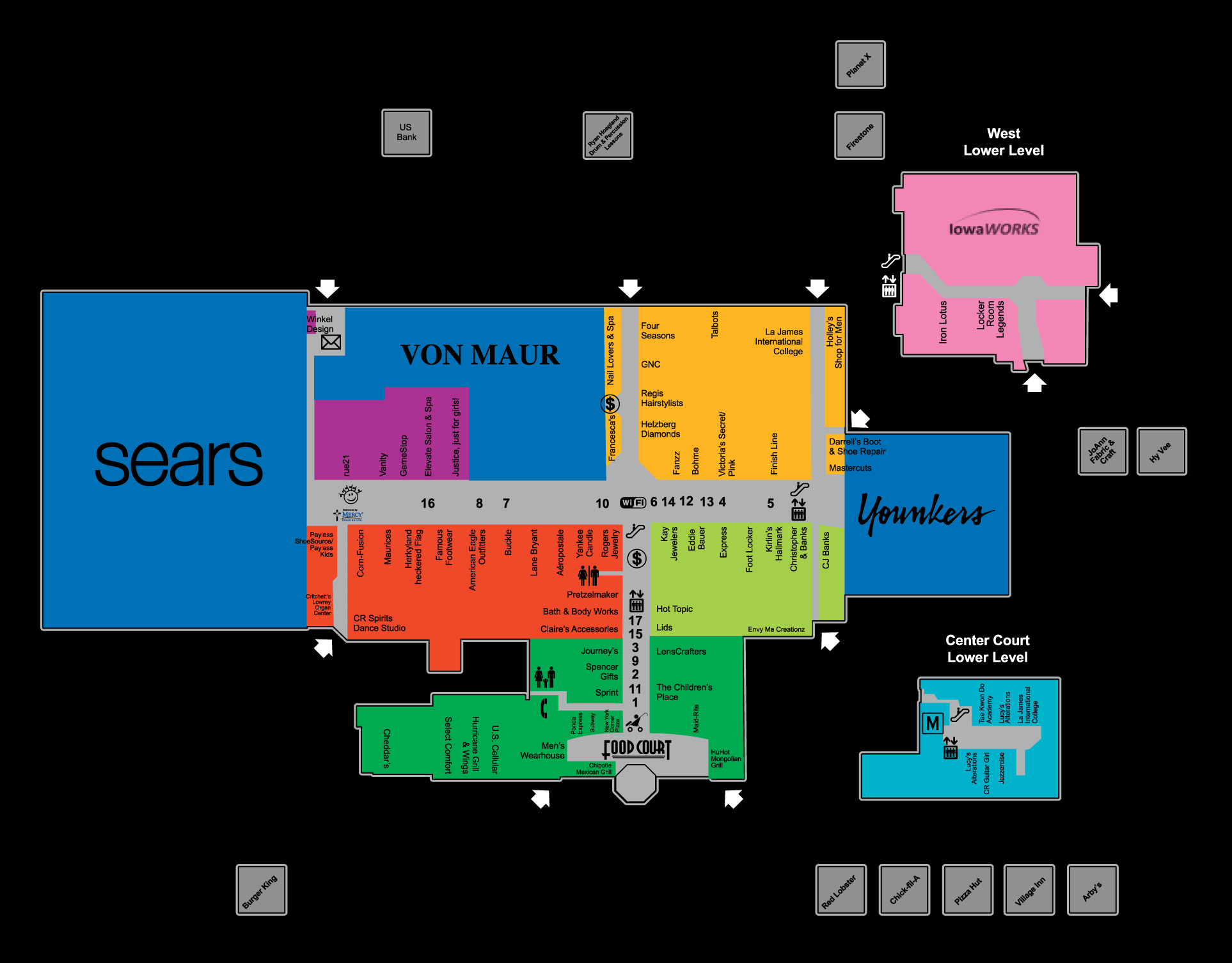 HuHot Mongolian Grill At HuHot Mongolian Grill, you control your destiny. Create your own Asian stir fry from our selection of fresh meats, noodles, vegetables and Asian-inspired sauces, then watch as it's cooked on our...

See all things: Hu Hots Mongolian Grill • Restaurants (order via wait staff)
Since 1958, guests have visited Village Inn because they know they will enjoy great-tasting food and extra-friendly service in a clean and comfortable family environment. Our breakfast heritage is based on...

See all things: Village Inn • Restaurants (order via wait staff)
Well, this is sad.
We didn't find anything. Try something different.
FILTER BY CATEGORY