Welcome to Lindale Mall where we strive to make your shopping experience comfortable and enjoyable.  Our enclosed climate controlled mall is warm and cozy during Iowa winters and cool and calm in the summer's heat.   We have proudly served the communities of Cedar Rapids, Marion, Robins, Hiawatha and many other area communities since 1960.  Located at the intersection of First Avenue / Highway 151 and Collins Road / Highway 100 Lindale is easy to find and with over 100 stores and restaurants it is easy to stay and shop. From jewelry to shoes or women's apparel to specialty gifts we can deliver what you're looking for with stores such as Von Maur, Younkers, Sears, Victoria's Secret, The Buckle, American Eagle and Bath and Body Works.  After a long day of shopping sit down for a relaxing meal at HuHot Mongolian Grill, grab a sandwich to-go at Subway or have some fun playing laser tag at Planet X.  Stop in today and pick up whatever you need and stay and enjoy the hunt for that item you just can't live without.  Your mall since 1960 a trip to Lindale is like coming home. From the entire Lindale team…Welcome home to Lindale Mall.
// READ MORE
Mall Office:

(319) 393-9393
Order your travel money online for convenient home delivery. Did you know that some Simon mall locations also include retail Travelex stores for your convenience. Travelex is the world's largest retail foreign currency exchange specialist, with over 1000 stores around the world. We can provide you with over 75 foreign currencies as well as a Cash Passport that can be pre-loaded with either Pounds or Euros and includes chip & PIN technology, a must when traveling in Europe. To get started, visit <a href="http://onlinetravelcurrency.com/mtwid000136/Home?utm_source=Simon&utm_medium=link&utm_campaign=922">Travelex now</a>.

Lost and Found is located at Simon Guest Services.

The Steps2Health Mall Walking Program information can be found at Guest Services in the Mall Management Office.  

Free wheelchair use while visiting the mall. Visit us at Guest Services for more information.
BACK TO TOP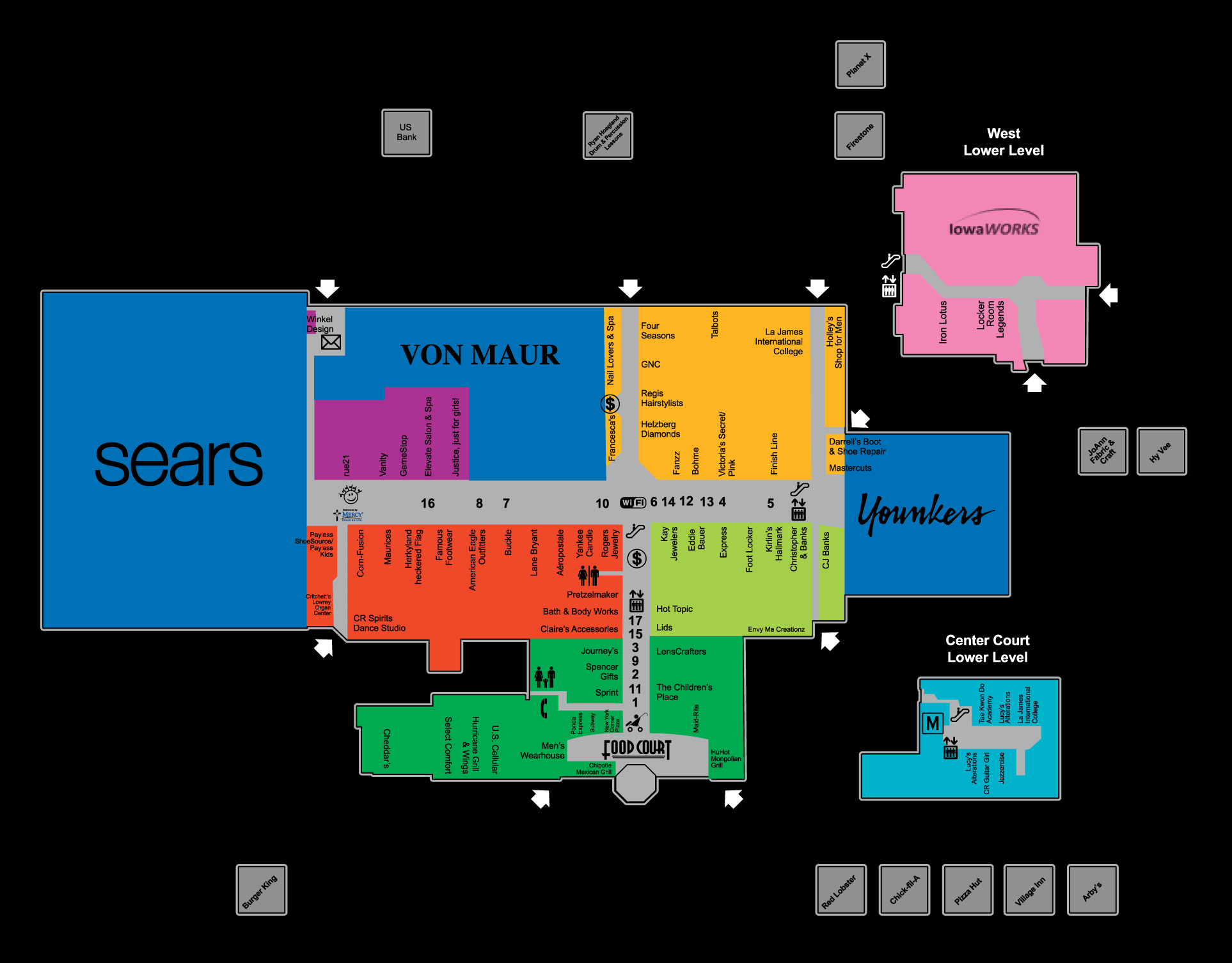 Founded in 1964, Arby's is a quick service restaurant that specializes in offering slow roasted and freshly sliced roast beef sandwiches, deli-style sandwiches, wraps and salads with the convenience of a drive-thru. ...

See all things: Arby's • Restaurants (order at the counter)
Our sandwiches, salads, Cool Wraps®, Chick-fil-A Chick-n-Strips® and nuggets are made with 100% tender chicken. Side items with a delicious Chick-fil-A® twist (Waffle Potato Fries™, anyone?). Rich desserts. Even Lemonade...

See all things: Chick-fil-A • Restaurants (order at the counter)
At Chipotle, we aim to do a few things but do them exceptionally well. When Chipotle first opened its doors in 1993, the goal was simple: to serve high quality, delicious food quickly with an experience that not only...

See all things: Chipotle Mexican Grill • Restaurants (order at the counter)
All Panda Chefs are famous for wokking up delicious creations with fresh meats and vegetables in the Panda kitchen. Some dishes you'll recognize as Chinese traditions, like Kung Pao with a kick, savory Beef and Broccoli...

See all things: Panda Express • Restaurants (order at the counter)
The SUBWAY restaurant chain is the undisputed leader in the submarine sandwich category serving fresh, great tasting, made-for-you sandwiches and salads, many of which have 6 grams of fat or less. Offering a healthful...

See all things: Subway • Restaurants (order at the counter)
Well, this is sad.
We didn't find anything. Try something different.
FILTER BY CATEGORY