Lakeline Plaza is located adjacent to Lakeline Mall and offers customers an additional 9 anchor stores, including Best Buy, Bed Bath and Beyond, Old Navy, Office Max, Ross, and TJMaxx, plus over 20 other specialty stores.  Find a meal to suit everyone's taste at any one of several sit-down restaurants - Chili's, Applebee's, Texican Cafe, and Plucker's.  Lakeline Mall, Lakeline Plaza & Lakeline Village - More Choices.
// READ MORE
Mall Office:

(512) 257-8500
The Simon Malls Mobile App can help you find your favorite stores, dining and entertainment options at the Simon Mall nearest you. You'll also be able to check out the latest deals and events available at your favorite mall right from your phone. And there are many more features designed to enhance your shopping experience including mall maps &amp; gift card balance check. <br /> Download the free app from the&nbsp;App Store? for iOS powered devices or from&nbsp;Google Play&trade; for Android powered devices today. iPhone is a trademark of Apple Inc., registered in the U.S. and other countries. App Store is a service mark of Apple Inc. Android and Google Play are trademarks of Google Inc.
BACK TO TOP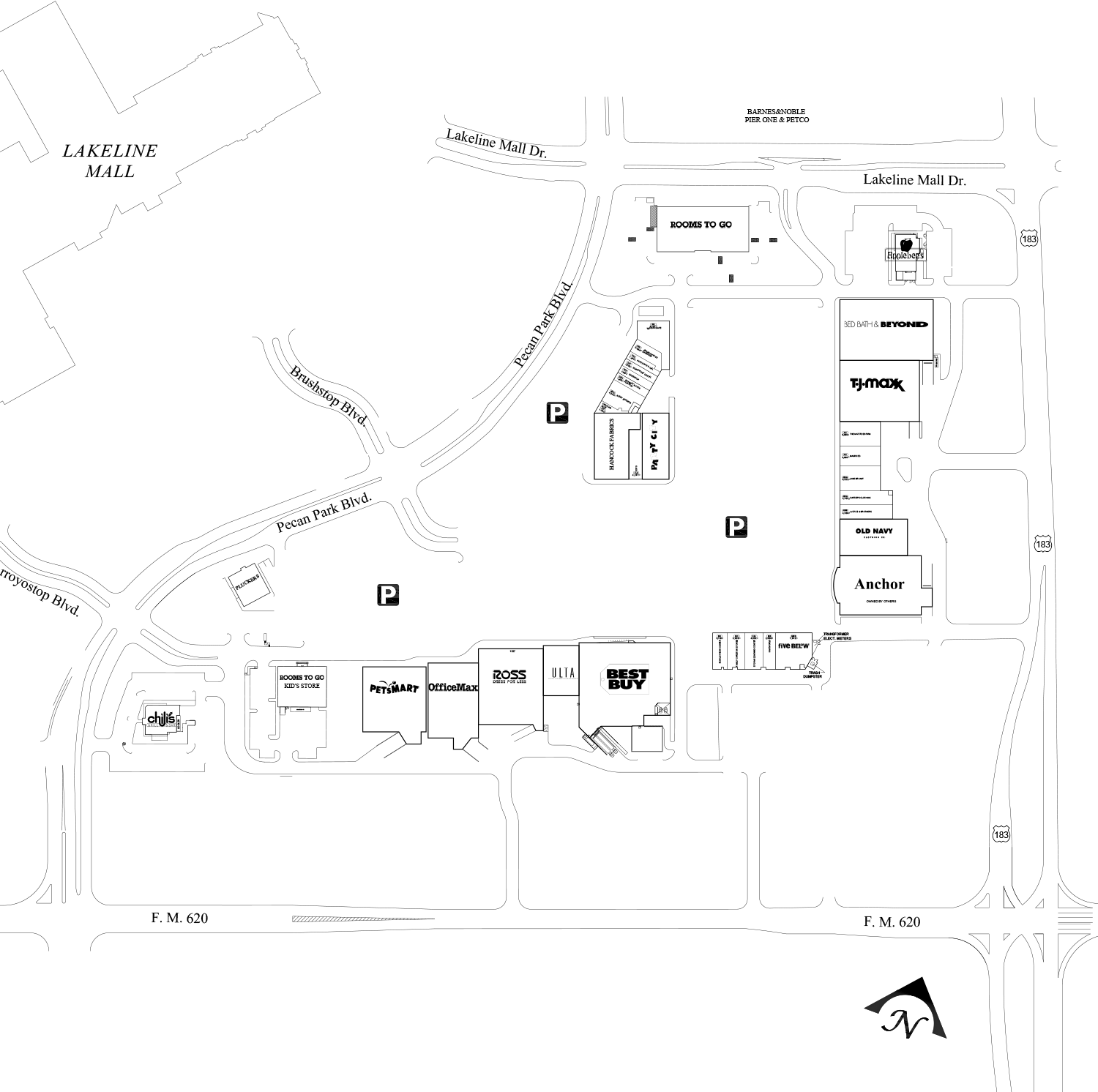 The introduction of the Honey BBQ Baby Backs solidifies Applebee's as a leader in providing a variety of great-tasting food choices for guests, said Kurt Hankins, Applebee's senior vice president of Menu Development and...

See all things: Applebee's • Restaurants (order via wait staff)
Try something new and Live a Little. Life is full of routines, and Chili's is the perfect place to come in and break out of them for a while. Since 1975 we've been serving up a good time, every time, with exciting and...

See all things: Chili's Bar & Grill • Restaurants (order via wait staff)
Pluckers' motto is "If you don't like our wings, we'll give you the BIRD." The late-night, dine-in and delivery poultry purveyor also cooks up chicken sandwiches and tenders, hamburgers, baked potatoes and cheese fries...

See all things: Pluckers Wing Bar • Restaurants (order via wait staff)
Soto Restaurant is a unique Japanese restaurant located in the heart of NW Austin. Executive Sushi Chef Andy, has worked for some of the best Sushi Chefs in the world, including Nobu Matsuhisa and Masaharu Morimoto. He...

See all things: Soto Restaurant • Restaurants (order via wait staff)
The Texican Café is an Austin original, serving fresh and flavorful Tex-Mex to hungry Austinites for over 2 decades. It's our commitment to our patrons to use only the finest and freshest beef, poultry, seafood, and...

See all things: Texican Cafe • Restaurants (order via wait staff)
Well, this is sad.
We didn't find anything. Try something different.
FILTER BY CATEGORY