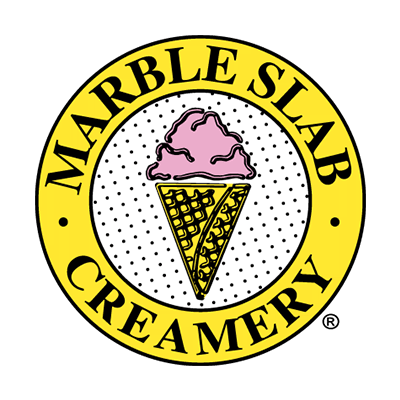 Marble Slab Creamery
We love ice cream...it's as simple as that. We love the way it calls to us from the sugary confines of a light, crispy cone. We love the cold, creamy sweetness that tantalizes our tongue with every lick. In fact, we love ice cream so much that when you visit Marble Slab Creamery, we want you to enjoy more than just a sweet treat. We want to provide you with a unique and memorable ice cream experience. It all starts when you enter one of our stores and are immediately greeted by the aroma of our freshly-baked waffle cones, available in a variety of flavors ranging from Vanilla Cinnamon to Dark Chocolate with Butterfinger®. You will likely see one of our cone-makers hard at work "rolling" cones using old-fashioned waffle irons. Then comes the moment of choice...deciding which one of our delicious, homemade, super premium ice cream flavors best satisfies your craving. Will it be a traditional favorite such as Sweet Cream, Chocolate Swiss or Strawberry? Or perhaps a more unique flavor like Cheesecake, Chocolate Amaretto or Butter Pecan? Once your desired flavor has been selected, the ice cream will then be scooped onto a frozen marble slab, where your choice of fruits, nuts and candies (a.k.a. Marble Slab "mixins") will be skillfully blended in, until the whole concoction is finally piled high on the delectable waffle cone of your choosing...creating your very own, one-of-a-kind dessert. All together, it's a special ice cream cone that's made just the way you like it, just when you want it. Now that's something you can't get from a carton.
STORE HOURS
Monday to Friday 11:30AM–11PM
|
Saturday to Sunday 11:30AM–10:30PM
|
SPECIAL HOURS
11/23–11/24/2017: 6PM–12AM (Thanksgiving)
11/24/2017: 8AM–9PM (Black Friday)
11/26/2017: 11AM–6PM (Holiday Hours)
BEST ENTRANCE
North Mall Entrance on US 41
LOCATION IN MALL
Plaza Del Lago Dr. off Mediterranean Dr.