ABQ Uptown is your ultimate destination for upscale shopping, home furnishings, entertainment and dining.You'll find it all in a pedestrian-friendly, open-air lifestyle center.When you see the big blue, yellow, and red "Q" at the intersection of Uptown Boulevard and Q Street, you know you are in the right place. It's ABQ Uptown, the ultimate destination in New Mexico for upscale fashion, home furnishings, entertainment and dining and the perfect place to shop, walk, and eat in a just-right, outdoor environment. With approximately 220,000 square feet of retail shops, restaurants, ABQ Uptown has a unique mix of stores that create a completely new and refreshing shopping experience for the community and its citizens.
// READ MORE
Mall Office:

(505) 792-1929
Shopping Line:

(505) 899-6918
Mall Security:

(505) 358-0804
BACK TO TOP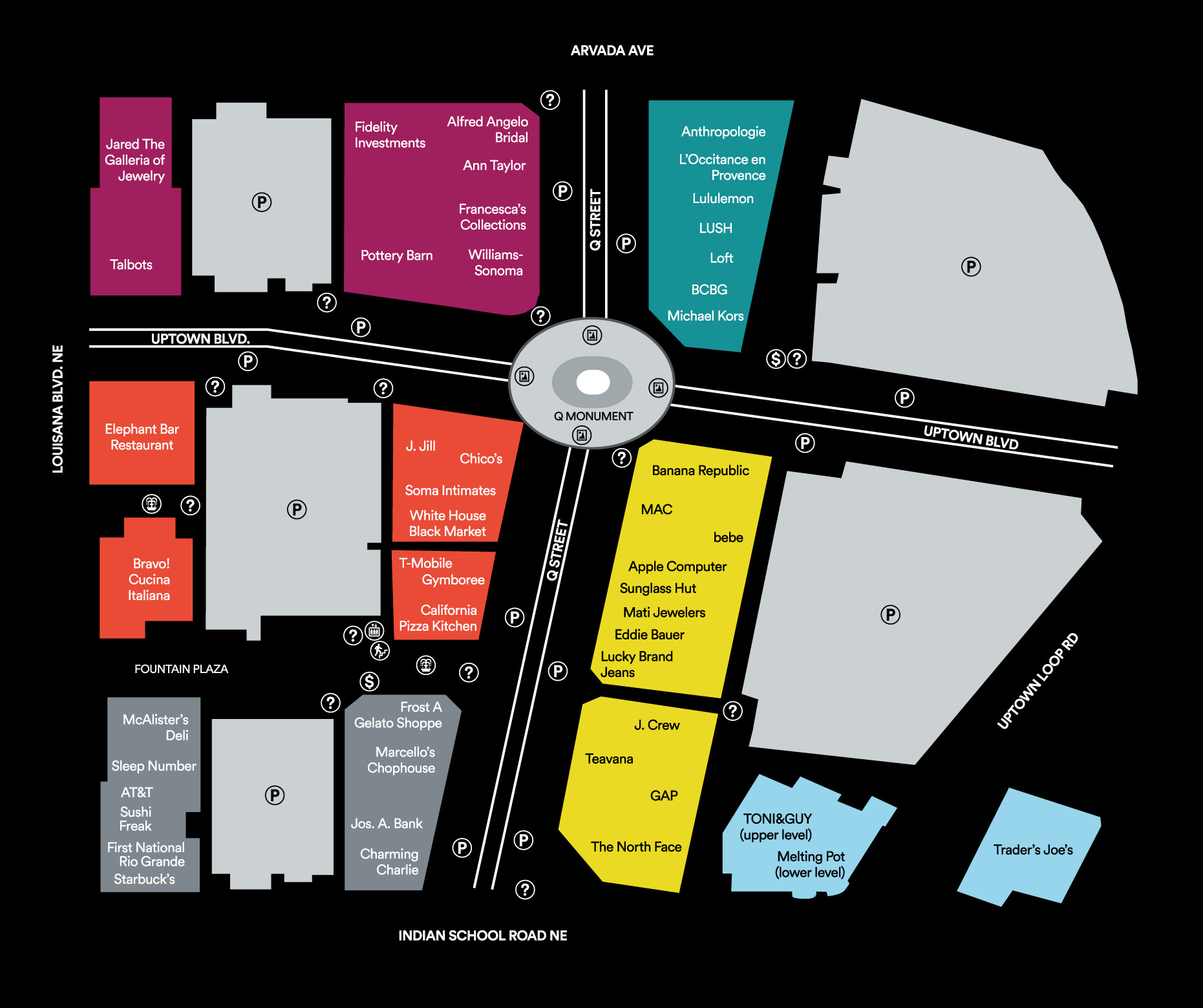 Founded in 1992, Anthropologie is run by a small group of people dedicated to bringing the best of other cultures into our own. Our buyers spend well over half the year travelling through Europe, India and the Far East...

See all things: Anthropologie • Women's Fashions • Accessories • Home Furnishings
Pottery Barn offers expertly crafted home furnishings and decor. Shop classic furniture, bedding & accessories in exclusive designs to decorate your home in style.

See all things: Pottery Barn • Home Furnishings
Our mission is to improve lives by individualizing sleep experiences. From our revolutionary series of SLEEP NUMBER® beds to our exclusive SLEEP NUMBER® Bedding Collection, our vision is to set a new standard in sleep...

See all things: Sleep Number by Select Comfort • Home Furnishings
Founded in 1956, Williams-Sonoma, Inc. is the premier specialty retailer of home furnishings and gourmet cookware in the United States. Our brands are among the best known and most-respected in the industry. We offer...

See all things: Williams-Sonoma • Home Furnishings
Well, this is sad.
We didn't find anything. Try something different.
FILTER BY CATEGORY