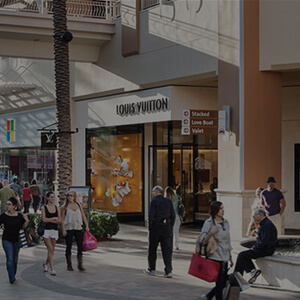 Legal Information & Notices
TERMS
OF USE
Last Updated: April 18, 2018
This Terms of Use ("Policy") applies to the websites ("Sites"), mobile applications ("Apps") and Internet-based activities ("Web Services") operated by Simon Property Group, L.P. and its affiliates (collectively, "Simon"). The Sites include, but are not limited to, simon.com, premiumoutlets.com, shoppremiumoutlets.com, business.simon.com, investors.simon.com, careers.simon.com, family.simon.com, dashboard.simon.com, syf.org, traveltrade.simon.com, simonmuse.com, simoninsider.com, simonventures.co and said.simon.com. The Apps are designed for iOS and Android devices. The Web Services include, for example, e-mail, push notification and SMS/MMS communications, the Facebook Messenger bot, the Amazon Alexa custom Simon skill. The Sites, together with the Apps and Web Services, are the "Platform".
Please read these Terms of Use carefully. These Terms of Use also include Simon's Privacy Policy, as well as any specific terms appearing at discrete areas of the Platform, all of which are incorporated into, and made a part of, these Terms of Use. As used herein, the words "user," "you" and "your" mean users of the Platform and the words "we," "us" and "our" mean Simon. These Terms of Use constitute a binding legal agreement between you and Simon and, by accessing and using the Platform, you accept, without limitation or qualification, these Terms of Use. If you do not accept and agree to these Terms of Use, do not use the Platform or any of the services provided herein. Simon reserves the right to modify these Terms of Use by posting new versions as well as the right to provide additional notice of significant changes. IF YOU DO NOT AGREE WITH THE TERMS OF USE, INCLUDING CHANGES THERETO, OR ANY GUIDELINES OR RULES POSTED ON THE PLATFORM, THEN DO NOT USE THE PLATFORM.
Acceptance of Terms
Your access to and use of the Platform are subject to your compliance with these Terms of Use and all applicable laws. Without limiting anything set out elsewhere in these Terms of Use, your continued use of the Platform is contingent upon your checking for any updates to the Terms of Use and your agreement to be bound by any such revisions. You can view the most current version of the Terms of Use at any time by clicking on the Terms of Use link at the bottom of a webpage of the Site or within the main menu when using the App. Your continued right to access and use the Platform will terminate immediately, without any further action by Simon, if you breach these Terms of Use.
Content and Communications
(a) Although the primary purpose of the Platform is to provide useful and accurate information about the various shopping malls, outlet centers, factory stores, community and lifestyle centers owned, operated and/or managed by Simon (collectively, the "Simon Malls"), the Platform may contain inaccuracies or typographical errors. To the extent that content has been provided by third parties (e.g., merchants and retailers), and includes sales, offers, coupons, giveaways, advertisements, promotions, pricing or similar information over which Simon has no control, you must do your own due diligence and exercise your best judgment in accessing, using and/or relying on any such third party content. Simon has no responsibility for the terms of any third party offer, sale, purchase or other transaction and the use, posting, distribution, or publication of content does not constitute or imply an endorsement, recommendation, advice, opinion or comment by Simon nor is it an assurance of legality, quality or safety by Simon. Because prices and details of offers, promotions, specials and sales may significantly vary from the information posted on the Platform, you should call or visit the applicable merchant's website in advance to confirm. Excluding Simon Giftcards®, Rewardcards (Visa or American Express types) store (retailer) gift cards, any goods or services purchased by you are purchased directly from the applicable merchant and, as between Simon and the merchant, the merchant is solely responsible to you for every aspect of such purchase.
(b) Each user is solely responsible for the communications medium used by such user in community interactions. Simon reserves the right to expel users and prevent further access to the Platform for violating these Terms of Use or applicable law. Parents and guardians are solely responsible for use of the Platform by children under the age of eighteen (or the age of majority in the state in which such children reside). Minors under the age of 18 years old should not use the Platform without actual parental supervision.
(c) Although Simon is not obligated to screen communications or postings in advance and is not responsible for screening or monitoring the Platform, or any element or component thereof, you acknowledge and agree that Simon has the right to monitor the Platform in its sole discretion, and, as further explained in the Simon Privacy Policy, to disclose information as necessary or appropriate to satisfy any law, regulation or other governmental request, to operate the Platform properly, or to protect itself or other users. If you upload to or transmit through the Platform any content, you hereby grant Simon the right and permission to reproduce, prepare derivative works of, distribute, perform, display, exploit and make any other use of such content, whether for commercial or non-commercial purposes.
(d) If Simon is notified of communications or content that allegedly violates these Terms of Use and/or any applicable law, rule or regulation, it may investigate the allegation and determine in its sole discretion whether to remove, or request the removal of, the content or to terminate the use of the Platform by the user who posted such content, but has no liability or responsibility to users for performance or nonperformance of such activities. Without limiting anything set out elsewhere in these Terms of Use, if a user views content or receives communications allegedly inconsistent with these Terms of Use, the user may send an email to customercare@simon.com stating, in reasonable detail, the observed behavior. Following receipt of such correspondence, Simon, will make a decision in its sole discretion, regarding the appropriate action to take, if any, to address the concern set out in such email. Any action or inaction by Simon does not imply or impose any responsibility or liability on Simon for the form, intent, or accuracy of the original or any subsequent content posted by, or communications between, users of the Platform.
Copyright and Other Restrictions On Use of the Platform
(a) Authorization of Use and General Prohibited Uses.
(i) Simon authorizes you to view and download a single copy of content on the Platform, including content provided by PDF downloads, RSS feed, Atom feed, REST-based web service XML or JSON feed, solely for your lawful, non-commercial and personal use as expressly permitted by and subject to the restrictions contained in these Terms of Use, including, without limitation, the requirement that you maintain all copyright and other proprietary notices contained in the Material (as defined below). The Platform shall not be used by any person to post, transmit, display, publish, distribute or otherwise exploit content or other materials that (1) violate these Terms of Use; (2) infringe the copyright, trademark, trade secret or other intellectual property rights of others or violates the privacy or publicity or other personal rights of others; (3) is fraudulent, deceptive, defamatory, obscene, threatening, harassing, abusive, hateful, or embarrassing to another user or any other person or entity, including without limitation, sexually-explicit or parody images or text, chain letters or pyramid schemes; or (4) violate applicable laws, rules and regulations, including without limitation, consumer protection, privacy and trade laws and regulations. You agree that you will not use any robot, spider or other automated device, process, or means to access the Platform.
(ii) You acknowledge and agree that Simon specifically prohibits, and by your use of the Platform, you expressly agree not to engage in, the following conduct: the deletion or alteration of any Materials; any action that imposes an unreasonable or disproportionately large load on the Platform infrastructure; the use of any data mining, robots, scraping or other similar means or methods for purposes of data gathering or extraction; and/or the use of any directory information to post or transmit any unsolicited advertising, promotional materials, junk mail, spam, chain letters, telephone calls or other solicitations. You agree not to disrupt, overwhelm, attack, modify, reverse engineer or interfere with the Platform or its associated software, hardware and/or servers in any way, and you agree not to impede or interfere with others' use of the Platform. You further agree that you will not (A) use any manual process to monitor or copy the Material or for any other unauthorized purpose without Simon's prior express written permission; and/or (B) use the Platform to intentionally or unintentionally violate any applicable local, state, national or international law, regulation or ordinance.
(iii) You may not copy, use, download, modify, frame, publish, transmit, retransmit, transfer, sell, license, reproduce, create derivative works from, distribute, perform, display, disseminate, rearrange, redistribute, alter, adapt, crop, resize, move, remove, delete or in any way exploit or make commercial use of, any of the Material, in whole or in part, directly or indirectly, without the prior written consent of Simon and/or the owner thereof, except as expressly permitted in these Terms of Use. If such permission is granted by Simon and/or by all other entities with an interest in the relevant intellectual property, you must keep intact, and may not change or delete, any author attribution, trademark, legend or copyright notice associated with the Material. The use of the Material on any other website or other telecommunication media or in a networked computer environment for any purpose, without the prior express written permission of Simon, is prohibited. Without limiting the foregoing and for the avoidance of doubt, you must abide by all additional copyright notices and other restrictions contained on the Platform.
(b) Copyright; Prohibition Against Copying. The contents of the Platform, such as the compilation and arrangement of text, graphics, images and other materials, and the hypertext markup language (HTML), Cascading Style Sheets (CSS), scripts (JS), active server pages (ASP and ASPX), content provided by a RSS feed, Atom feed, web service feed or other web feed or other content or software used in or provided through the Platform (the "Material"), are protected by copyright under both United States and foreign laws. Unauthorized use of the Material may violate copyright, trademark, and other laws.
(i) Notice for Claims of Intellectual Property Violations and Agent for Notice
If you believe in good faith that any material on the Platform infringes your copyright, you (or your agent) may send Simon's Agent for Notice of claims of copyright or other intellectual property infringement ("Agent") a written notice requesting that Simon remove or block access to the infringing material. Your notice to Simon must include the following information:
(1) An electronic or physical signature of a person authorized to act on behalf of the owner of the exclusive right that is allegedly infringed;
(2) Identification of the copyrighted work or other intellectual property that you claim has been infringed upon;
(3) A description of where the material that you claim is infringing is located on the Platform with sufficient detail (including applicable URL if possible) that Simon may find it on the Platform;
(4) Your address, telephone number, and email address;
(5) A statement by you that you have a good faith belief that the disputed use is not authorized by the copyright or intellectual property owner, its agent, or the law;
(6) Information, if possible, sufficient to permit Simon to notify the owner/administrator of the allegedly infringing content; and
(7) A statement by you, made under penalty of perjury, that the above information in your notice is accurate and that you are the copyright or intellectual property owner or authorized to act on the copyright or intellectual property owner's behalf.
If you believe in good faith that someone has wrongfully filed a notice of copyright infringement against you, the Digital Millennium Copyright Act (the "DMCA") permits you to send Simon a counter-notice. Notices and counter-notices must meet the then-current statutory requirements imposed by the DMCA .
Notices and counter-notices must be sent to our Agent as follows:
By mail:
Simon Property Group
Digital Marketing - 10th Floor
Laura Hale - Online Privacy Coordinator
225 West Washington Street
Indianapolis, IN 46204 USA
By e-mail:
LaHale@simon.com
PLEASE NOTE THAT, DUE TO SECURITY CONCERNS, ATTACHMENTS CANNOT BE ACCEPTED. ACCORDINGLY, ANY NOTIFICATION OF INFRINGEMENT SUBMITTED ELECTRONICALLY WITH AN ATTACHMENT WILL NOT BE RECEIVED OR PROCESSED.
(c) Trademark. The trademarks, service marks, logos and other indicia of origin (collectively, the "Marks") used on the Platform are owned by Simon and others. No license or right to use any Marks contained on the Platform is granted, whether by implication or otherwise, and any use of any Marks contained on the Platform is expressly prohibited unless authorized in writing by the owner of the applicable Marks. All rights not explicitly granted herein are reserved.
Security
From time to time, Simon may use techniques designed to identify fraudulent activities. You agree to cooperate with such efforts as Simon may, in its sole discretion, deem necessary to identify attempted fraud. You further agree that if, for any reason, you or others acting on your behalf are suspected of fraud or other violation of these Terms of Use, Simon may, in its sole discretion, declare you to be in breach of these Terms of Use, suspend, block and/or terminate your use of the Platform, and/or seek prosecution to the fullest extent of the law.
Disclaimer of Liability
(a) The Platform and the Material are provided on an 'as is' basis without any warranties of any kind. To the fullest extent permitted by law, Simon disclaims all warranties, including the warranty of merchantability, non-infringement of third party rights, and the warranty of fitness for a particular purpose, and makes no warranties about the accuracy, reliability, completeness, intent, usefulness, or timeliness of the Platform and/or the Material. For the avoidance of doubt, Simon makes no representation or warranty that: (i) the Platform will meet your requirements, or that its operation will be uninterrupted, available, timely, secure or error-free; (ii) the quality of the Material will meet your expectations; (iii) any errors in the Platform will be corrected; or (iv) any of the Material is appropriate or may be downloaded outside of the United States. If your use of the Platform or the Material results in the need for service to, or replacement of, equipment or data, Simon is neither responsible nor liable for such damage or the costs associated therewith. Your use and browsing of, and any reliance by you upon, the Platform are at your own risk. If you are dissatisfied with the Platform or any Material, or with any of the terms and conditions of these Terms of Use, your sole and exclusive remedy is to discontinue accessing and using the Platform.
(b) to third party websites contained in the Platform are provided solely as a convenience to you and not as an endorsement by Simon of the content on such third party websites. Simon has no control over such third party websites, does not endorse such third party websites and assumes no responsibility for any content or materials on, or available from, such websites. Your rights and obligations with respect to any such third party websites are set forth therein.
Limitation of Liability
TO THE FULLEST EXTENT PERMISSIBLE UNDER APPLICABLE LAW, SIMON, ANY THIRD PARTY CONTENT PROVIDERS, AND ITS AND THEIR RESPECTIVE OFFICERS, DIRECTORS, EMPLOYEES, CONTRACTORS AND AGENTS, ARE NOT LIABLE FOR ANY DIRECT, INCIDENTAL, CONSEQUENTIAL, SPECIAL, INDIRECT, PUNITIVE OR SIMILAR DAMAGES ARISING OUT OF OR RESULTING FROM YOUR ACCESS TO, OR USE OF, OR INABILITY TO ACCESS OR USE THE PLATFORM, INCLUDING WITHOUT LIMITATION, DAMAGES FOR HARM TO BUSINESS, LOST PROFITS, LOST SAVINGS, OR LOST REVENUES, HOWEVER SUCH DAMAGES ARE CAUSED AND WHETHER BASED IN CONTRACT, TORT (INCLUDING NEGLIGENCE) OR ANY OTHER THEORY OF LIABILITY. THE FOREGOING LIMITATIONS SHALL APPLY REGARDLESS OF WHETHER SIMON OR ANY THIRD PARTY CONTENT PROVIDER HAS BEEN ADVISED OF THE POSSIBILITY OF SUCH INJURY, DAMAGES, LOSSES OR EXPENSES.
IN THE EVENT YOU TRANSMIT, INTRODUCE, OR OTHERWISE CAUSE ANY TECHNICAL DISRUPTION OF THE PLATFORM OR THE SERVICES TRANSMITTING THE PLATFORM TO YOU, YOU AGREE TO BE RESPONSIBLE FOR ANY AND ALL LIABILITIES AND COSTS AND EXPENSES (INCLUDING ATTORNEYS' FEES AND EXPENSES) ARISING FROM ANY AND ALL CLAIMS BROUGHT BY THIRD PARTIES BASED UPON SUCH TECHNICAL DISRUPTIONS. "TECHNICAL DISRUPTION" INCLUDES DISTRIBUTION OF UNSOLICITED ADVERTISING OR CHAIN LETTERS, PROPAGATION OF COMPUTER WORMS, VIRUSES OR OTHER HARMFUL CODE, AND/OR USING THE PLATFORM TO MAKE UNAUTHORIZED ENTRY TO ANY OTHER MACHINE ACCESSIBLE VIA THE PLATFORM. YOU ARE FURTHER SOLELY RESPONSIBLE FOR THE CONTENT OF ANY TRANSMISSIONS USING THE PLATFORM AND, WITHOUT LIMITING ANYTHING SET OUT IN THESE TERMS OF USE, AGREE NOT TO UPLOAD, POST OR OTHERWISE MAKE AVAILABLE ON THE PLATFORM ANY CONTENT PROTECTED BY A PROPRIETARY RIGHT OF A THIRD PARTY WITHOUT FIRST OBTAINING THE EXPRESS PERMISSION OF THE OWNER OF SUCH PROPRIETARY RIGHT. YOU SHALL BE SOLELY LIABLE FOR ANY DAMAGES, LOSSES, COSTS OR EXPENSES (INCLUDING ATTORNEYS' FEES AND EXPENSES) ARISING OUT OF INFRINGEMENT OF PROPRIETARY RIGHTS OR ANY OTHER HARM ARISING FROM THE UPLOADING, POSTING OR OTHER SUBMISSION OF CONTENT BY YOU.
Indemnity and Release
(a) You agree to indemnify, defend and hold Simon, its agents, suppliers, licensees, content providers, successors, or assigns, and/or its and their respective officers, directors, employees, contractors and agents (collectively, the "Indemnified Parties") harmless from and against any and all damages, liability, claims, actions, demands and costs (including, without limitation, reasonable attorneys' fees and costs of settlement) arising out of any breach by you of these Terms of Use and/or any use by you of the Platform, the Materials, or any element or component thereof.
(b) Without limiting anything set out above, you hereby release each of the Indemnified Parties from all damages, liability, claims, actions, demands and costs of every kind and nature, known and unknown, suspected and unsuspected, disclosed and undisclosed, arising out of or in any way connected with these Terms of Use and/or any use by you of the Platform and/or any Content you upload or transmit through the Platform. If you are a California resident, you expressly waive California Civil Code §1542, which says: "A general release does not extend to claims which the creditor does not know or suspect to exist in his favor at the time of executing the release, which if known by him must have materially affected his settlement with the debtor."
User Information and Privacy
Disclosure and use of information obtained from users of the Platform is subject to Simon's Privacy Policy
General
These Terms of Use, which include any specific terms appearing at discrete areas of the Platform, constitute the entire agreement between you and Simon and govern your use of the Platform. The failure of Simon to exercise or enforce any right or provision of these Terms of Use shall not constitute a waiver of such right or provision. If any provision of these Terms of Use is found to be invalid by any court having competent jurisdiction, the invalidity of such provision shall not affect the validity of the remaining provisions of these Terms of Use, which shall remain in full force and effect. You agree that, regardless of any statue or law to the contrary, any claim or cause of action arising out of or related to use of the Platform or these Terms of Use must be filed within one (1) year after such claim or cause of action arose. The section headings are for convenience only and have no legal or contractual effect. These Terms of Use and any notice given in electronic form shall be admissible in judicial or administrative proceedings based upon or relating to these Terms of Use to the same extent and subject to the same conditions as other business documents and records originally generated and maintained in printed form.
Access to the Material may not be legal by certain persons, or in certain countries. These Terms of Use will not be governed by the United Nations Convention on Contracts for the International Sale of Goods. You will comply with all applicable export laws, restrictions, and regulations of any United States or foreign agency or authority and will not export or re-export, or allow the export or re-export of any product, technology or information you obtain or acquire in connection with the Platform (or any direct product thereof) in violation of any such laws, restrictions or regulations. If you access the Platform from outside of the United States, you do so at your own risk and are responsible for compliance with the laws of the jurisdiction in which you are then-located.
These Terms of Use are governed by the internal substantive laws of the State of Indiana, without regard to its conflict of law principles. Jurisdiction for any claims arising under these Terms of Use shall lie exclusively with the state or federal courts in Indianapolis, IN, U.S.A. To the fullest extent permitted by applicable law, no claim under these Terms of Use may be joined to any other claim, including any legal proceeding involving any other current or former user of the Platform, and no class action proceedings will be permitted.